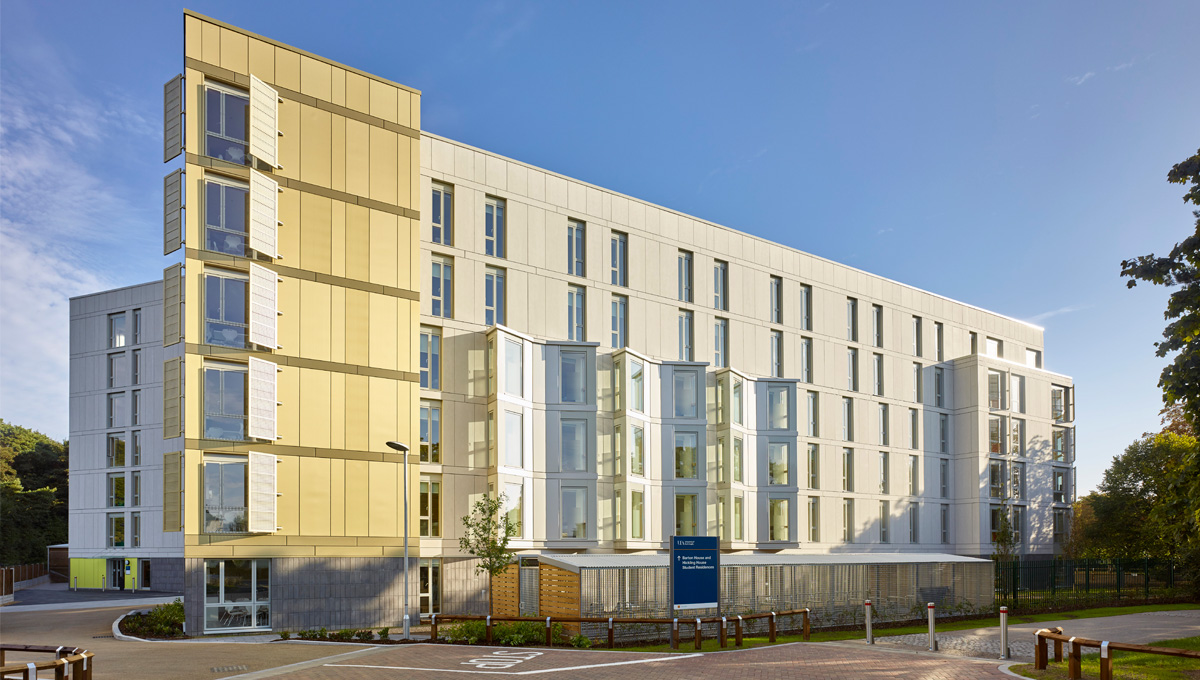 Why Architects Choose Rainscreen Cladding for Higher Education Projects
30th July 2019
Across the UK, 275,520 young people applied to go to university this year, a record number, which means, by September, there will be around 2.3 million students in UK higher education. With unprecedented numbers of 18 year olds opting for university the need for more and better campus buildings is growing. And it's not just to cope with increased capacity; high quality, visually stimulating buildings have been shown to attract more students – a key consideration as universities look to maximise their income.
Young people already know about the importance of choosing the right course, but living in a supportive environment that enables them to make the most of their time at university plays a huge part, too. A vibrant, modern campus that inspires young people, along with high quality student accommodation, is going to be far more memorable to A-levellers looking for a place than a campus that looks tired and run-down. That's why it's important to get all buildings on and off campus right from the start.
Cladding for student accommodation
There are now a growing number of architectural practices that specialise in student accommodation and over the last few years, we have worked with many of these. An example of the collaborative approach we adopt with architects is East Anglia University's new BREEAM Excellent 514-bed Blackdale Residential student accommodation. It features a shimmering, iridescent effect façade that we fabricated using our elZinc Rainbow Gold cladding panels, which is made from rolled titanium zinc. These work visually against a backdrop of grey rainscreen façade, creating powerful, accented focal points.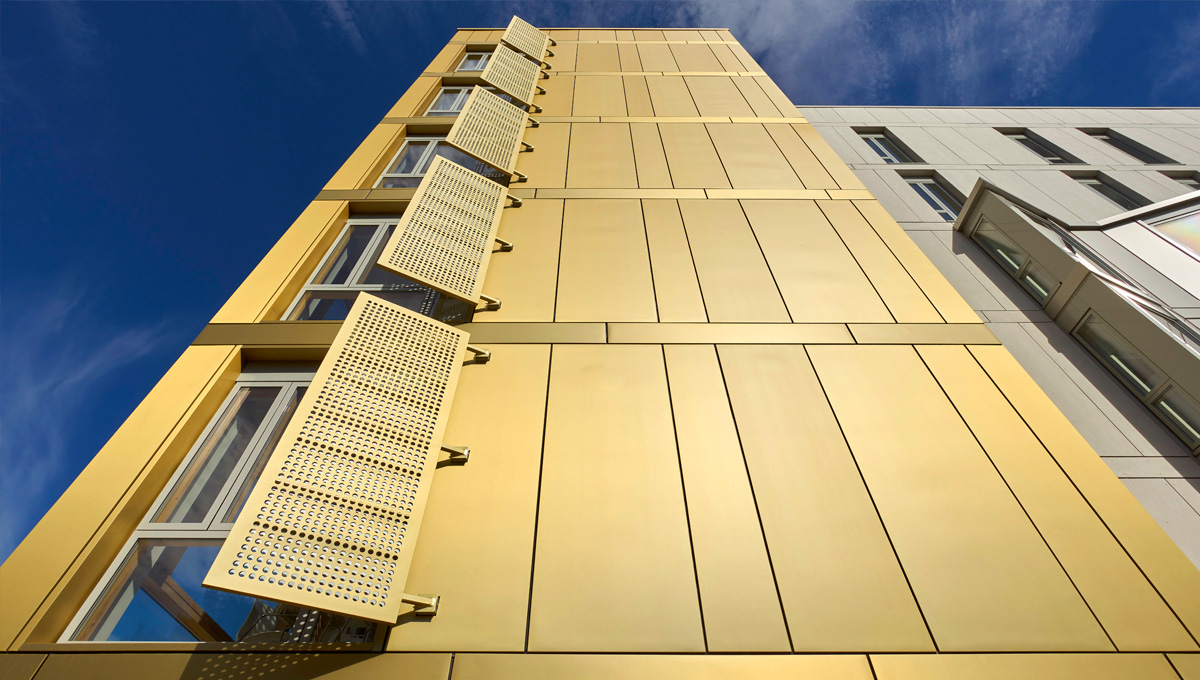 Lsi Architects approached us for a façade solution because they were seeking a rainscreen cladding system that would reflect the original campus designed by visionary architect Denys Lasdun. Lasdun's 1960s 'Teaching Wall' at East Anglia University had a distinctive stepped appearance created by each successive storey being set back from the one below. This iconic 'ziggurat' – a rectangular stepped tower or pyramid – remains as striking as ever and provided the inspiration for our modern interpretation of the design through vertical metal rainscreen cladding that projects out from the grey façade, giving the building added depth and perspective.
This is just one example of the many student accommodation projects we have supplied – demand continues to grow across the UK and we have just picked up two very recent projects. The first is Holbrook House in London, a 497-bed student accommodation scheme located next to North Acton station that is clad using our Proteus GL back painted glass. The 24 storey building was designed by award-winning architects SimpsonHaugh and Partners. It is a great reflection of how student accommodation has improved, with rooms arranged in a mixture of clusters of bedrooms, studios and three and four bedroom apartments as well as a cinema room, common room and games areas.
We're also supplying rainscreen cladding to the same developer in Manchester, again for high quality student accommodation at the 32-storey River Street development. On this project there is a mix of Proteus GL back painted glass, Proteus HR solid cladding panels and Proteus SC profiled cladding The scheme comprises of 791 student bed spaces, including a mix of studios, cluster bedrooms and apartments, along with a resident amenity space. Designed by the same architects as Holbrook House, the development will offer high quality, affordable student accommodation in Manchester.
Back painted glass cladding is a popular choice with many architects working on higher education projects. This is because it is available in a wide choice of colours and finishes, along with bespoke screen print options, has no visible fixings, is colourfast and resistance to UV rays, which ensures a sheer smooth, low maintenance façade with high visual appeal.
Cladding for campus buildings
We supply cladding to a diverse range of campus buildings, not just student accommodation. Another recent cladding project we undertook involved refurbishment of an existing campus building at Lewisham Southwark College's Waterloo Campus designed by Richard Hopkinson Architects and Platform 5 Architects. The business school was the first phase of a major redevelopment project that created a new saw-tooth façade using a combination of Proteus GL Back Painted Glass cladding and Proteus HR Rimex Stainless Steel Cladding in Granex M1A. Together, they transformed an existing run-down college building into a high quality, highly desirable learning space. The project was shortlisted for a number of awards including RICS Awards, Building Design BD Architect of the Year Awards, and AJ Retrofit Award.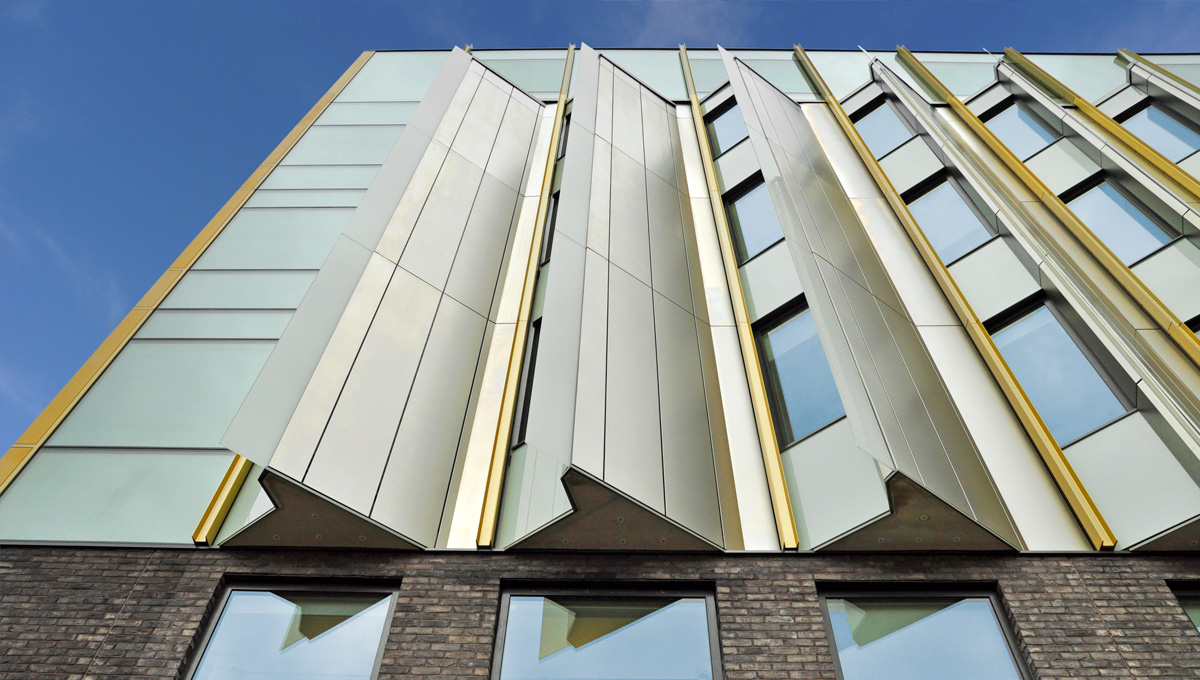 Our rainscreen cladding for higher education is also specified for unusual buildings on campus such as the new energy centre at the University of Northampton, with its 26-metre flue shaft, complete with LED screen, located on its Waterside Campus. The energy centre will save over 1,000 tons of CO2 in the short term by using woodchip biomass and gas.
We worked with NCW Architects on this project using our Proteus SC perforated panels for the flue stack and Proteus HR solid cladding panels for the unusual vertical saw-tooth façade on the main building. This was a challenging project because the designers had to work around the constraints imposed by the requirement for a large 'box' like structure to house a 1MW biomass boiler, four 4MW gas boilers and a 120m³ thermal store. Our rainscreen cladding met this challenge by creating what is in effect an optical illusion that visually truncates the building, making the observer believe that it is smaller than it actually is. This was achieved through random perforations in the stack cladding creating a sense of weightlessness, whilst the saw tooth clad facade tricks the eye into believing it is a series of interconnected buildings rather than one monolithic structure.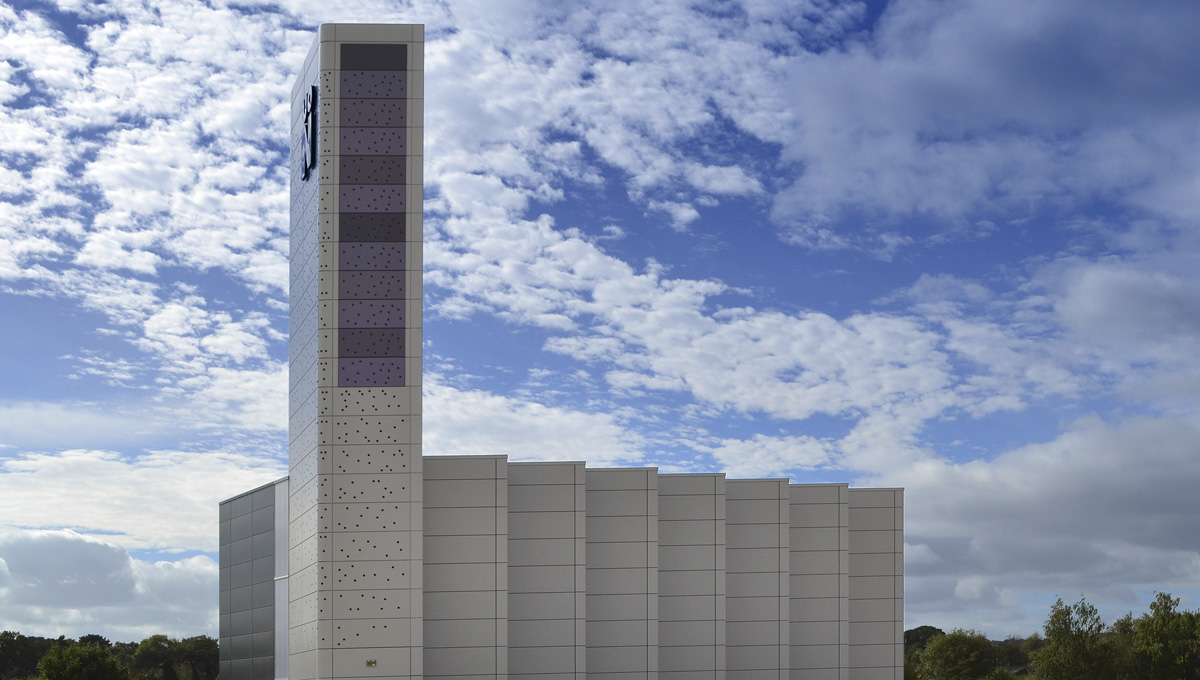 We've looked at several higher education cladding projects in this blog, covering a diverse range of estate buildings from student accommodation and lecture areas, through to a large biomass plant, which just goes to show the versatility of modern rainscreen cladding. In fact, as a lightweight, strong and visually striking solution it takes some beating. As one of the UK's leading rainscreen cladding specialists, we are able to work with architects, installers and clients to create a striking façade solution for any educational building. Whether it's new, refurbished or Listed we can guide you on the best way forward
Learn more about our full range of systems