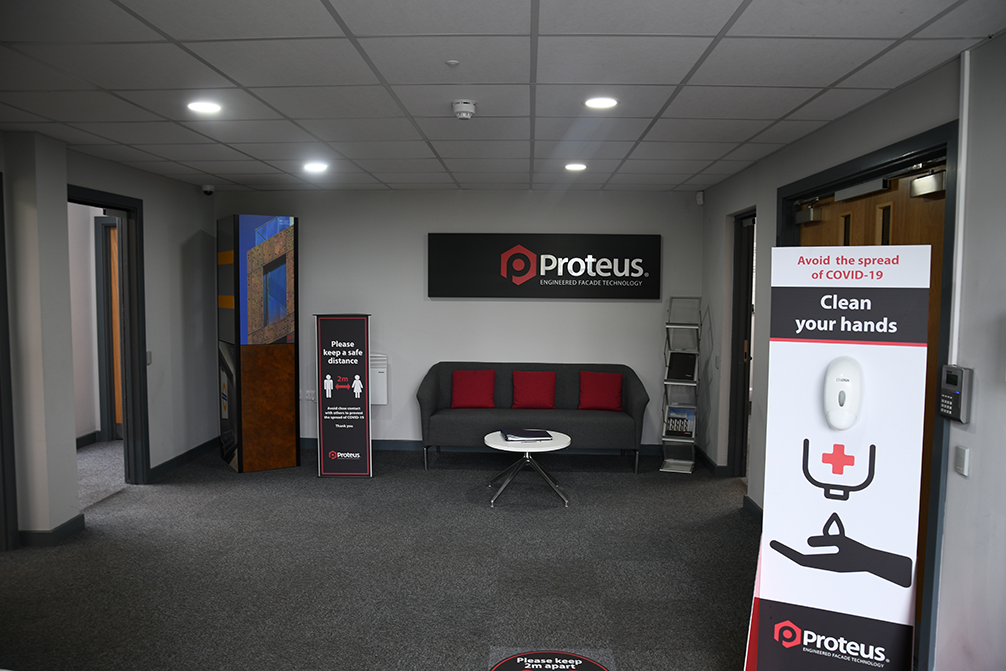 Staying Operational Through Covid-19 And Managing 'The New Normal'
6th October 2020
As it's now over six months since the start of the UK lockdown, for the latest edition in our regular blog series, our Sales Director, Simon Gregory, discusses the changes we have made since COVID-19 hit and how it is clear that the way we are working now is set to be the 'new normal'.
"When the UK lockdown was announced, none of us were sure how long it would be before we could return to work as usual and what long-term effects this would have on our businesses.
Many of us hoped that the pandemic would be under control as quickly as it came about, but it soon became clear that this wasn't to be that case, and that, when we did finally get back on track, things were set to be very different.
Most of our customers work within the construction sector, which remained open for certain projects such as hospitals and schools. As such, we were also able to remain operational, whilst following government safety guidelines, to continue fulfilling our customers' rainscreen cladding and metal fabrication orders.
Much of our team, particularly our office staff, all switched to working from home where possible. Like all businesses, we did find that the number of jobs we were working on during this time reduced, although we were fortunate enough to be able to continue fulfilling several large projects. This includes The Grange Hospital in Wales, where our continued operational status meant we were able to carry out an urgent delivery of façade materials and the hospital could open earlier than scheduled to help manage an expected increase in patients as a result of the pandemic.
When the Prime Minister did finally announce that workplaces were once again able to reopen fully, we made sure we adopted further changes to protect the health and wellbeing of our colleagues and customers.
Changing how a busy manufacturing facility operates was never going to be an easy task, though. After all, as well as meeting the government's COVID-19 rules, we must ensure we are still adhering to British safety standards too. By working together, our team was quick to respond and able to comply with all regulations.
Here's just some of the changes that we have made to help us to continue providing quality rainscreen cladding and facade fabrication services for our wide range of clients.
Working together to make space
We have implemented strict social distancing rules throughout our facility, with one-way systems and markers in place along our corridors and communal areas to guide staff. We are also encouraging our team to take breaks at different times, to stay distanced when doing so and to limit the number of people gathering in communal areas such as kitchens at any one time.
We are lucky that we had a number of spare offices, so, we've made these operational by adding desks spaced according to a 2m rule for staff to use. We've staggered shift patterns too to ensure a minimal number of team members are working in the same areas at once, whilst having enough people available to not only meet customer deadlines, but keep our colleagues working in a safe environment.
Staying connected
To stay connected with customers and suppliers, we have introduced video conferencing software within our meeting spaces and most offices. This has allowed us to remain in regular 'face to face' (or video to video) contact with our clients, suppliers and other associates. If we do hold any face to face meetings, they take place in our large board room, with a limited number of people permitted to allow for social distancing and easy ingress and egress. This has meant all of our projects are still on track and we can make sure we are still providing the same, quality customer service we are recognised for – from consultation and design support, to fabrication and project completion.
Keeping it clean
We have introduced additional cleaning procedures throughout our facility, including installing sanitiser stations in our reception, communal areas and along corridors. Our manufacturing team are working in small bubbles and ensuring that, if possible, all workstations/machine controls are wiped down and sanitised regularly.
Staying up to date
We are continuing to take a proactive approach in assessing the latest developments in the coronavirus crisis and complying with the latest UK Government guidelines and local restrictions, to protect the health and wellbeing of our customers and everyone on our team.
In addition, we are regularly engaging with our suppliers regarding their policies and control measures and to manage any potential impact to services.
The future is bright
With strict measures in place and by keeping on top of the latest news and guidelines, it means we are poised for action should anything change. For now, though, we foresee no issues with regards to our manufacturing and administration capabilities and will continue to operate in this 'new normal' way.
We want to reassure all of our customers that your regular contacts at Proteus Facades are available to offer any support they can. By working together and following government guidelines, whilst using a bit of common sense, we will get through this global pandemic. The positive thing to come from all of it is that the changes have made our business even more flexible and responsive, which should stand us in good stead for 2021. So, from our COVID-safe offices and manufacturing facility, we hope that you all stay healthy over the next few months."
For more information about our building envelope design and fabrication services, visit our customer service page.
To learn about our wide range of rainscreen cladding systems, including our materials and services, click here or head to our projects page for examples of our latest work.