Rounding Up 2021 On a Cladding High
11th January 2022
2021 was an exciting year for everyone at Proteus Facades. Here, in our regular blog we look at some of the highlights.
One of the topics that has been in the news a lot is fire rating of rainscreen cladding, either to clarify what is needed for new developments or to replace unsafe cladding on an existing façade. When replacing existing cladding (or specifying cladding for a new building) above 18m, the regulations now make it clear that it needs to meet European Classification A2-s1, d0 or A1, classified in accordance with BS EN 13501-1:2007+A1:2009. Our Proteus HR, GL, CX, SR and Proteus SP all meet this A2 standard. To find out more about this important area, read our blog 'A Guide to fire ratings when deciding whether to reclad a building'.
Beyond fire rating requirements, 2021 was an interesting year because of the diverse range of projects we supplied. A former bookstore in High Wycombe got the year off to a strong start, with our team supplying bespoke Proteus SC perforated cladding panels. The six metre high façade comprises intricate climbing vines with leaf-shaped perforations that create a strikingly beautiful aesthetic. We used laser cutting to create the perforations as it provides highly accurate, precision cuts and that was important because the perforated cladding, being positioned in front of windows, can be seen from inside and outside the building.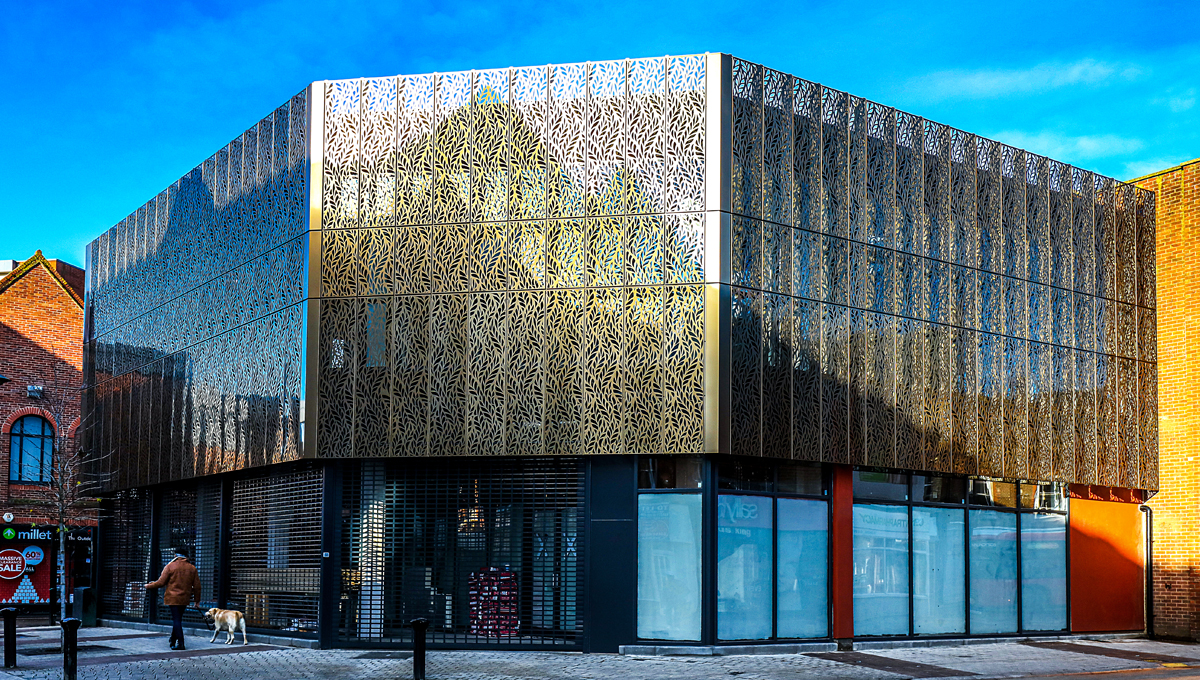 In many ways, White Hart Street set the tone for many of our other cladding projects in 2021 because we have seen a growing number of architects using perforated cladding to create an element of brise soleil shading. Many of these are specified to tackle the issue of climate change and overheating of our buildings, resulting in over reliance on HVAC systems. A well specified brise soleil perforated cladding can provide much needed shading, so helping to better regulate the inside temperature.
Fittingly for such a striking façade, White Hart Street won Best use of a Rainscreen System Using Aluminium in the 2021 Façade Awards, which we gratefully accepted alongside J&PW Developments. A great project that really illustrates the practical and aesthetic benefits of perforated cladding.
Although many projects from early last year were refurbishment and extension of existing buildings, much of our cladding is specified by architects for new developments. A good case in point is Durham University's new Mathematical Sciences and Computer Science building, a stunning development that highlights the fire rating performance of our cladding panels.
For this project, the architects specified a combination of our A2 fire rated soffit panels, rainscreen cladding and mesh screens. What really stood out for us was the way in which the architects created a brightly lit space within an internal courtyard through the use of our Proteus IP aluminium PPC in Traffic White and glazed curtain walling. The Proteus IP (Integrated Planks) cladding system was fixed in a band like design that mimicked the external façade aesthetics and curtain-walling. As always, it's the attention to detail that sets us apart on these kinds of facades.
Another project that deserves a mention is Pound Field student accommodation in Lambeth, which won Project of the Year and Best use of Rainscreen System Using Glass and/or Ceramic in the Façade Awards. Again, we gratefully accept this alongside Clarke Facades and Downing Group. The building features a mix of Proteus GL rainscreen cladding panels in Iron grey (RAL 7011) and Anthracite grey (RAL 7016), alongside Proteus CX porcelain ceramic rainscreen cladding panels in a Road, slate style finish. We think it's a stunning project that demonstrates the forward-thinking approach of the university to prospective students.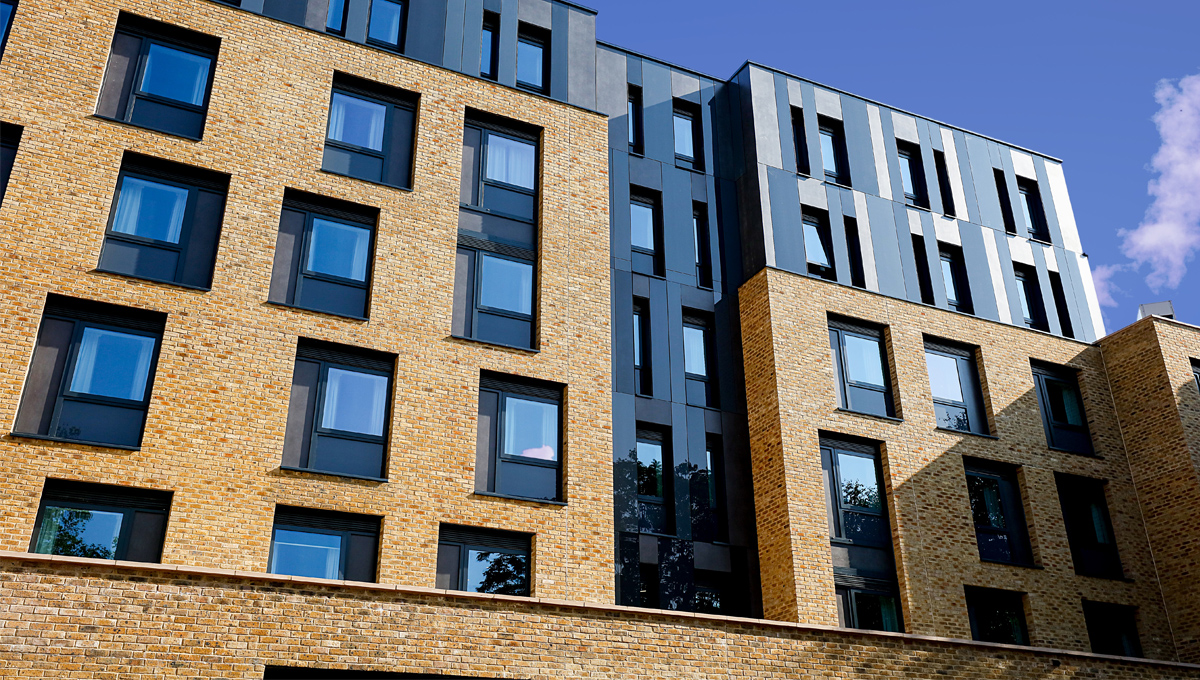 One of the tallest projects, appropriately helping us to finish the year on a 'high' and which is testament to our investment in new machinery during 2021 to expand capacity, was the 32 storey River Street Tower in Manchester. Alongside this main building is an additional ten storey structure and a smaller five storey building. Architects Simpson Haugh specified our Proteus GL panels because they have EN13501 certification to A2-s1,d0. Alongside this, other cladding systems we supplied include Proteus GL 5mm glass panels, Proteus SC 3mm aluminium profiled panels and Proteus HR natural anodised aluminium cladding. Next time you visit Manchester you can't fail to notice this impressive development which is a stones-throw from the 47 storey Beetham Tower.
As you can tell, 2021 was a very busy year for us and even included a move into the North American market. We now have a presence across the USA and have had a high number of enquiries from architects across the United States looking to add contemporary European style rainscreen cladding systems to their developments. There is so much we can offer the US market in terms of Materials and finishes
We're now focussed on building on all these successes in 2022, which is shaping up to be another exciting year for Proteus. Climate change is likely to become a more pressing concern for building designers and architects as they look for ways of mitigating factors such as the urban heat island effect and reducing carbon footprints. One thing that will remain constant, though, is the wide appeal of contemporary rainscreen systems that make a building distinctly different.