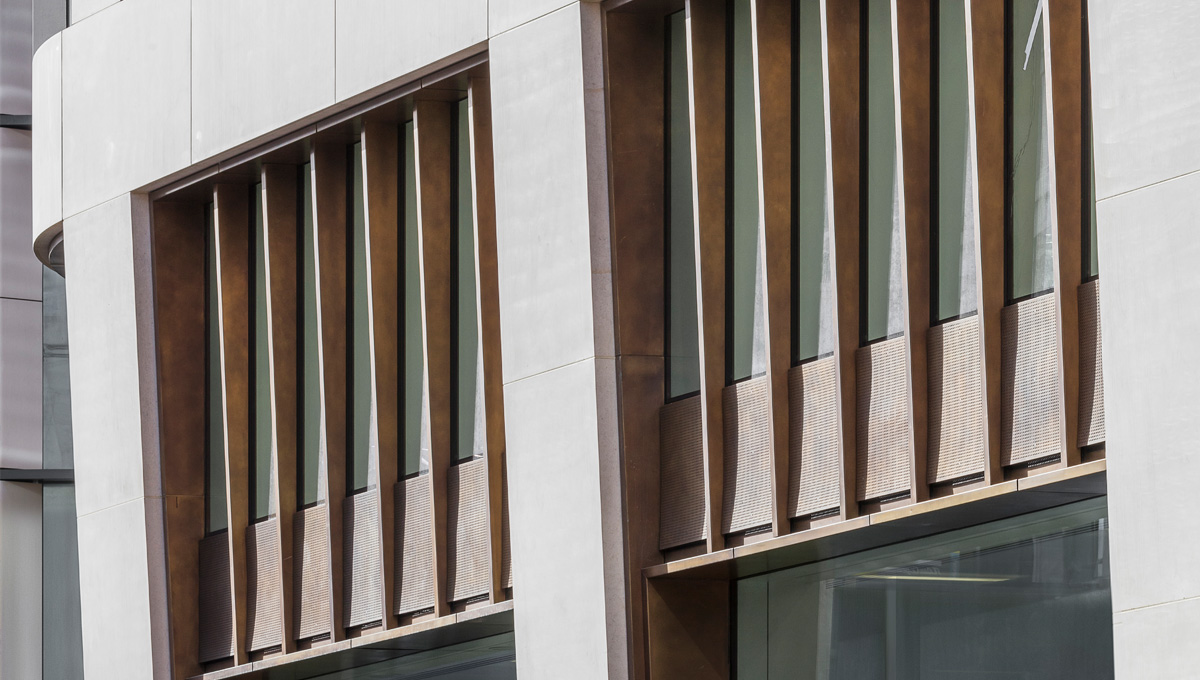 Why more buildings are being refurbished and over clad
9th August 2021
Over the next few months, our blogs will look at the reasons for re-cladding existing buildings, either to improve their visual appeal or because it is deemed not to meet the required fire safety regulations post-Grenfell.
Next month we'll look specifically at recladding a building to meet fire regulations; but in this piece we're taking inspiration from Building magazine, which recently ran an article where they considered the merits of refurbishing existing buildings rather than demolition and new build. Over cladding or recladding featured prominently as a way of visually transforming an existing structure and making it look like new.
Refurbishment and reinvention are all about making obsolete buildings relevant to today's market. Its needed more than ever as developers look for new uses, for example, as a result of the move to online shopping reducing the need for retail buildings or more people working from home. The conclusion by Building magazine was that refurbishment can be a green alternative to demolition and rebuilding and is more relevant in today's market than ever before.
It goes on to say that the success of decarbonising the UK economy relies on making the most of our current building stock: 'there is a clear environmental benefit to reinvention'. Of course, refurbishing and repurposing buildings isn't new and has been happening for centuries when people look for ways to reuse the buildings that already exist.
Set against this is the need to tackle climate change and the contribution made by construction activity. Around 60%-70% of the upfront carbon associated with the construction of a new office building is in its substructures and superstructures and so if these are retained as part of a refurbishment it is going to make a very large difference to the overall carbon footprint.
Initiatives to tackle climate change are only going to get more onerous. It's one of the reasons why, in 2019, the UK became the first major economy in the world to pass a net zero emissions law. The aim is to bring all greenhouse gas emissions to net zero by 2050. This means 100% of all building processes must operate at net zero by 2050. Many Councils around the UK have gone further and adopted more aggressive targets in achieving carbon neutrality by 2030.
Aside from being more sustainable, there are other practical benefits to refurbishing and reinventing. That's because reusing the existing shell or substructure of a building offers significant efficiencies in cost, time and materials. Developers like the fact that a refurbishment, when it is carefully planned and executed, can return the space to market quicker than a new-build project would.
One of the most visible aspects of a refurbishment involves over-cladding an existing building with a lightweight rainscreen cladding system. This also enables high levels of insulation to be added to the outside of the building in order to improve its thermal efficiency and bring it up to modern performance standards. Choosing a lightweight cladding system such as our Proteus HR allows optimum levels of insulation to be added to the exterior elevation of the building, meaning it doesn't result in loss of valuable living, working or retail space inside.
From a visual point of view, over-cladding an existing building makes it look and – with the addition of insulation – perform like new. We have supplied many over-cladding projects over the years and they have all turned out to be exemplars of how existing buildings can find new life.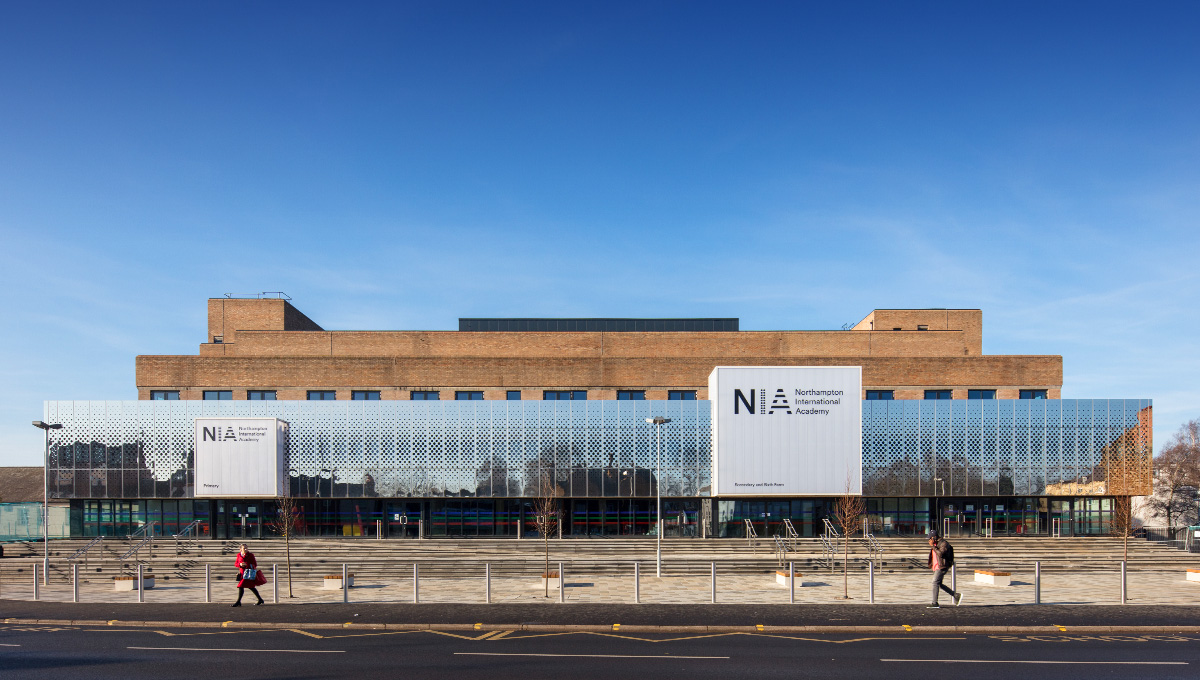 Northampton International Academy is a great example, with our Proteus SC perforated cladding in stainless steel transforming this derelict Royal Mail Sorting Office on the outskirts of Northampton. Architectural fashions change and this brutalist design which was typical of some buildings from the 1950s to 1970s had fallen from favour because they are now viewed as stark and menacing. Architecture Initiative worked closely with all project partners to create a design that would visually transform and breathe new life into the structure.
The need for over-cladding on this project was therefore to soften the aesthetic; to make the building appeal to a more contemporary market. The decision to overclad with a perforated façade positioned in front of the brick structure was an inspired choice by the architects because they achieved the project goals of retaining what is an important piece of mid-20th century architecture. It will allow future generations to understand how the building developed over time. Had demolition and new build been chosen, Northampton would have lost an important architectural statement as well as creating a carbon footprint that was considerably higher than refurbishment.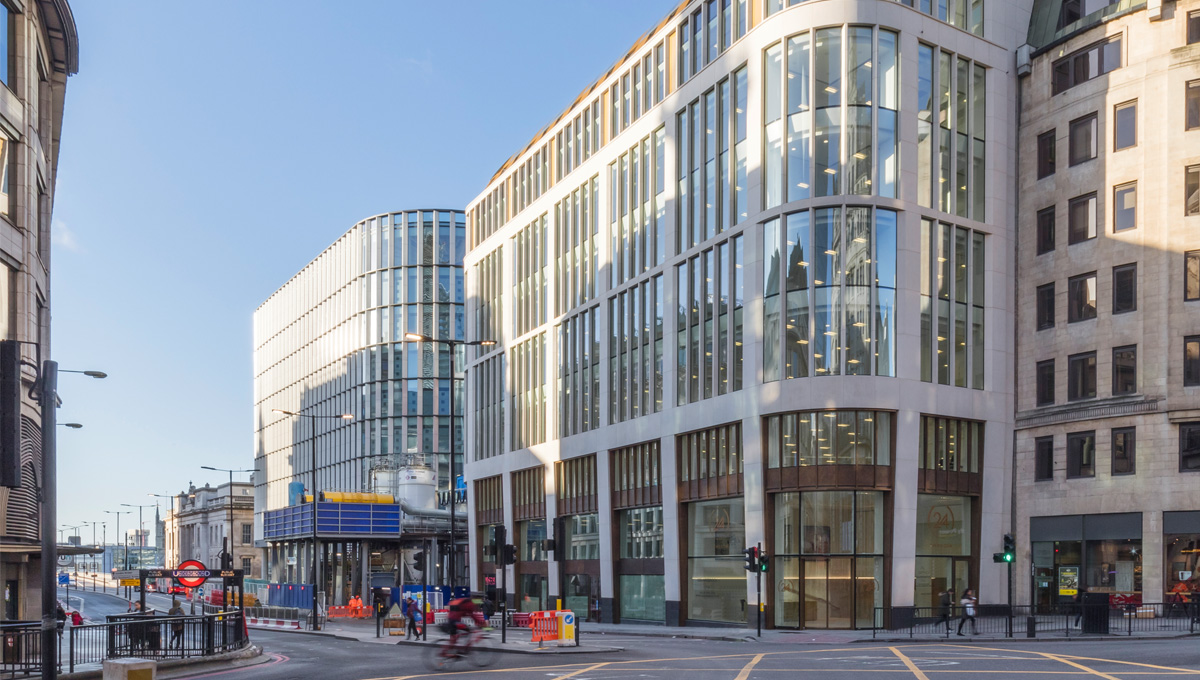 Another refurbishment project we supplied with rainscreen cladding is 24 King William Street in London. The £23 million renovation of the 80,730 ft² building was designed by Ben Adams Architects and shows how façade elements such as perforated cladding, curved metal cladding, architectural fins and trim flashings can be incorporated onto existing building structures. The refurbished building now looks indistinguishable to a new build yet was completed at a lower budget and on a reduced schedule. The careful choice of cladding materials helped to bring an outdated and under-utilised 1980's office building back into use.
Building magazine, in its article on repurposing existing buildings, is clear that this approach can be lower cost, better for the environment and results in a shorter build schedule.
As on all construction projects, it is helpful to gain appropriate input from contractors and suppliers that understand and have been involved in building refurbishments. In reality, the façade, because it is such a visual element externally, is the single factor that can determine the success of the project.
Our experience extends to over-cladding listed and other heritage buildings, through to visually transforming 1970 and 80s office buildings as owners look for new uses. Where a sympathetic approach to cladding is required, we offer a range of traditional materials such as copper, brass and bronze that develop a beautiful patina over time. For a more contemporary aesthetic, polished stainless steel, back painted glass or porcelain ceramic cladding can make an existing building look like it was built yesterday.
We work with partner installation companies on all our cladding projects which enables us to develop a workable solution on buildings undergoing refurbishment. All buildings are under constant renewal, usually through redevelopment, however, as more in the construction sector realise the benefits of refurbishment, making use of what we've got will grow in prominence.