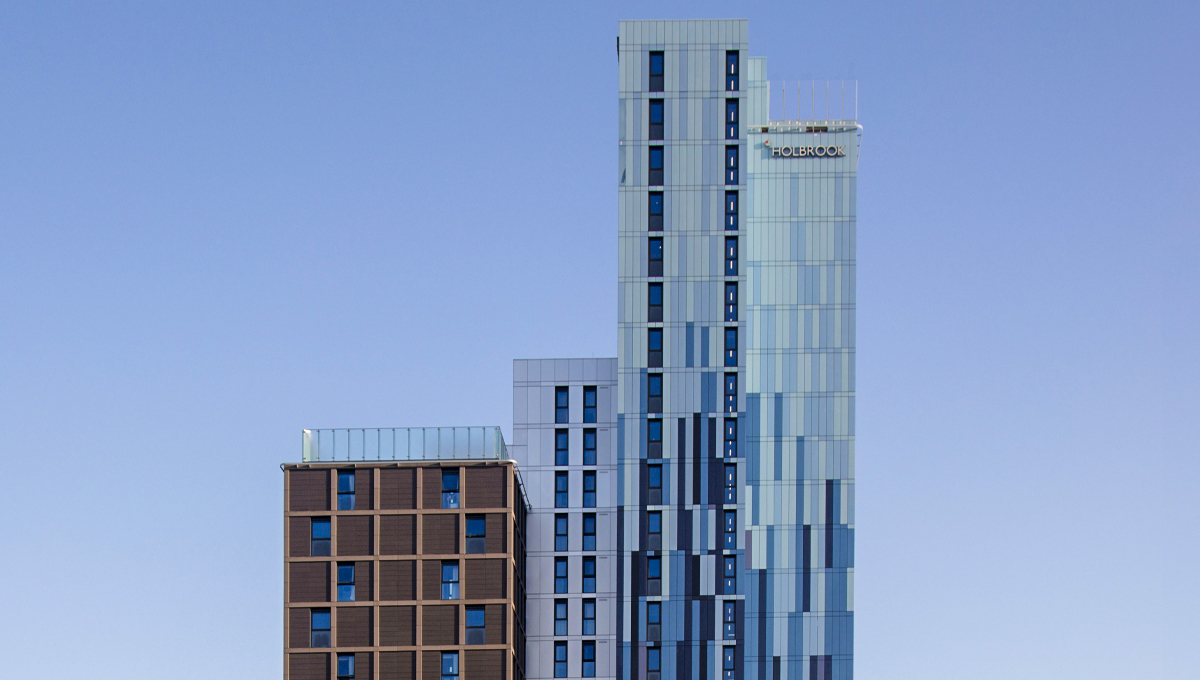 Why rainscreen cladding creates the right first impression for student accommodation
9th March 2022
With around 2.3 million university students in the UK, according to Government figures, demand for high quality student accommodation is at an all-time high. A record 516,650 students were accepted at UK universities last year, according to data from UCAS. Even more striking is the fact that student numbers between 2022 and 2030 are forecast to grow by 220,000, indicating that significantly more student accommodation will be required to address demand.
The quality of student accommodation features highly in choice of university and often, pre-enrolment, prospective undergraduates form an impression of a university when they first see the accommodation on offer. Conversely, where there is a shortage of accommodation, students may have to take up residence some distance from their place of learning, and this may affect their final choice.
It's worth bearing in mind that even though students want independence, research shows that they still prefer to live with flatmates. That indicates that traditional communal flats (bedrooms with a shared living room and kitchen) are going to have the greatest appeal.  The growing demand for student accommodation is pushing developers and architects towards exemplary designs, both inside to reflect these expectations, and externally to create the right first impression.
This is one of the reasons why architects now routinely specify rainscreen cladding for the exterior, or wall cladding panels for the interiors. These lightweight, strong and low maintenance façade solutions provide greater design scope compared to traditional masonry buildings. Lightweight rainscreen cladding allows architects to incorporate angles, curves and shapes into the façade to embellish its aesthetic appeal.
The choice of material and finishes available on rainscreen cladding systems, including metals ceramics and glass, also provides plenty of scope to create striking student accommodation buildings, again attracting interest from prospective undergraduates.
A good example of this is River Street, a new student accommodation development in Manchester. It features a rainsceen façade comprising our Proteus GL 5mm glass panels with a RAL 5004 Dark-Blue finish; and Proteus SC 3mm aluminium profiled panels in a matching RAL 5004 Dark-Blue gloss finish.
The inner courtyard elevations comprise a combination of coloured dark-blue back-painted glass rainscreen and dark-blue metal panels, creating a layered, reflective sequence of surfaces. The overall development successfully regenerates a dilapidated brownfield site, previously considered to be a city eyesore.
What is even more striking is the scale of this development. The dark blue Proteus GL glass panels feature on the main, 32 storey building, which in itself has become quite a draw to students with its panoramic views across the city. This structure sits alongside a second ten storey structure and a smaller five storey building, both featuring our rainscreen cladding and which give a sense of scale to the larger structure.
River Street is a good example of how rainscreen cladding can be used to add interest and break up the scale of large, multi-occupancy buildings. In doing so it creates engaging, attractive facades that add to the cityscape. River Street in Manchester has been hailed as a welcome addition to the city by the local authority, residents and visitors alike.
Another example of where the look of the building was important to attract students is East Park at the University of Exeter. It was designed by Stride Treglown and comprises 1,182 high quality student residences. The architects specified our Proteus SC bespoke rainscreen cladding panels in perforated and solid format with a striking RAL 8000 Pearl Gold Matt finish. This colour palette was selected because it references the neighbouring buildings.
The rainscreen façade provides building performance benefits, too; Solid Proteus SC panels were specified because they protect the building from the elements while adding to its energy efficiency (the relatively thin profile of the rainscreen panels allow higher levels of insulation to be incorporated in the overall wall build-up). This was just one of the measures that helped contribute to the development achieving a BREEAM Excellent rating for the development.
Student accommodation has come a long way in the last few years. High quality multi residential facilities are now expected to provide 'communities' that address students wellbeing and sense of belonging, as well as the practical considerations of a conducive learning environment. How the building looks in terms of first impressions is and important element not least because it attracts each new year's student intake.