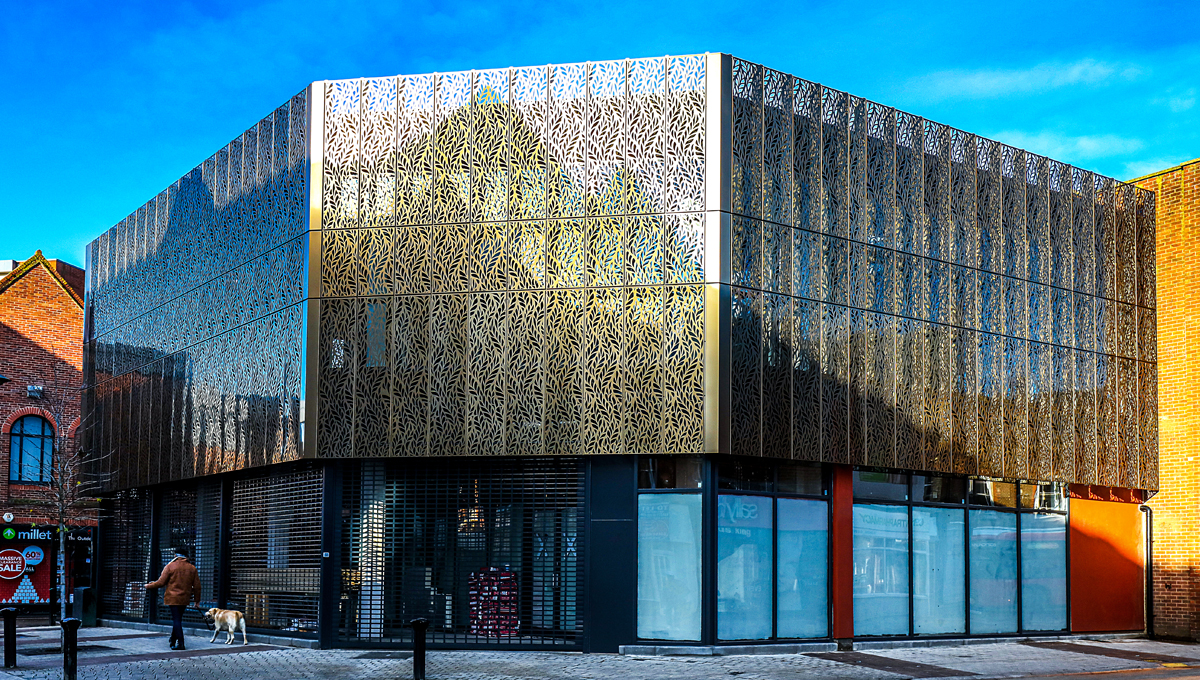 Buildings that create a buzz through patterned facades
13th February 2021
A patterned facade, whether its geometric, parametric or random, lets the observer know that the structure has something unique to offer. It's one of the best ways of adding character and personality that extends beyond what can be seen from the outside.
Design influence for patterned facades comes from a variety of sources. Nature is always a good start point because, in terms of organic forms, its difficult to improve on millions of years of evolution. Mimicking nature in this way allows us to express a limitless variety of forms from whole plants through to individual leaves or even at the micro-cellular level; for example, cell structures etched into the cladding panel at scale like those for the Wellcome Trust create an impression like no other.
Geometry, too, has always inspired building design and so it is right that some of our patterned facades continue to take their lead from classical architectural proportions. Sometimes, without symmetry and proportion expressed as a patterned façade, the overall building design can lack cohesion. It is not too far a stretch to say that in these instances, the cladding is what brings all the different elements together.
Over the last few years, we have created a multitude of different patterned facades for architects and designers. Here, we take a look at two that have really stood out for us:
White Hart Street, High Wycombe
This striking 6 metre high patterned façade, which also acts as a full height brise soleil for the windows, was specified by the architects with a climbing vine leaf design, which provides around 45% open area. The effects are two-fold; viewed from inside the building provides views of High Wycombe town centre as though viewed from a secret garden. From the street, the façade appears to float outwards from the building, whilst the intriguing leaf pattern encourages the observer to look beyond the perforations to the structure beneath.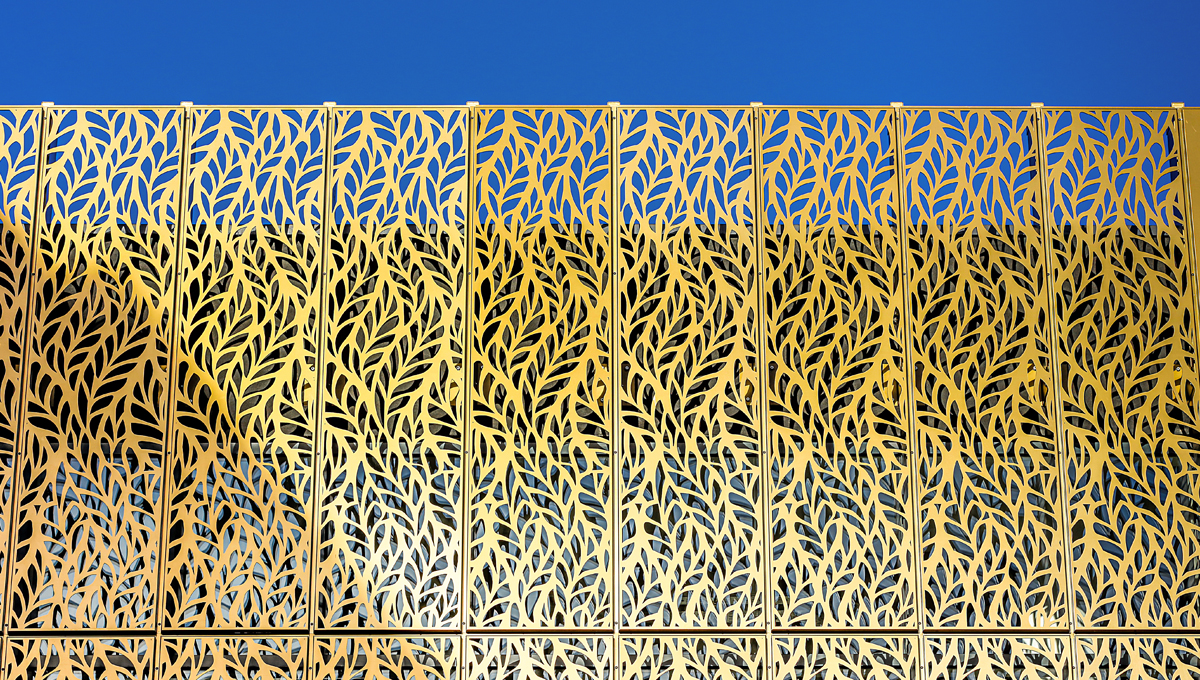 The patterned cladding at White Hart Street makes it possible to just see the outline of the building and this has the effect of drawing even visitors to the ground floor shops. That is exactly what the architects set out to do. Offices are located on the first floor, with the solar shading provided by the patterned and perforated façade helping to reduce cooling bills in summer.
We created this patterned facade using our Proteus SC, fabricated from a 3mm J57Up aluminium alloy with a brush polished, mirror effect finish, anodised to Anolok 543.
What we like about White Hart Street is that we were able to manufacture a façade that is a unique design. Our recent investment has extended our capabilities when it comes to these kinds of perforated cladding, giving customers a wider range of design options.
Wellcome Trust patterned facade
Another project that illustrates the capabilities of patterned cladding is the world-renowned Wellcome Trust Genome Campus in Cambridge. We supplied more than 500 patterned cladding panels that have around 500,000 perforations in total. They were used to clad an internal freestanding structure in the Shared Services Facility.
It was a completely bespoke system with the double-height internal cladding comprising of four layers. We made the face panel using sheet aluminium, which had a patterned, perforated design to address the architect's acoustic requirements. This was then coated post-fabrication with a special paint to give a textured sand blasted effect.
Behind this is an acoustic veil in four vibrant shades of blue and green fabric manufactured from 100% worsted wool with a flame-retardant coating. Optical depth was created by a crepe binding in the fabric – it gives the panels an appearance of natural stone yet with a soft touch. Between this veil and the metal lining layer is a 25mm resin-bonded mineral wool core acting as the acoustic absorber.
The single visual element that stands out at the Wellcome Trust is the DNA molecule recreated at scale in the patterned cladding. These appear on the internal "twisted box" elevations that we designed using our advanced software. The challenge was to recreate this on our design equipment and then transfer the pixelated image onto each panel using a specific criterion. We then outputted these drawings for presenting to the client for review. Once these had been signed off, they were passed to our factory production team.
One other thing
Our patterned cladding isn't restricted to one dimensional perforated or solid screens. Our FORM range provides a second dimension by forming shapes into the surface allowing you to generate texture and movement in the screen. Balconies at Pembury Circus feature our FORM patterned cladding panels. Alongside this, our CREATE range utilises latest computer software to pixelate images like at the Wellcome Trust as well as, logos, letters and numbers to create a bespoke perforation pattern. The image can be applied to one panel or a number of panels to create a 'jigsaw' across the entire building façade.
By working within agreed parameters (such as daylighting levels and air flow volumes), our software is able to model a vast range of patterned façades. These can take the form of geometric, parametric or random patterned cladding panels.
Our investment in advanced manufacturing processes and design software capabilities means we can now receive the most unique of design briefs from architects and create these types of patterned façades through a single digital medium.