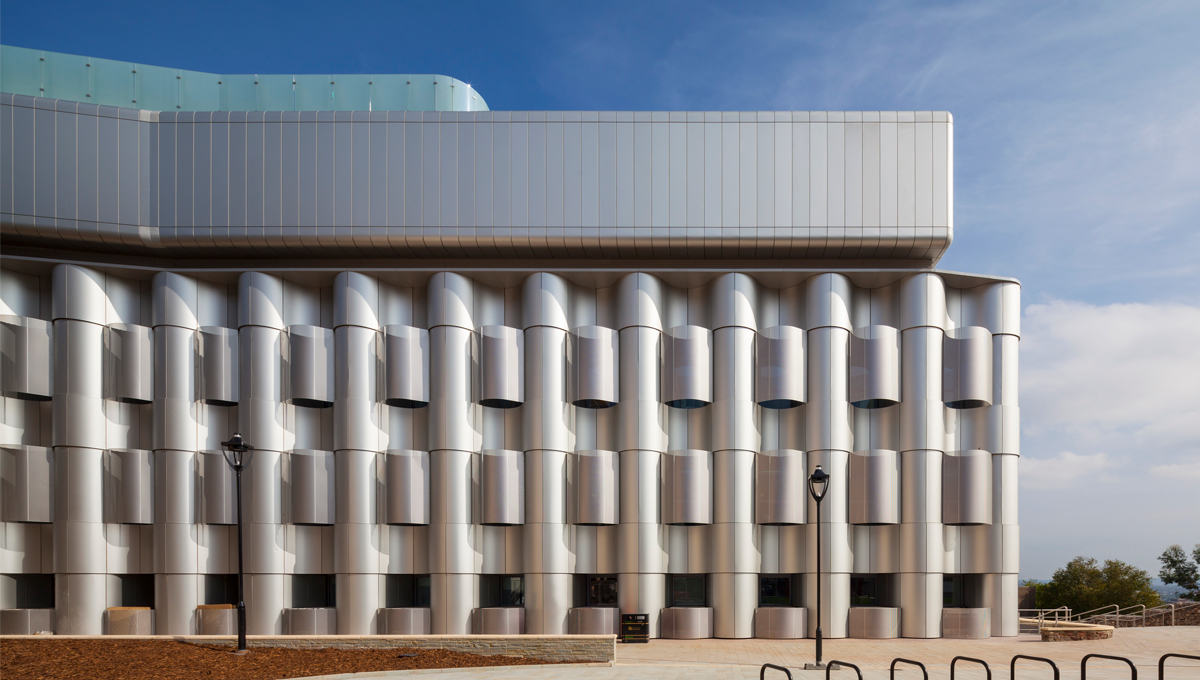 A guide to specifying curved and perforated aluminium cladding panels
22nd February 2018
Well-executed perforated and curved cladding panels are able to turn a nondescript building into a structure that strikes awe and admiration in equal measures. The panels used to create these striking perforated facades are commonly made from aluminium because of the materials lightweight, low maintenance properties, with anodising in various colours being the preferred finish.
Here we look at some recent striking building designs that have made either perforated or curved cladding panels the central visual theme. In some case, the designers have used perforated panels that are curved.
Perforated cladding panels
Perforated façades shroud a building in a permeable skin, which gives the structure a lightweight, ethereal appearance. Perforated cladding panels also provide practical benefits and one of these is solar shading.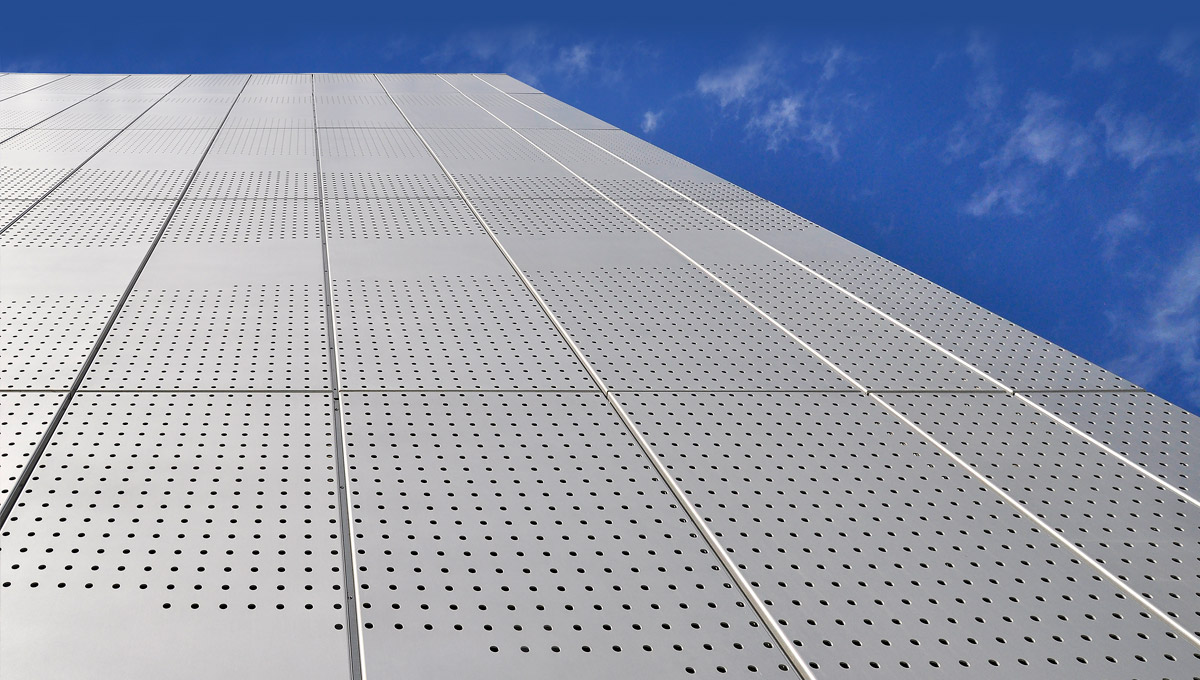 Wrapped around the entire building, the perforated aluminium cladding panels on West Yorkshire History Centre, which are polyester powder coated, help control light levels inside the building where thousands of light-sensitive historic documents are stored. The overall effect is one where the facade appears to 'float' over the underlying structure, and it is this ability of perforated aluminium cladding panels to create an optical illusion that provides architects with more scope to create arresting designs.
For example, changing the pattern of perforations and dividing the facade into horizontal bands can reduce its overall visual mass. Other clever ways of using this technique to create a pleasing aesthetic that plays with the observers' perceptions include having the smallest perforations at the base to create a more human scale at street level. The perforation can then expand in size as we move upwards – even curving inwards or outwards – to emphasise the building's vertical character and provide a visual connection with larger structures nearby.
The perforated surface of aluminium cladding panels allow light and air to enter, which means that in an open structure less mechanical ventilation is required, yet the internal areas are still protected from the elements as in the case of SECC & Hydro Arena Car Park in Glasgow. The real beauty of this project is that it was designed with a simple, cost effective concrete inner, with the perforated cladding adding a contemporary shroud that has a high perceived value, a benefit not lost on the client, which currently leases out the structure. The perforated aluminium cladding panels now wrap the car park in a way that masks the concrete core, avoiding the utilitarian look of many of these kinds of structures, whilst giving it an elegant and contemporary feel.
Curved cladding panels
Cladding panels, whether they are perforated or solid, usually respond to the shape of the underlying structure. However, the lightweight nature of anodised aluminium panels means that this doesn't necessarily have to be the case, allowing designers to specify curved cladding panels (which can also be perforated). That opens up a world of possibilities including curved, undulating, snaking, wave-like facades. A great example of how this can create a façade like no other is Bristol University's new Life Sciences Building.
The architects at the Life Science Building took a radical approach to the design, which involved positioning the large 1.5m diameter service ducts to the environmentally-controlled laboratories outside the building insulation line. These service ducts were clad in our Proteus HR curved aluminium panels with an anodised aluminium finish.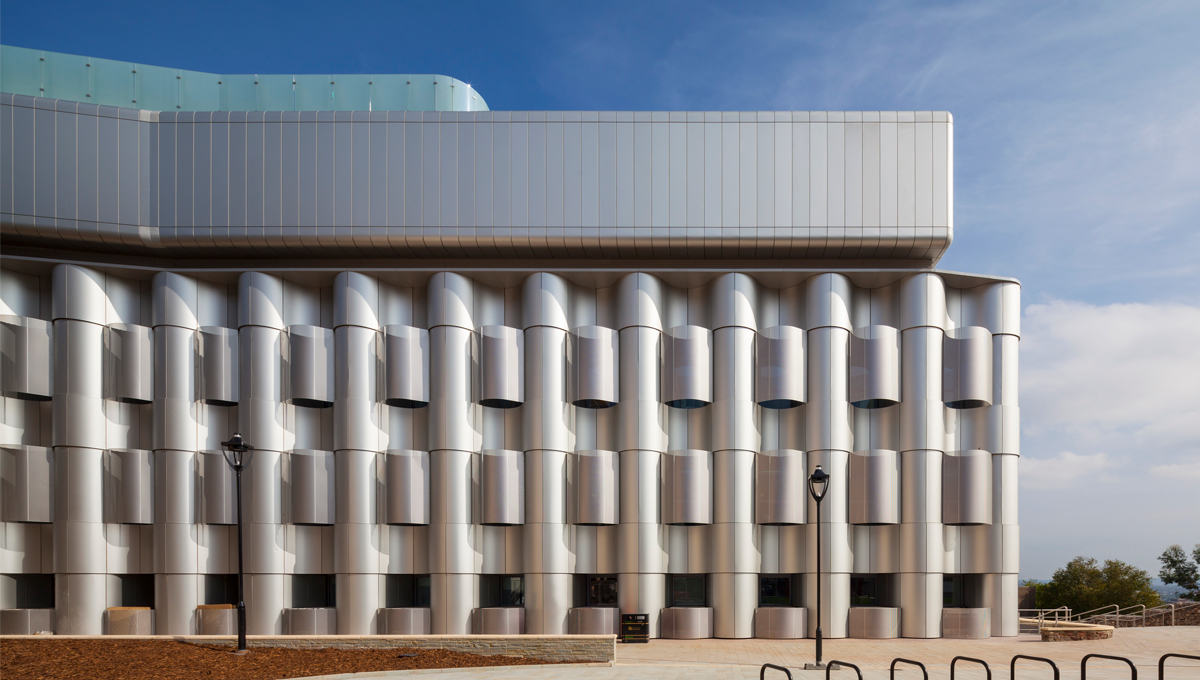 Repositioning the service ducts to the outside of the building had practical benefits because it enabled reconfiguration of the internal modular laboratory spaces in order to adapt to future requirements.
The overall appearance created by our curved aluminium panels on the west-wing is staggering, with a beguiling industrial and machine-like appearance that is a perfect representation of the complex scientific activities that taking place within.
Curved and perforated panels
Of course, the logical architectural progression of this is to combine perforated and curved panels in one inspirational facade. Uniting perforated panels and geometric curves can create a spectacular aesthetic and this was again demonstrated at Bristol University's new Life Sciences Building. The curved perforated panels provide solar shading over the recessed windows and because they feature identical radius to the Proteus HR solid cladding panels on the adjacent service ducts, help maintain sightlines of the gently undulating facade.
Anodised aluminium
Anodised remains a popular choice for facades including curved and perforated cladding panels. That's because anodised aluminium is tough, hardwearing and requires no ongoing maintenance, whilst its natural metallic sheen complements most other façade materials.
Our anodised option is an excellent choice for perforations and curved cladding panels because it is full coated in the anodise finish. This offers you a number of visual colour options that range from a silver metallic finish to bright colourful options of the Sandalor range. Its minimal maintenance and extensive guarantee periods offer clients a quality finish for the life of the building.
Another dimension
Our CREATE bespoke perforated panels use computer software to pixelate images, logos, letters and numbers to create a bespoke perforation pattern that can be applied to one panel or a number of panels to create a 'jigsaw' that can be applied to a whole building façade. FORM on the other hand adds a second dimension to perforated or solid cladding panels by forming shapes into the surface offering designers the ability to generate 3D texture and movement in the screen.
It is the contrast between light and darkness that are one of the appeals of perforated anodised and PPC aluminium cladding. This difference in accentuated by the subtle, yet universally appealing satin aesthetics of the anodising or the more matt finish of PPC paint options. Add to this light and shadow created by curved and perforated aluminium panels and the façade appears as though it is a living, breathing entity.
For more inspiration perforated cladding and curved cladding panel images, visit us on Pinterest.