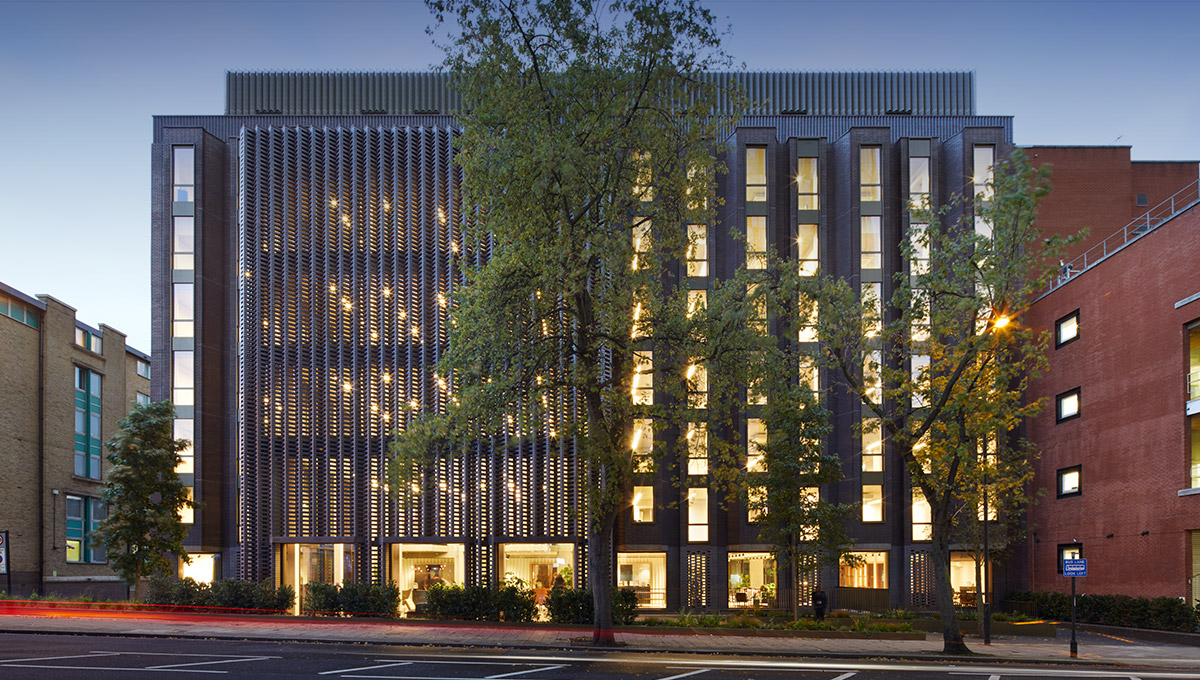 Why rainscreen cladding is a catalyst for architectural regeneration
17th July 2020
There are strong cultural and economic reasons for regenerating older buildings. Often these benefits relate not only to the individual project but also the wider community. These heritage and conservation-lead projects have now become a preferred way forward for a growing list of developers and their clients, not least because of the vast amount of existing building stock we have here in the UK.
Regenerating a building, of course, doesn't mean having to be constrained by the past and some of the best examples we've worked on during the last few years have introduced an up to date design whilst retaining the historic elements.
When we think of heritage projects, we usually conjure up images of centuries' old buildings, although there is often just much merit in preserving those built relatively recently. They may not be listed or even classically 'heritage', but often regenerating them is lower cost and better for the environment than demolition and new build. Consider, too, that by careful choice of cladding materials, the client ends up with a building that looks, feels and performs like new.
Regeneration is not just limited to individual buildings, either. We've seen examples of how well-designed new buildings within a wider regeneration area can drive forward change including those once neglected and unpopular with residents, businesses and shoppers. Exploring the benefits of this wider regeneration – not just of preserving individual buildings – but using architecture as the catalyst for improvement is highly effective. Take for example the new Vue Cinema development in Eltham which was designed by architect Chapman Taylor in collaboration with contractor Wilmott Dixon.
This striking building really has the potential to become a landmark for the town centre. Although a new building, the curved corners at ground level and on the first-floor created using our perforated cladding give a subtle nod to the Art-Deco cinemas of the 1930s. This subtle yet effective rainscreen cladding design re-established an image from Eltham's heyday, when, in the 1920s and 30s, it underwent an accelerated rate of housing development.
We fabricated flat and pre-curved Proteus SC perforated panels. The bespoke pattern was designed by Chapman Taylor and specified in a light grey (RAL 9006) PPC finish, giving the ideal combination of high strength and durability. The cinema will act as a catalyst for the wider regeneration and increase the prosperity of the area, providing a new focal point in Eltham town centre.
Closer to the capital still is Record Hall, a once old industrial building in the heart of Hatton Garden, which used our bronze aluminium rainscreen cladding to revive its façade. The £18.4m refurbishment, designed by Karakusevic Carson Architects, has created a modern, six-storey business centre with striking exterior cladding.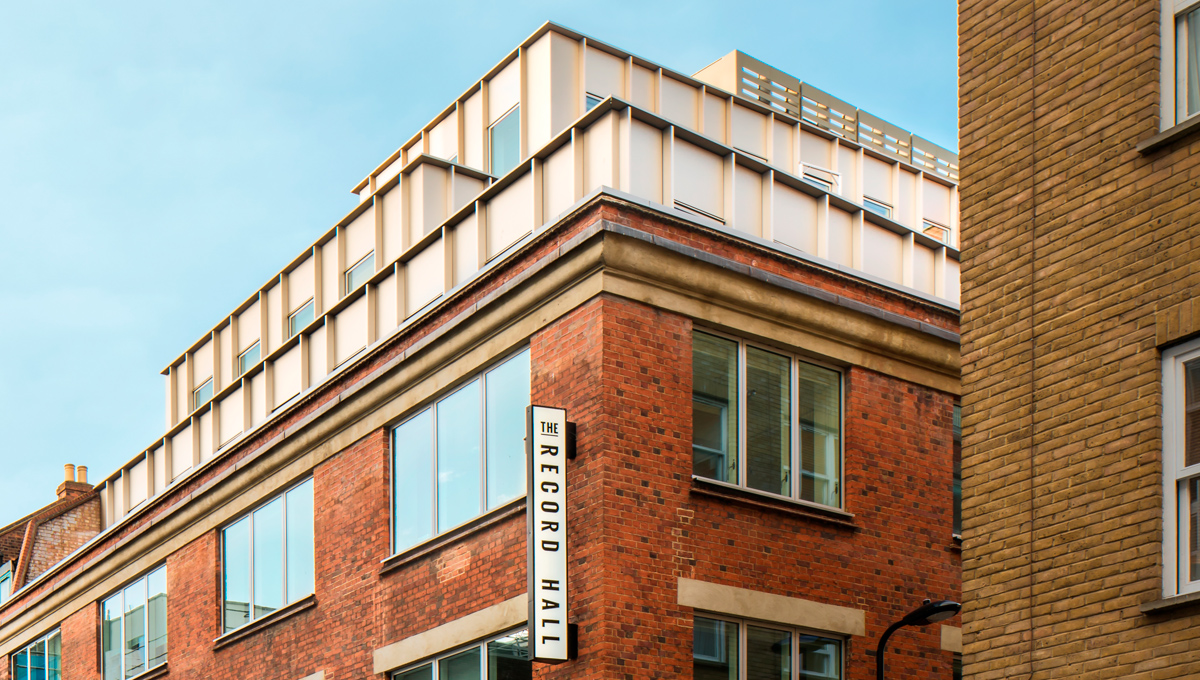 The upper storeys of the building, including a new extension, are clad in our Proteus HR Aluminium panels with a bespoke bronze United Anodisers (540) finish. This was chosen because it reflects the history of the area, which has been at the centre of London's jewellery and precious metal trade for centuries. We also fabricated bespoke extruded vertical and horizontal fins in the same finish.
The beneficial effects of regeneration on a wider area were demonstrated during the transformation of Chester's Art Deco Odeon cinema into an international cultural centre. It brings a theatre and cinema back to Chester after a decade long absence. Storyhouse incorporates the Grade 2 listed shell of the locally loved former 1936 Odeon cinema with the addition of a 150-seat studio theatre that sits on top of the main auditorium, clad in our Proteus HR TECU copper ribbed, abstracted rainscreen clad fins.  This 'copper pavilion' is covered entirely in our Proteus HR cladding, demonstrating how new architectural additions to an existing listed building can embellish the original design.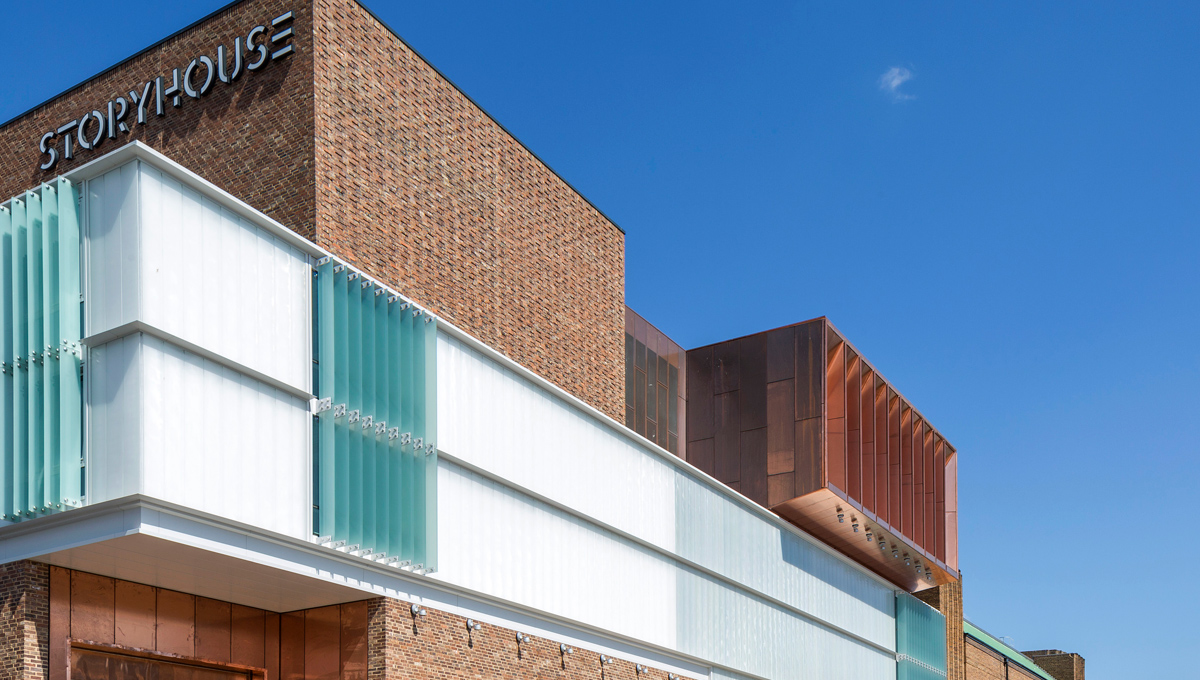 We have looked at three different types of regeneration projects here. The first showed how a new build within a regeneration area can create a catalyst for change. The second illustrates how older industrial buildings can be re-purposed through the use of modern rainscreen cladding systems. Chester Storyhouse stands out in terms of demonstrating why we should embrace the regeneration of listed buildings. Officially opened by the Queen in 2018, it continues to re-energise Chester city centre.
The common theme running through all these projects is rainscreen cladding. Not a modern idea – it has been used to protect buildings for centuries – but one that has kept up with the times thanks to an extended choice of materials and finishes now available.
Post coronavirus, as the government and planners look for ways to regenerate our high streets, they could do worse than follow the example set by these projects. Cladding materials portray an image of modernity that doesn't look out of place on heritage, listed and other existing buildings. Because of that, it is an effective way of regenerating the look of Britain's existing building stock.
For more information on our Proteus HR range click here