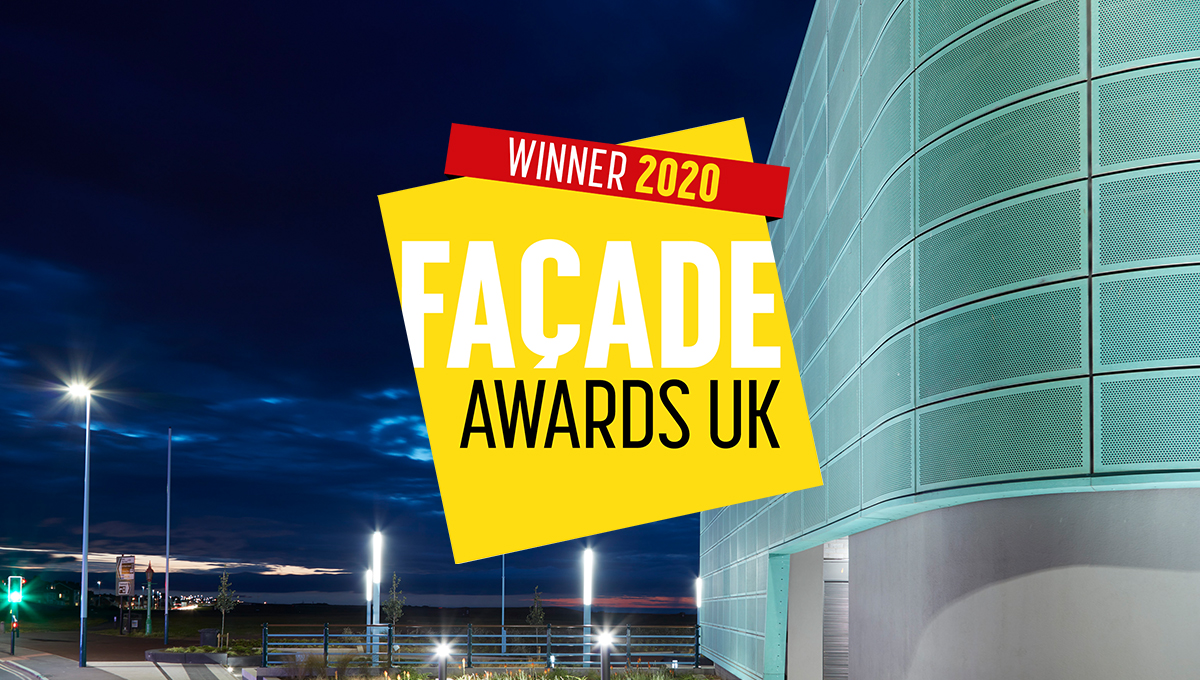 Trio of Proteus cladding projects win RCI's UK Facade awards
2nd March 2021
Its official. Our rainscreen cladding is award winning. Mind you, we've always known it, but, still, it's good to have it independently confirmed in the recent Roofing, Cladding & Insulation (RCI) magazine UK Façade Awards 2020. What makes the awards even more special is that we were able to share the accolades with our installation partners, a great endorsement and a clear message to customers that if they're looking for a joined-up approach to specifying and installing rainscreen cladding systems, then we are the right choice. As it turned out, the 'virtual' awards night went better than even we were hoping for, with Proteus Facades winning awards for:
The Best Refurbishment Project Award and the Project of the Year Award for a Proteus SC Verdigris green perforated façade installed by Chemplas on the redevelopment of Spanish City, Whitley Bay.
Best use of a Rainscreen System Using Stainless Steel alongside Deane Roofing & Cladding for a mirrored Proteus SC façade at Northampton International Academy.
Best use of Rainscreen Using a Specialist Metal for a bespoke Proteus SC perforated copper alloy façade installed by Cladanco at the new Mulberry Park Community Hub development in Bath.
We were overjoyed to have been crowned the winner in four categories – an achievement that no other company on the night could match. It was doubly satisfying when our perforated copper façade at Spanish City was selected for the acclaimed Project of the Year.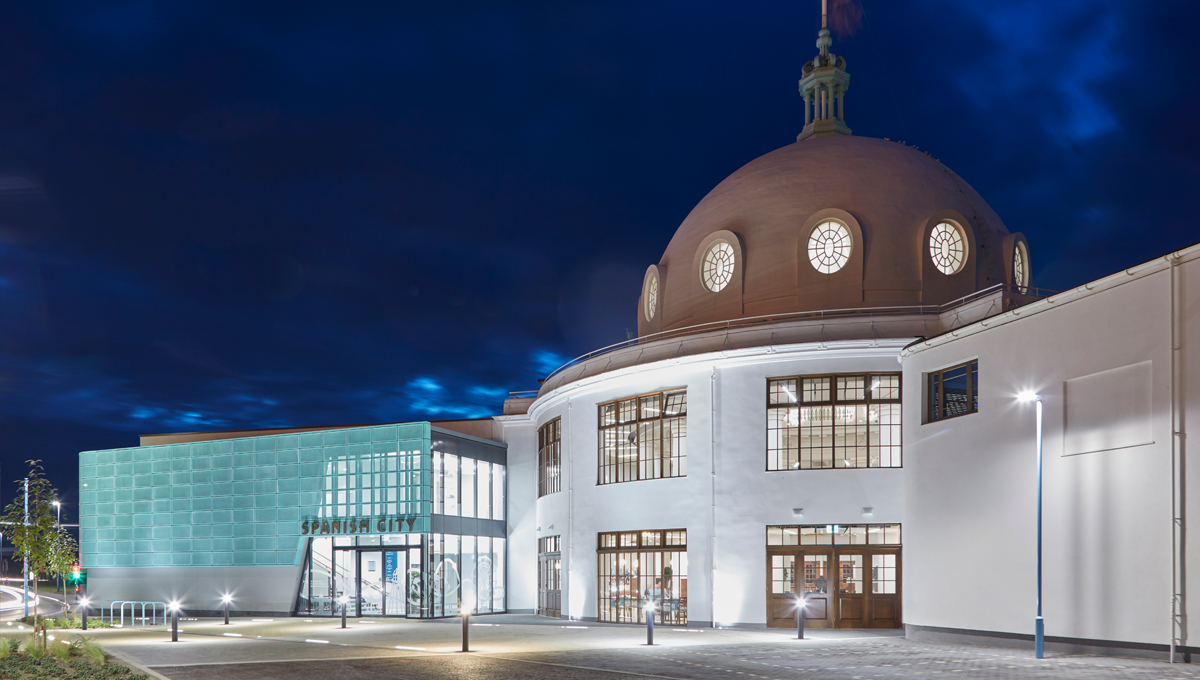 Of course, none of it would have been possible without our team's skill and professionalism and our installation partners on site. Their uncompromising high standards, combining with our manufacturing expertise, helps us deliver our 'right first time, every time' commitment to customers.
What was so special about these cladding projects? Well, Spanish City stands out because the bold, Proteus SC TECU Patina perforated copper clad extension forms the central visual element of this Grade II Listed Renaissance-style fronted building. Even before the façade awards, the ADP Architecture designed scheme was singled out for praise when Spanish City won a RIBA North East Award High praise, indeed. The architects chose TECU Patina because it features the natural green finish from the outset, creating a beautifully aged aesthetic that complements the existing historic 'old copper' decorative elements at Spanish City. To find out more about this intriguing project, visit this our Spanish City case study.
The next project to secure a win at the RCI Awards was our Proteus SC façade at Northampton International Academy. The award category sums it up perfectly; 'Best use of a Rainscreen System Using Stainless Steel'. Next time you visit Northampton city centre, watch out for this stunning project, which achieves exactly what it set out to do – revitalised an old, uninspiring Royal Mail sorting office and demonstrating why stainless steel remains one of the most attractive and versatile cladding materials.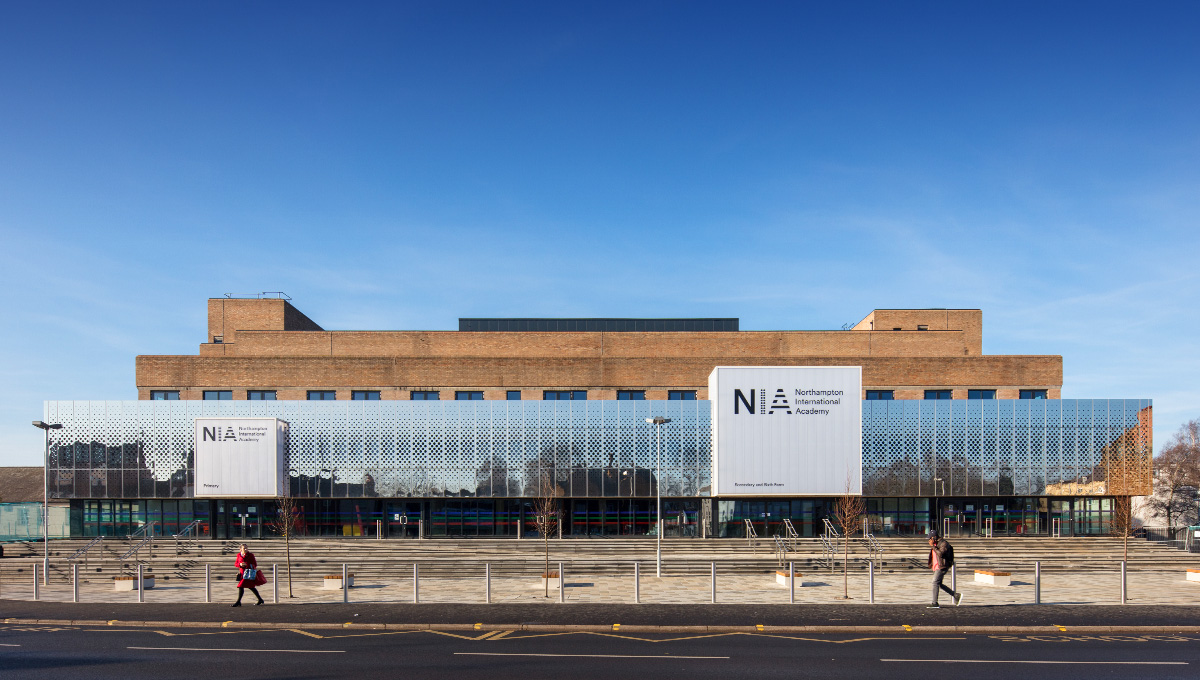 What really grabs attention on this project is how our perforated stainless steel cladding panels visually truncate the monolithic structure beneath, whilst not completely hiding this important piece of post-war brutalist architecture. Our stainless steel cladding's versatility enabled us to incorporate a low maintenance mirror polished surface on the face of the panels – an ingenious decision by Architecture Initiative because it reflects the surrounding built environment to make the monolith appear less imposing! On a similar scale to Spanish City, this expansive façade redefines what is possible with perforated cladding and for that rightly deserves recognition in these awards.
Completing the trio of award wins is Mulberry Park Community Hub in Bath. Designed by architects BDP, this eye-catching venture features our patterned perforated and solid TECU Gold cladding panels. It sits at the heart of Mulberry Park, a former Ministry of Defence site on Fox Hill near Bath.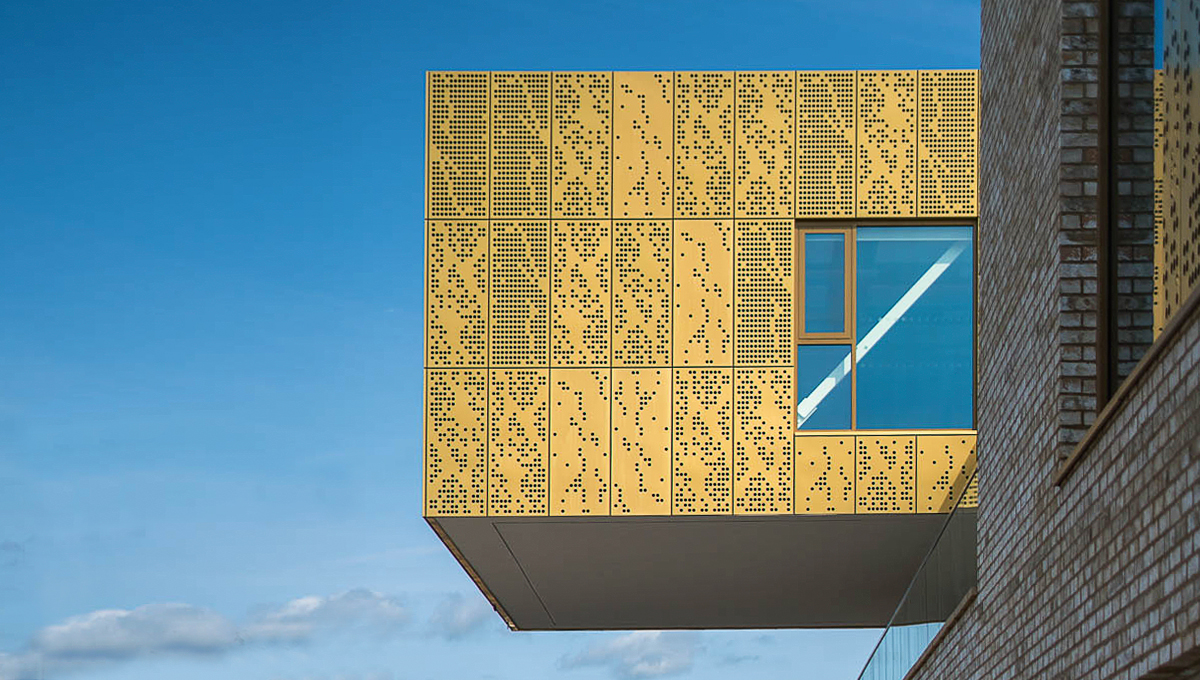 We manufactured the patterned façade using our Proteus SC cladding panels. The perforations depicted images from historic aerial photographs of the Mulberry harbours used by the military during the second world war. Our copper alloy cladding images were executed, which will weather beautifully and embellish naturally over time. The images were executed in our copper alloy cladding, which will weather beautifully and embellish naturally over time. This project was singled out for Best use of Rainscreen Using a Specialist Metal, aside from the visual aspects, because our unique framing system meant that a thinner perforated skin could be used on the face of the panel without resulting in deflection or distortion. The result: using thinner (less) material allowed the cladding to meet budget expectations whilst meeting the strict aesthetic requirements of this project. An important point that certainly caught the attention of the Facade Awards judging panel. Complementary Proteus HR solid TECU Gold rainscreen cladding panels were used at ground floor level, adding visual structure and pleasing architectural proportions.
All our projects that won this year's RCI Façade Awards were perforated. A coincidence? Probably, because we also manufacture optically flat honeycomb-core cladding panels, porcelain ceramic cladding and back painted glass cladding. And, when you read about each of the projects here, you'll see that it's not just the fact that the cladding was perforated that makes them 'award-winning'. It goes well beyond that – in fact, in some ways, focusing on them being perforated misses the point – the facades are just as interesting because of the material choices, the support structure and how that relates to budgets as well as scale and how we delivered them with our installation partners on site. That is why they all deserved a place in this year's awards.