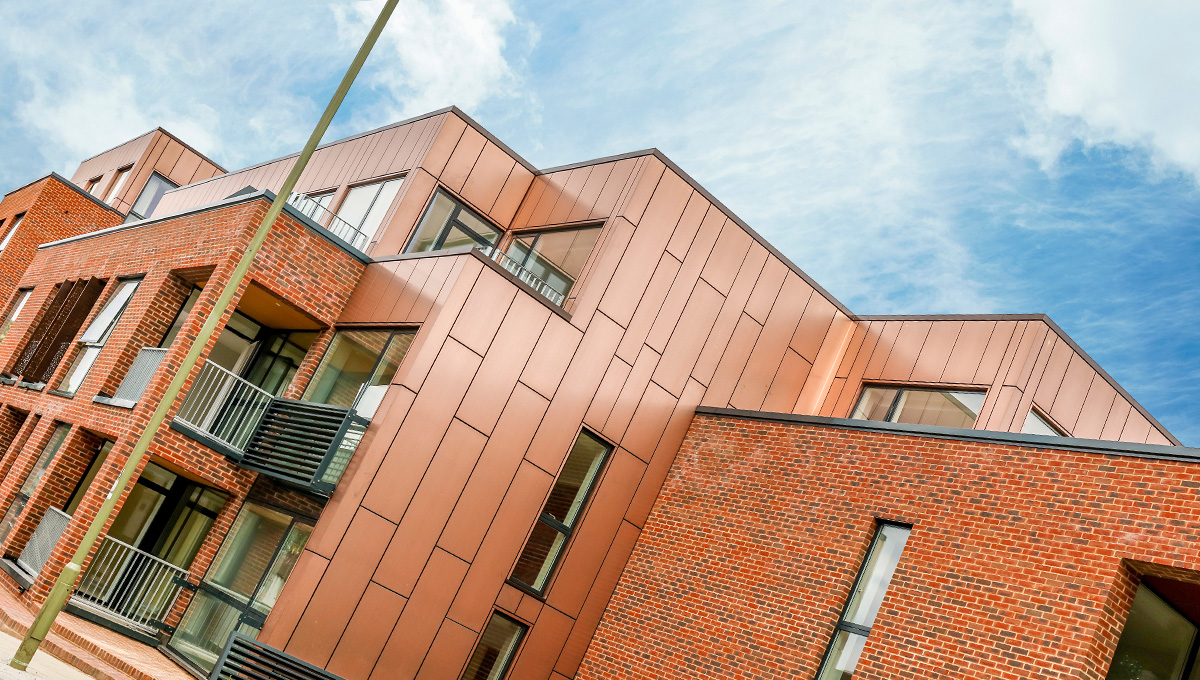 The rise and rise of bronze cladding
15th October 2019
A wide range of metals is now commonly used for rainscreen cladding applications. Of these, bronze is growing in popularity, mainly because of its high aesthetic appeal and durable, long lasting properties that provides robust protection from the elements. A range of pre-patination and surface treatments further enhance its appeal, enabling architects and designers to create a multitude of finishes from the ultra-modern to an aged patina.
Our approach when it comes to facades is to create something distinctive for our customers and its one of the reasons why rarer metals such as bronze, along with copper, brass and zinc, are able to grab the imagination of architects. Bronze cladding panels, in particular, an alloy of copper and tin, is a highly desirable finish because of its ability to enhance and complement other commonly used materials, meaning that it can add long term value to a client's portfolio. Aside from this, bronze is an extremely robust façade material that provides long term durability against wind, rain, UV rays and anything else the UK weather can throw at it.
The first consideration for many architects and designers when specifying rainscreen cladding is the choice of material. Bronze cladding is characterised by its graceful patina that develops over time, which is always going to make a building stand out as something a little bit different. Budget obviously factors into the material selection process at some stage. Our Proteus HR honeycomb rainscreen system allows the utilisation of thin material to provide large format solid rainscreen panels, but should you be considering the material for a perforated panel our blog: 'How to specify a perforated thin gauge metal facade?' helps make these rarer metals a viable solution on a greater number of projects.
The fact that bronze is made from natural elements means that it has an appealing, warm, reddish brown surface from the day it is installed, which will continue to develop heightened tones through the effect of weathering. This beautifully, mellow aged appearance complements other building materials such as brick, stone, timber and glass. Due to this aging being a natural process which occurs due to atmospheric conditions, the patina that develops will vary depending on elevation, exposure and location of the rainscreen façade. This will always make the development you are working on unique; there will be no other façade like it anywhere.
All of our bronze cladding materials are available with a range of processes that prevent or accelerate the aging process.  Our pre-patinated option is a popular choice on bronze cladding panels because it creates the beautiful, rich and subtly muted colour tones from the start. It is capable of creating a truly stunning, aged rainscreen facade that you would expect to develop over an extended time.
A range of other surface treatments can be specified with our TECU Bronze cladding panels such as BMA (Bronze Metal Antique), Artisan Burnished, Mid Brown Distressed, Metropolitan and Black Florentine finish from Bronze Restoration, where more bespoke finishes from Capisco such as CAP 55 are also available at a cost premium.
Our Proteus HR TECU Bronze cladding was recently specified by PDP Architecture for the Chesil Lodge development in Winchester, principally because it complemented the brickwork used for other elevations. The bronze cladding was installed on the upper section of the two and three storey development where its durability and low maintenance properties will allow it to develop its beautiful patina.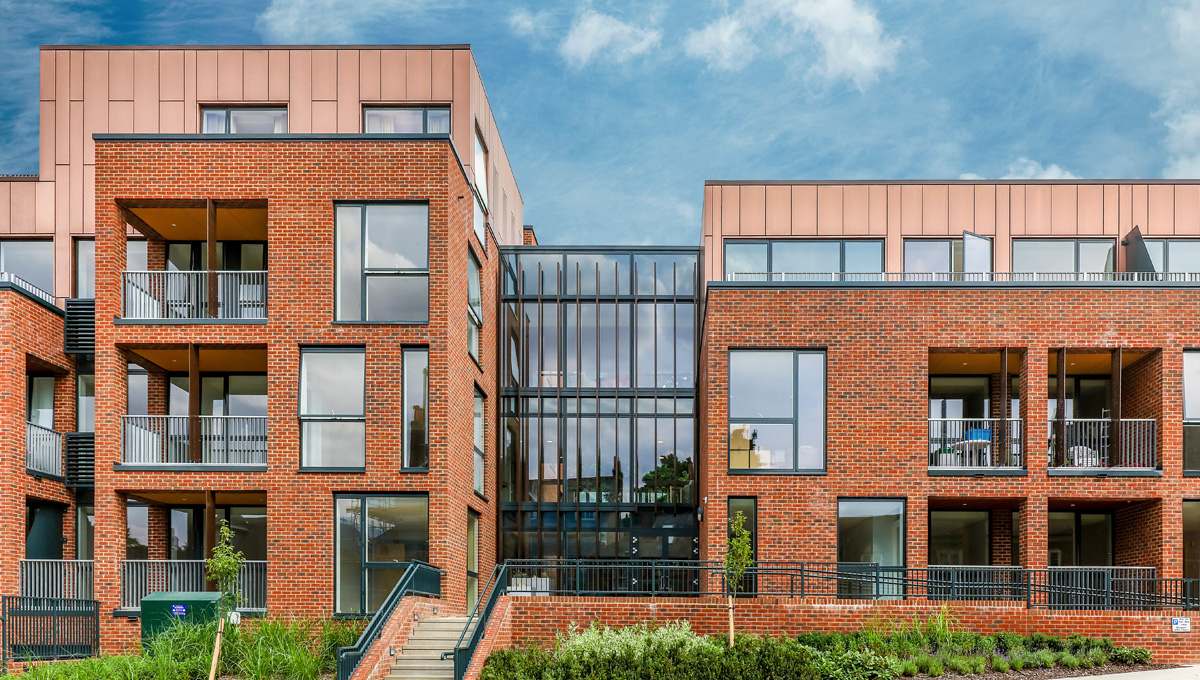 The timeless design of bronze – it has been used in architecture for thousands of years – is illustrated in another project where our rainscreen cladding was specified. The £57m Emily Wilding Davison Building at Royal Holloway, University of London's Egham campus, features our Proteus HR TECU Bronze materials. Designed by Associated Architects, it was the unusual location of this development with a Grade I listed Gothic revival building on one side and a beautiful natural campus landscapes on the other that dictated material choices.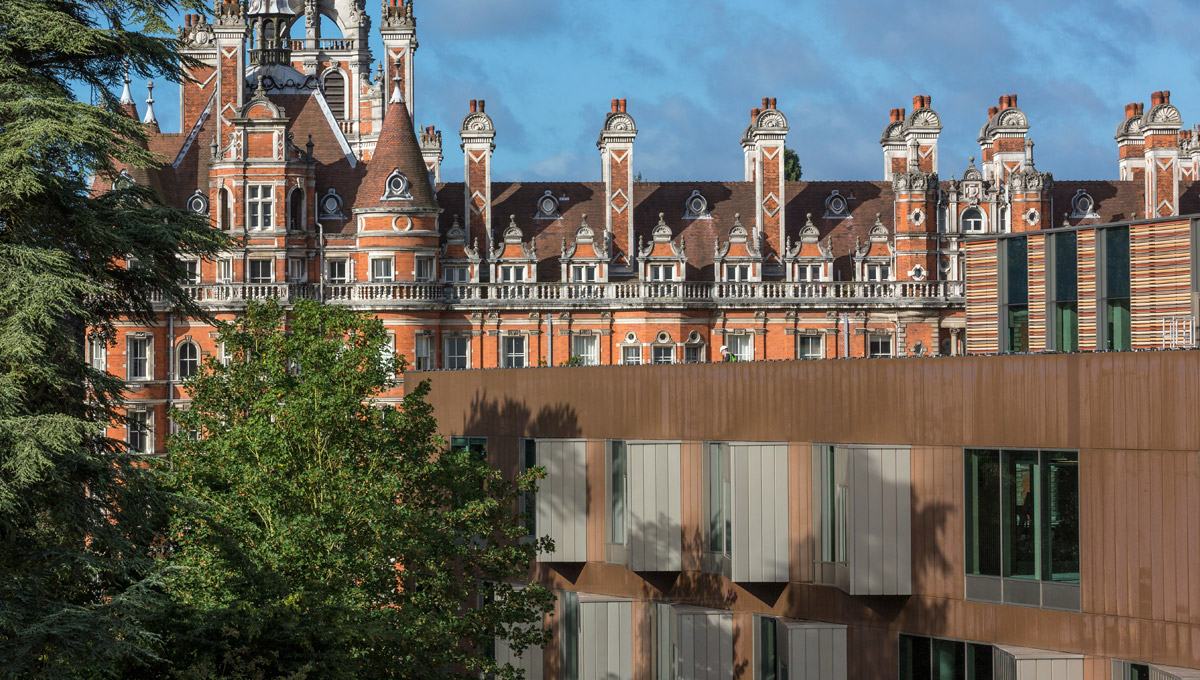 Careful design and choice of façade cladding were therefore essential to make the design work. Bronze rainscreen cladding was specified because the architects felt that the ochre's, browns and reds resulting from the natural weathering of the material would harmonise with the colour of the brick and clay roof tiles of the Grade I structure beyond. We supplied the TECU Bronze cladding in its naturally warm, reddish brown state, which will develop in a manner characteristic for bronze through the effects of weathering.
The foldable, malleable nature of metal rainscreen cladding, including bronze, enhances its appeal, too, allowing us to create curves, ellipses, waves and a wide range of other shapes to give the façade a living, organic aesthetic. This property of the material also makes it suitable for manufacturing into fins that again add greater depth, creating a three-dimensional façade.
Our Proteus HR is range available in one of the widest ranges of TECU Copper and copper alloys in the UK, including TECU Bronze, TECU Copper, TECU Brass, TECU Gold, TECU Zinn, a tin-plated copper that weathers from silver to subtle grey tones, along with the Aurubis range of Nordic material finishes.