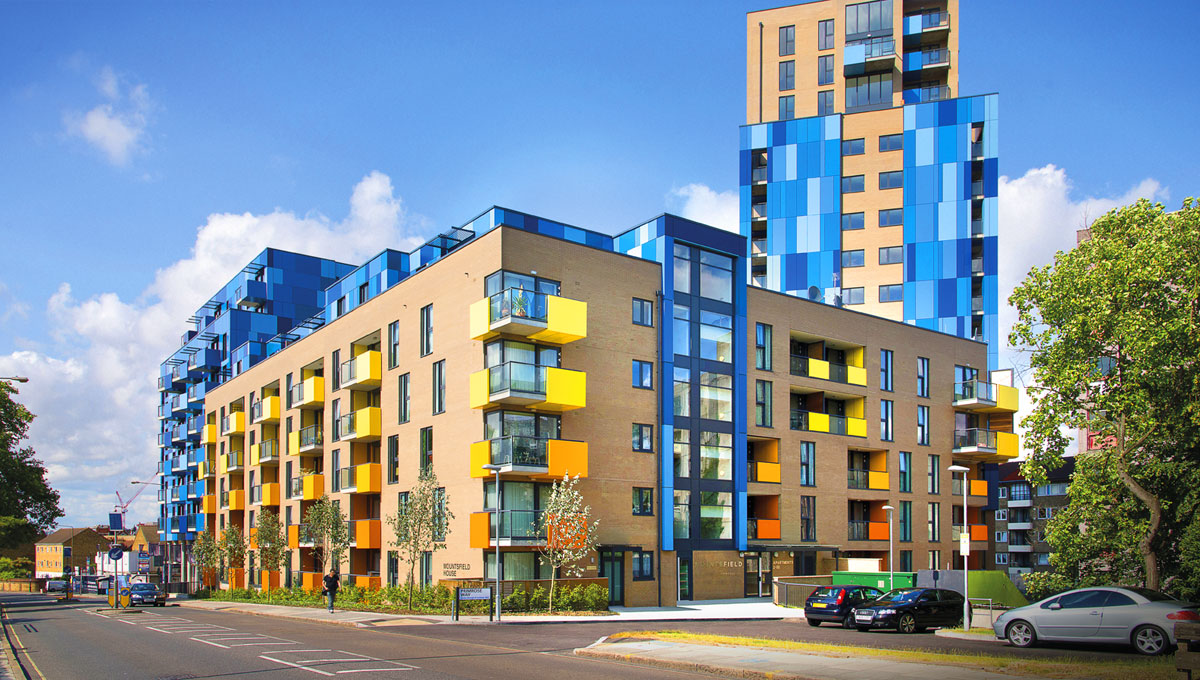 The architects guide to powder coating
16th December 2019
When it comes to choosing a finish for your rainscreen cladding panels there are a multitude of options. Aesthetics is usually the start point because how well the completed building looks is always going to be important for designers and their clients. Then there are factors such as maintenance requirements, panel size, durability and, of course, budget.
A cladding finish that can satisfy all these requirements is polyester powder coated steel or aluminium. Here are some of the reasons why it might be the best way forward on your next project:
1: Appealing aesthetics
If you are looking for a solid block of colour there's not much can beat aluminium or steel PPC cladding. And with over 200 RAL or BS colours to choose from, there's a good chance that you'll find the shade you require.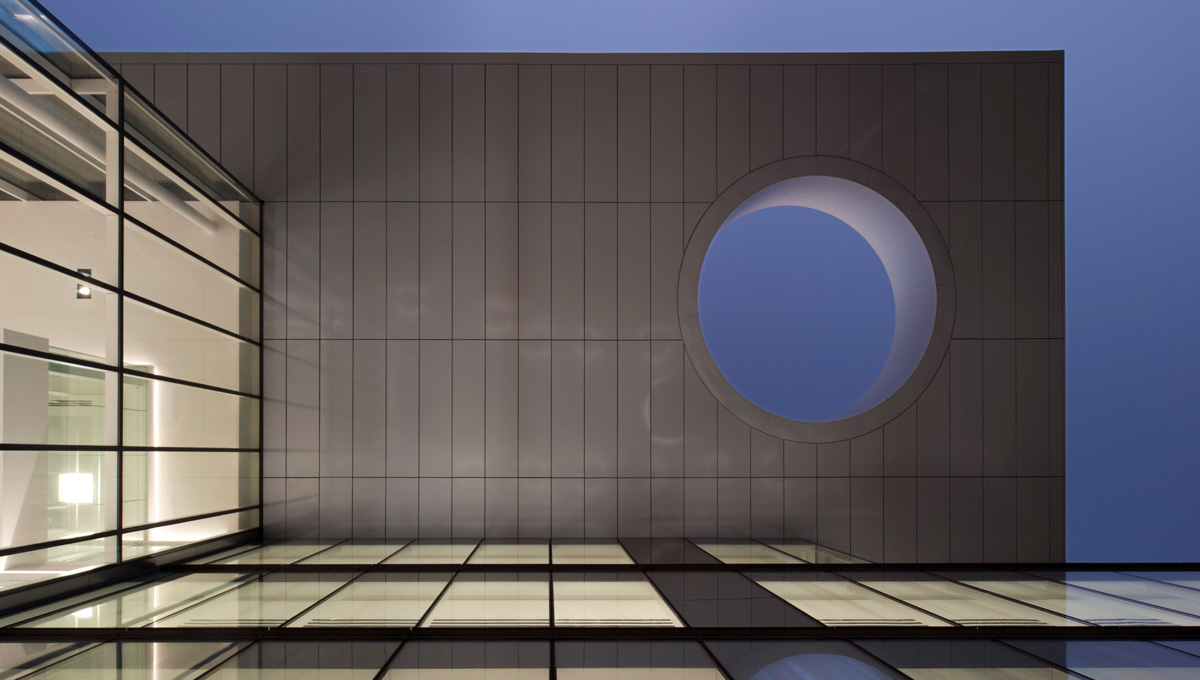 There's also been some exciting developments in the surface finishes available with our PPC cladding systems. These complement our satin, gloss and matt finishes, adding another dimension to the visual effects that can be created. They include:
Anodic powders such as  Tiger DryLac PPC finish, which has a metallic fleck that visually replicates the ever-popular anodised aluminium finish. Specifying the finish in matt grey or silver really accentuates the anodised aluminium aesthetic. It's a great way to visually recreate the appearance of other cladding materials, too, but still within your client's budget expectations. As you would expect, anodic PPC finishes are ultra-durable and offer outstanding weathering resistance.
Granular powders. Akzo Nobel Futura PPC range is a great way to add a tactile dimension to the surface and emulate the natural oxidation of metals. For example, recreating the appearance of stainless steel or Corten steel. It's worth bearing in mind that PPC involves applying a single colour, meaning you won't get the richness of tone found on these naturally oxidised materials. However, the metallic  qualities of these granular powders certainly creates a striking aesthetic.
Another interesting option with Akzo Nobel Futura PPC range is its ability to visually recreate the natural finishes and textures of stone. This adds a dramatic effect to a building's exterior and is much more cost effective and has reduced weight loadings compared to a masonry build. The type of stone you emulate is limited to a small range from sandstone through to dark blue slate, using a fine, medium or course texture.
An interesting area of development for internal cladding is semi-translucent PPC, which allows you to see the metal cladding panel beneath. It adds another dimension to the architectural aesthetic especially as we can apply a range of surface finishes to the cladding panel before its coated, for example, brushing, etching, sand or shot blasting.
You need a tough, durable finish
Polyester Powder Coatings generate a tough hardwearing finish which can be designed to accommodate different environmental and live environments. The specific range / supplier of the powder would be dictated by the projects environment and specification required by the end client / design team. The depth of the PPC application can also vary and will be driven by the supplier's guidance for a specific application. This makes PPC rainscreen cladding a good choice for all types of application but especially areas where there is a high concentration of people such as schools, universities and public buildings.
Polyester Powder Coating offers good resistance to chemicals, corrosion and UV weathering as well. They are also more resistant to chipping, scratching and other surface wear due to the thermal bonding process during curing. It's worth bearing in mind that powder coating is applied after the cladding panel has been fabricated, which means that all welds and cuts receive a uniform protective covering, but should damage occur the facing can be touched up (on site) and repaired to a high standard
If your project is in a very harsh or exposed location such as coastal buildings or a chlorine environment such as a leisure centre or swimming pool, we can advise you on a suitable polyester powder coated finish. We have options that give you superior weather and chemical degradation properties, whilst our fluoropolymers are ideal for some architectural projects due to their enhanced weathering properties and colour and gloss retention.
Where complex shapes need coating
A useful benefit of PPC is that it guarantees a uniform and complete coverage on complex shapes, even those with hidden surfaces, curves, angles, mesh and perforations. That's a useful attribute especially as building facades become more innovative. So, whether its perforated cladding panels, mesh cladding panels, used at Hoxton Square or architectural fins, our PPC will ensure a uniform protective coating is applied.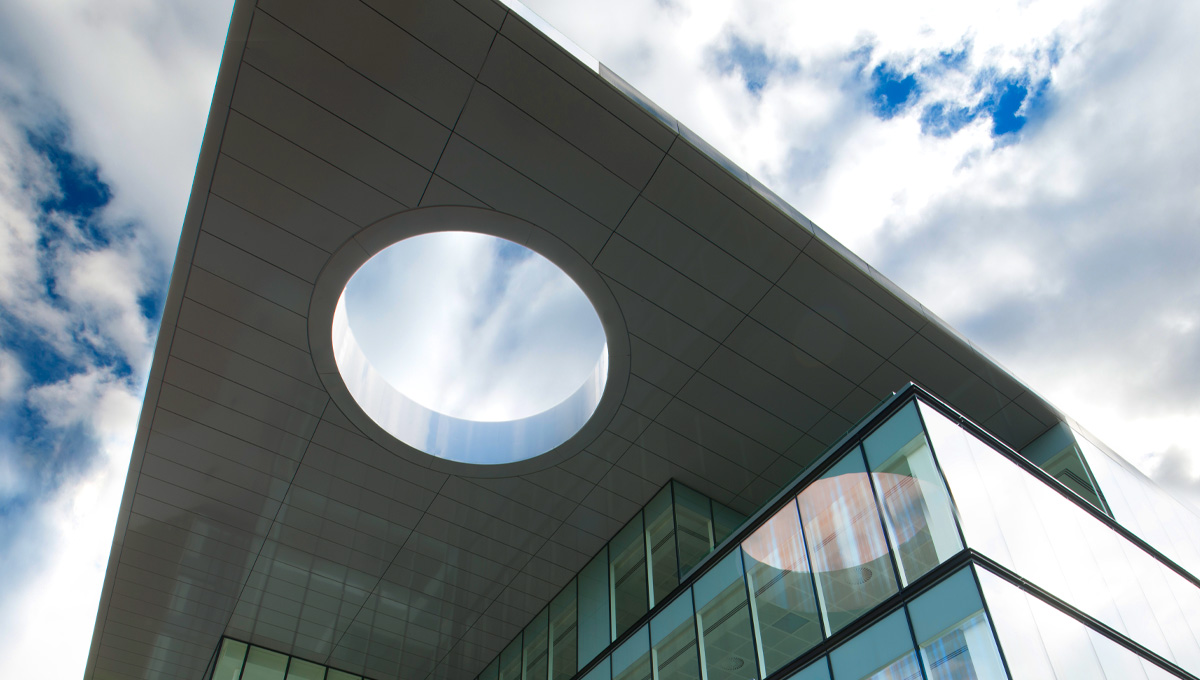 Add to this the fact that our PPC is available in plain colours, anodic powders and granular powder, plus varying degrees of matt, satin or gloss, and you have everything you need to create a really striking rainscreen cladding system.
A good example of high gloss PPC aluminium soffit panels and rainscreen cladding in Proteus HR is the 4 Longwalk development in Stockley Park – Grade A offices next to Heathrow airport. We post coated the aluminium entrance, atrium and dramatic roof soffit with PPC high gloss in RAL 7004 Signal Grey.
You are looking for a more sustainable finish
PPC is a good choice if you are looking to minimise the environmental footprint or your building. That's because applying the PPC, which is done electrostatically, reduces the amount of material used by creating consistent coverage thickness.
PPC has negligible VOCs (volatile organic compounds) mainly because it contains no solvents, avoiding the generation of airborne chemicals created by wet spraying. The materials used in PPC can be reused, so there is hardly any waste, and therefore does not generate hazardous waste that requires specialist disposal.
You client is looking for value
When you are working within a specific budget, PPC cladding can help meet your client's project expectations. Polyester Powder Coatings are generally applied to Steel or Aluminium substrates which are readily available in the market in a variety of material thicknesses which allows solutions to be developed for any application. The range of finishes available is vast, but with the added benefit of small production runs. This allows clients and designers to be bold and add a splash of colour to an otherwise plain façade. Our  Heathside & Lethbridge development shows what can be created with bold colours, which can be undertake on scale or in small localised areas such as balcony panels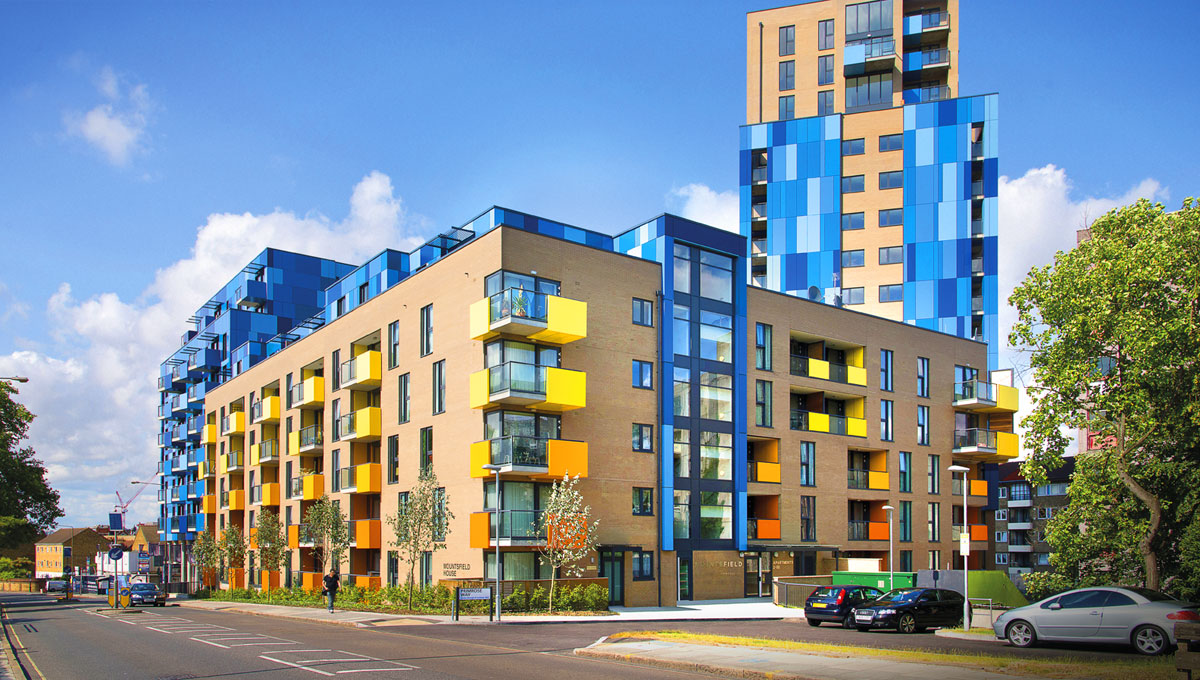 Polyester Powder Coatings have typically been tested by the manufacturers to EN13501, with the majority achieving an A2 fire rating, making them suitable as an individual item to meet the UK Building Regulations. However when these finishes are applied to a rainscreen finished product the entire system may not meet the requirements of EN13501, and you should speak to the panel manufacturers to obtain product specific certification. Our Proteus HR system with an aluminium PPC is fully tested to EN13501 achieving and A2-s1,d0 rating.