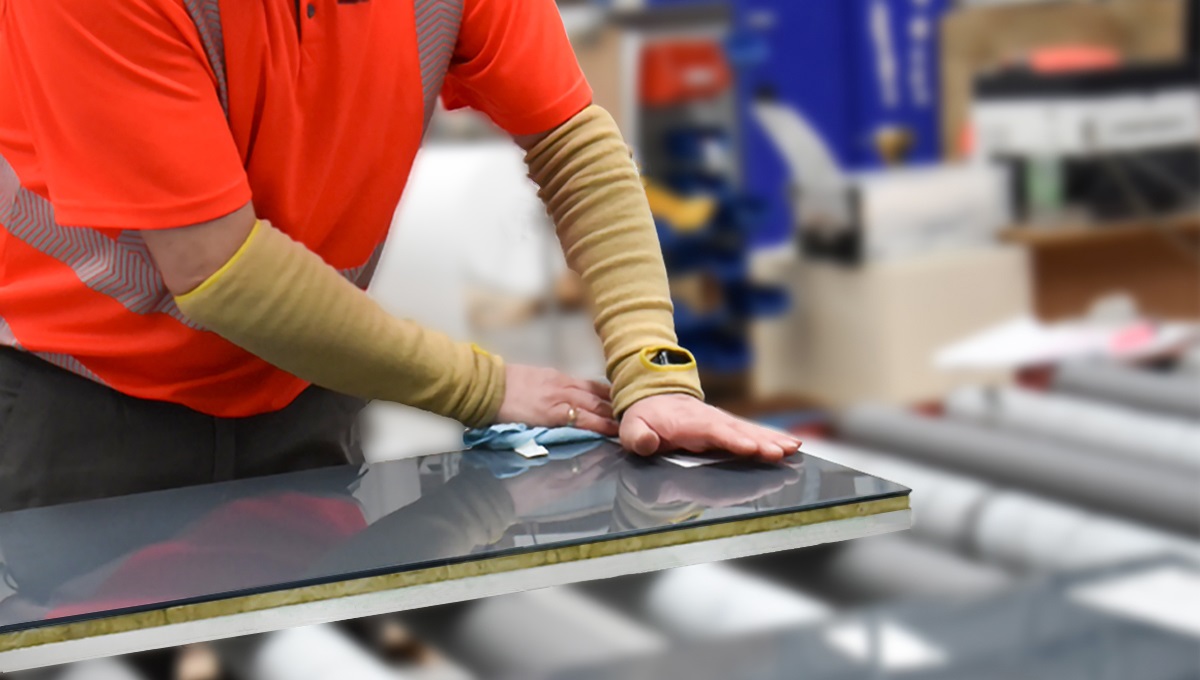 Spandrel panel systems: The truth about fire ratings and compliance testing
5th May 2020
As a leading supplier of complete rainscreen façade systems, we are committed to raising standards around performance and safety. Here, in our regular blog, we look at how new Building Regulation fire requirements relate to spandrel panels and why you should always verify any claims made about compliance.
Curtain wall and window systems regularly require some form of solid/opaque panels to hide unsightly sections of the structure or for architectural purposes. These are more commonly known as spandrel panels or insulated spandrel panels (when they incorporate insulation). They are typically pressure plate or toggle fixed utilising metal, ceramic, glass or other facing materials into the glazing system's frame.
Alterations made to building regulations relating to fire safety, introduced in 2019 following the Grenfell tragedy, have brought these panel systems in line with rainscreen systems. Yet, the market is reacting relatively slowly to this change, with very few companies testing to the new mandatory standards.
The UK Building Regulations Approved Document B (fire safety), Resisting fire spread over external walls section (Volume 1: Section 10/ Volume 2: Section 12), specifically states that window spandrel panels and infill panels must comply with the requirements of clause 10.5/12.5 and the inclusive table 10.1/12.1, or clause 10.6/12.6 and Appendix B4. 
Regulation 7(2) applies to notifiable buildings above 18m. They must adhere to the requirements that assessments cannot be used as a form of compliance, i.e. moving to a testing and certification approach that has been heightened within the rainscreen sector over the last three years.
The change to a testing approach is a logical move and removes the market's ambiguity where we regularly see comments like "A1 non-combustible spandrel panels" in marketing literature. This is highly unlikely with these types of systems when an adhesive is introduced into the panel construction, as an adhesive cannot be certified to EN13501 as an individual layer, and if tested as part of a system, it is unlikely to have a calofic value for the adhesive layer low enough to achieve the requirements of an A1 rating. This is illustrated below in our diagram of component-based analysis to a fully tested option.
It is worth noting that adhesive is not the only substance that can limit a panels certification. Adding a PPC paint (Polyester Powder Coating) would also result in a reduction in the rating of the system, as the finish would not be able to be certified as a single layer and as such, any panel with a PPC Coating to Qualicoat 2 standards would only achieve an A2 rating.
It was against this background that we decided to enter this market and develop a fully fire tested spandrel panel system. The testing that we have undertaken over the last couple of years for our Proteus HR (metal), GL (glass) and CX (ceramic) systems, which have all been through the full EN13501 certification providing A2-s1,d0 or A2-s2,d0 ratings, gives us the base data to start our insulated spandrel panel development.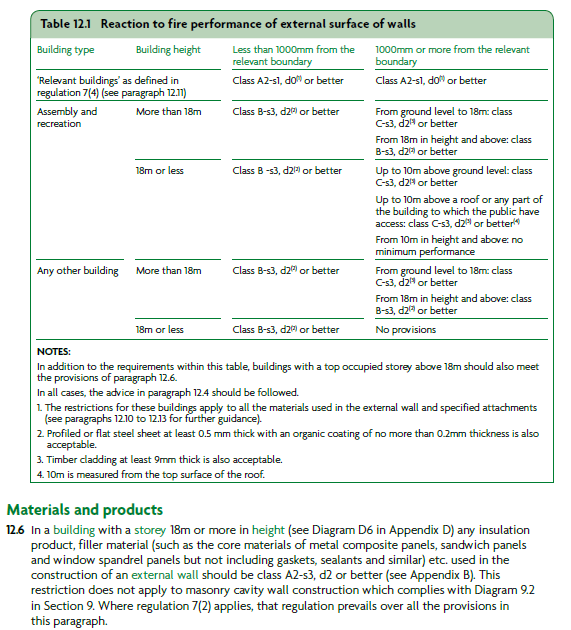 Our initial testing programme will be around pressure plate systems, which will be available in a range of metal, glass and ceramic faces with an insulated hard edging and a central, less dense insulation. This development is currently at the EN13823 stage (single burning item test). The base EN1716 data already undertaken, which allows us to confirm by calculation that A2 certification will be obtained for the panels. Our test programme will initially offer a limited range, with different facings requiring project specific testing. However, the range being tested will provide a wide range of thickness of materials and insulations to provide clients with a greater scope within their project designs.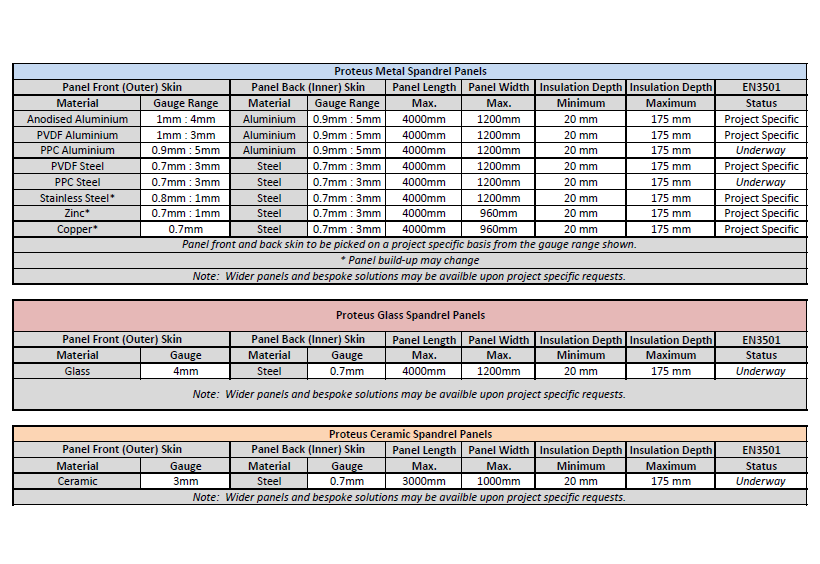 The second stage of development will be a move into toggle glazed systems, where the connection of the unit to the glazing systems offers some technical challenges. Traditionally these systems utilise nylon or UPVC blocks with ports/channels specifically placed for the glazing system being installed. However, Nylon or UPVC wouldn't allow a system certification of A2 rating due to the high energy value within these materials, and as such we are developing a new approach that will be tested shortly, with it being available in the near future.
Although our test programme hasn't reached the EN13501 certification point at this time, we'd be delighted to discuss project specific requirements with design teams and architects either at the early design or installation stages. Our Fabrications Manager is on hand to assist you through these changes within the Building Regulations and Proteus Facades system offering.
 Summary
When it comes to fire safety, it's always worth verifying claims made about performance. Post Grenfell we should all be ready to question statements like 'A1 non-combustible spandrel panels' and routinely ask suppliers for supporting evidence. In simple terms, that means evidence of testing or certification.
It is worth remembering it is highly unlikely that a spandrel panel can achieve A1 fire certification to EN 13501 with these types of systems when an adhesive or PPC finish is introduced into the panel construction. That is why it is so important to get it right when specifying spandrel panels.
Without evidence of testing or certification, it's difficult to see how fire rating claims stand up and as an industry we need to be careful about this. The only way of being certain that a spandrel panel achieves the required fire rating is to ask your supplier for evidence that they have carried out testing to the relevant standard. This will give confidence that the spandrel panel being specified will be in line with the requirements of the amended 2019 Building Regulations
To learn more about our spandrel panels please contact us