Factors to consider when specifying architectural fins
5th September 2019
Building fins are one of those architectural elements that are as much about aesthetics as they are about performance. Projecting outward from the façade they have the ability to provide visual appeal as well as provide some solar shading. For many architects and building designers they are an effective way of adding refined detailing to square frames of curtain walling systems, as was the case at 24 King Williams Street in London, one of our latest cladding projects.
Architectural fins can also enhance aesthetics by adding depth and perspective to sheer rainscreen façade systems, which would otherwise be flat and one-dimensional. In order to create this effect, multiple banks of fins work particularly well, and it is even possible to subtly vary their shape to create a sense of movement across the building.
Typically fins are manufactured from extruded aluminium, with standard or bespoke dies being utilised to form an array of shapes and profiles that are either PPC coated or anodised to provide a visual aesthetic typically matching the other elements of the external façade.  However, with the latest bending and folding equipment, it is possible to specify a wide range of other shapes and sizes for architectural or building fins that can be developed as part of the cladding supply.
Higher profile schemes generally want different materials such as brass, copper, zinc or bronze, which are able to create a truly inspiring aesthetic. These are typically available in thinner gauge materials and as such the development of fins becomes much more complex than just an aluminium profile.
The starting point when specifying architectural fins is to ask a number of key questions. These include; understanding the material finish, the position within the cladding zone, depth off the cladding line, profile shape, and where support can be generated from are all key requirements in the design development. The understanding of these key questions allows a suitable design to be developed.
If the profile is aluminium, often the simplest solution is to utilise an extrusion. These provide the ability for the profile to have clean sharps corners, however, there are limitations to extrusions in terms of the depth and width that can be extruded. There can also be high costs for producing bespoke dies, so in certain circumstances, alternative options are required.
Folding profiles are also limited, even though there has been much development in tooling and press break technology. The use of press breaking works for thin gauge materials, or built up constructions, but the profile, thickness and material can have an impact on the overall aesthetics that will be achieved. This requires a full analysis of the profile to understand press brake tooling capabilities, depths, radii and angles, which our production team carry out on a regular basis. This means that we can help architects create a real wow factor for the façade whilst remaining within the client's original budget. Our recent blog about the benefits of thin gauge cladding materials to has more information on this topic.
Fins could therefore be considered to be split into two types:
Simple Profile or Press Break fins
These type of fins are relatively simple with full aluminium extrusions, bracketed back to structure or slightly more complex with multiple elements that are connected together. 24 King William Street is a recent scheme we have undertaken with this process where bespoke vertical fins and trim flashings were supplied to embellish the curtain wall framing within the windows of the first two floors. The fins were formed from our TECU Brass material with an Artisan patinated finish. The folded, thin gauge brass profile allowed for an internal aluminium extrusion to generate support and a structural connection point back to the curtain walling profile. This generated a depth at the rear of the fin, hiding the curtain wall system from plain view and giving passers by the perception that the fins float in front of the glazing system.
The fins at King William Street were designed and bent around a bespoke aluminium extrusion that connects to the curtain wall glazing system. The outer TECU Brass element of the fins were profiled in shapes and tapered across the length to generate an angled effect – the fins increasingly extend outwards as they ascend – whilst the connection of the material to the extrusion and the window frame remains constant, whilst being detailed to stop any bimetallic corrosion between dissimilar metals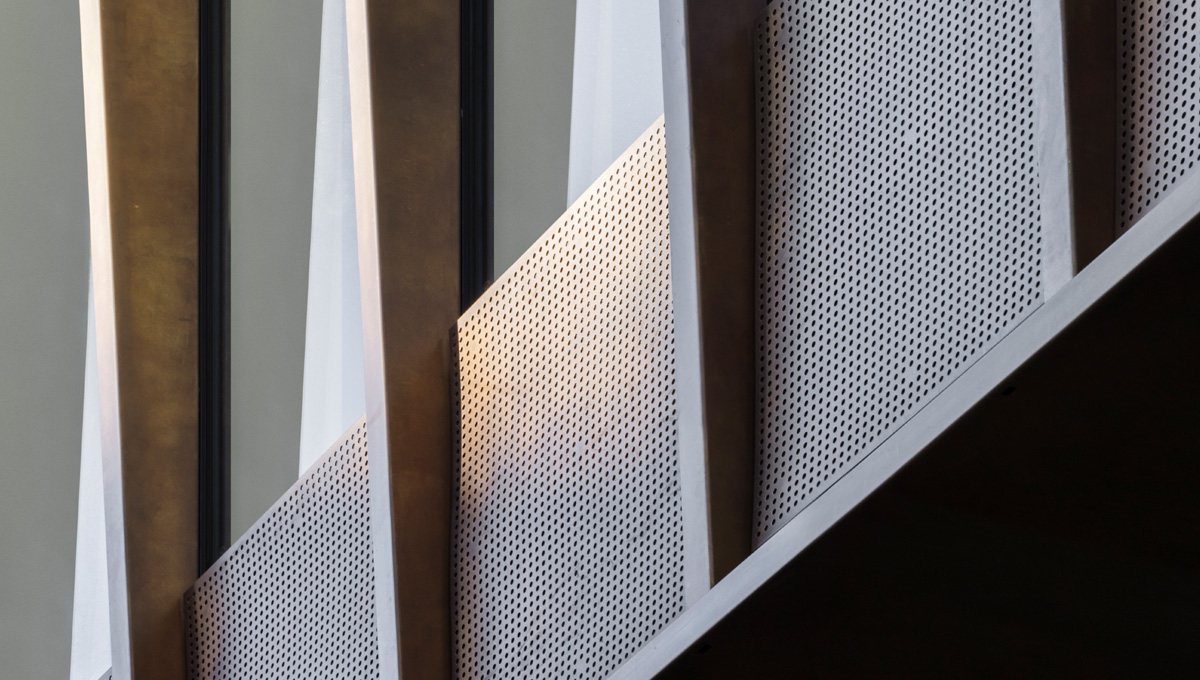 The fins were pre-assembled at our factory before being delivered to site. At the same time, first fix brackets were already installed in order to help the fins integrate seamlessly into the curtain walling on site. The brackets also made it much easier and quicker to install the fins.
Heathside and Lethbridge Phase 4 was more straightforward with a standard aluminium extrusion PPC coated to the specified colour. The depth at 300mm pushes this type of profile from an extrusion perspective, though, and from a design point, the depth of the structure adds more engineering complexity particularly around building corner locations.
Large Structural Profiles with Multiple Components
For larger fins, the issue becomes more structural, with support being the primary focus. St Catherine's College has our Proteus fins that extend up to 450mm off the building line. Pressing these profiles was not an option, so plating / cloaking a structural carcass becomes the only option. The internal structure of the fin becomes the primary requirement. On this project, aluminium extrusions were utilised to form a carcass frame, which then had an aluminium plate covering the internal box supports. This structure allows the connection of the fin to the primary frame, transferring the load and controlling the rotation motions. The aluminium plate forms a secondary purpose being the support for the external veneer of TECU Bronze, which is made in three pieces due to material width availability and profile required.
Within all this, bi-metallic corrosion needs to be considered so that different alloy materials are separated by secondary measures, for example, paint. Read our blog on bimetallic corrosion to find out more.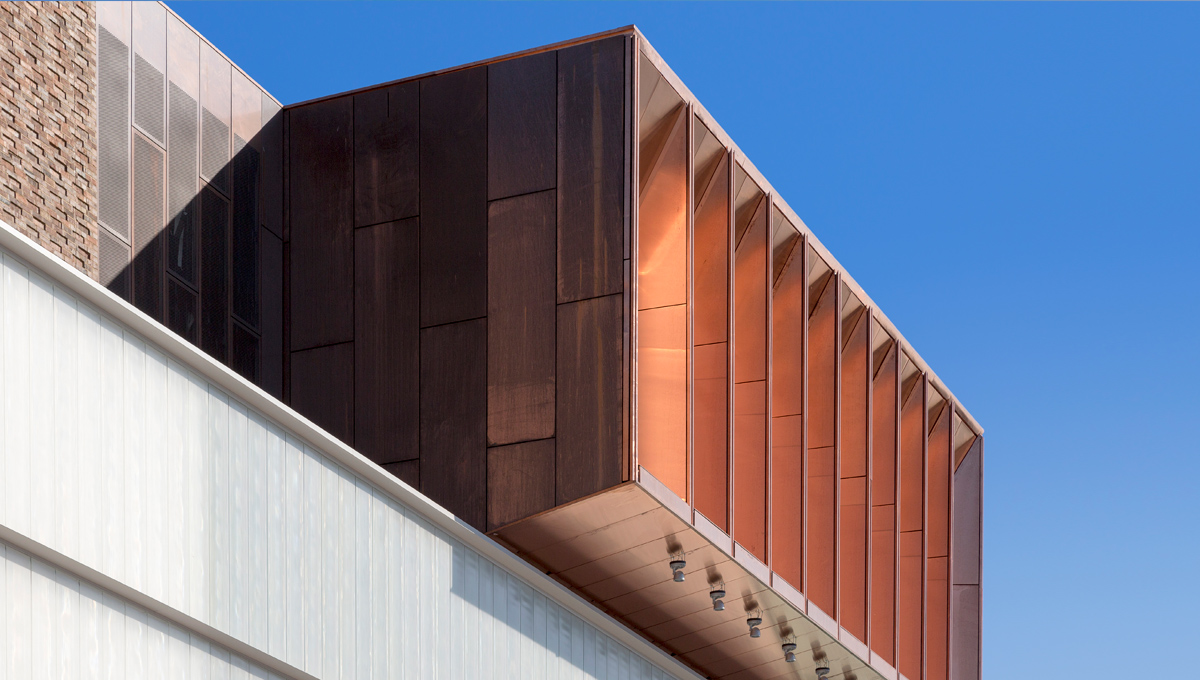 Development of this type of fin is complex and needs co-ordination between design teams and engineers. They also have a number of possible implications on site including structure, groundworks and potentially for glazing and cladding contractors.
An architectural statement
Façade fins are able to draw attention to a building, embellishing and often giving a clue to what lies inside. That was the case at King William Street, located close to London Bridge, where the brass cladding materials used for the reception have a direct link with the external brass building fins. The fins provide a striking architectural feature that announces this building as something special.
If you are thinking of specifying any of these materials it is always better talking to a manufacturer like us that has specialist knowledge in this area. We can help you raise the correct questions and with the appropriate parties, so a developed, thought-through solution is the outcome.