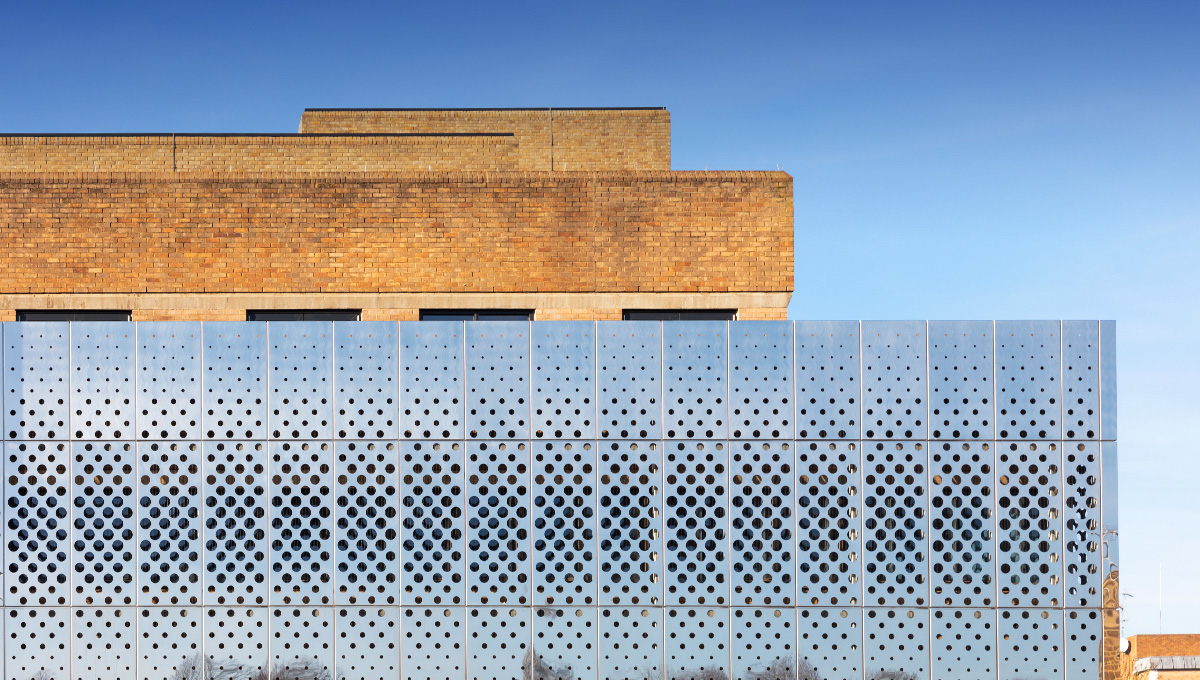 A reflection on the best mirrored cladding material options
8th November 2019
The type of material and colour used is an equally important design element when it comes to specifying rainscreen cladding. Here, in our regular blog, we look at why mirrored and reflective surface finishes on a building facade are growing in popularity
With its ability to shroud buildings, even make them disappear, and hide the lines between indoors and outdoors, mirrored cladding is one of those rare architectural materials that delivers more than expected. Aside from these ephemeral, camouflaging properties, mirrored facades provide practical benefits too, by capturing light and reflecting it down to street level to illuminate previously dingy shaded spaces. At its most basic level, mirrored facades provide visual interaction by reflecting what's near them, within both urban and rural environments whether it's trees, buildings or clouds.
When it comes to specifying reflective and mirrored cladding there are a number of choices depending on the level of reflectivity required, project design and budget:
 Stainless steel mirrored cladding
Stainless steel is a very versatile cladding material because of its corrosion resistance properties and ability to accept a range of surface finishes. Where a reflective surface is required, stainless steel cladding panels are able to accept a mirror polished finish, which has no graining and has reflective qualities similar to mirror glass. However, unlike glass, the stainless steel panels can be perforated, rolled, folded or engraved to create a really striking façade.
Our perforated mirror-polished stainless steel cladding panels were recently specified at Northampton International Academy and for good reason; the architects were looking for a way of visually reducing the size of an imposing disused Post Office building. A perimeter curtain of mirror-polished Proteus SC Perforated Stainless Steel cladding was fixed to the existing building at first floor level. It now reflects the surrounding urban landscape to visually truncate what was a monolithic-sized building. To find out more about this fascinating project, visit our case studies.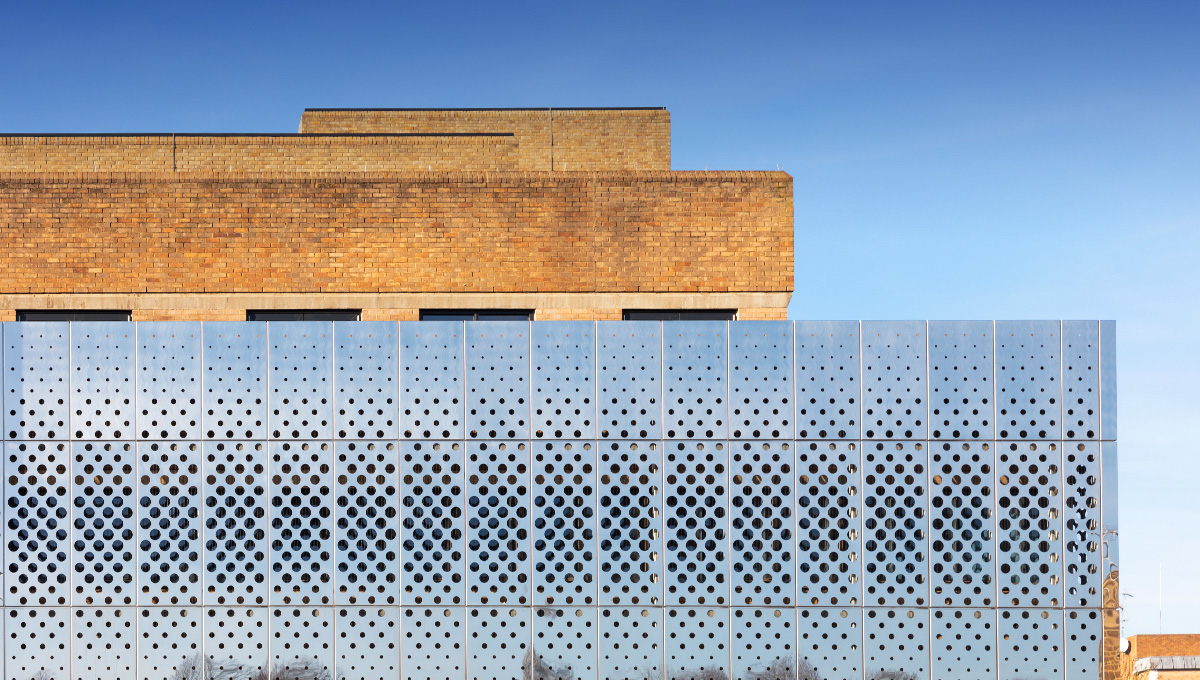 So, why specify mirror polished stainless steel cladding? Well, first and foremost it looks good, whilst the adaptability and obvious robustness of stainless steel panels provide more design freedom, combined with long term, low maintenance.
 Colourtex stainless steel mirrored cladding
Our Colourtex stainless steel is a way of visually lifting plain stainless steel by changing its base colour. This effect is achieved by increasing the thickness of the protective chromium oxide layer. Although this layer is transparent, the way it reflects light and interacts with the stainless steel substrate creates a range of colours, depending on the thickness of the layer. No paint or dye is used, so it will never fade or chip.
When our Coloutex is polished it creates a striking mirrored façade and one that has a fewer restriction on the size of the panel compared to glass, but with all the toughness of steel.  The versatility of Colourtex mirror-polished stainless steel is illustrated in another of our projects. The £6m Marks & Spencer's Archive at the University of Leeds. Broadway Malyan architects were looking for a mirror-bronze polished cladding system that was available in a variety of panel sizes and that offered panel 'flatness' to create their 3D loose pages-of-a-book facade. The ideal combination proved to be our Colourmax bronze stainless steel on Proteus HR – the lightweight aluminium honeycomb core allowed us to minimise thickness of the stainless steel face whilst still achieving optical flatness, meaning the project remained in budget. Read our blog on the benefits of specifying thin gauge metal facades.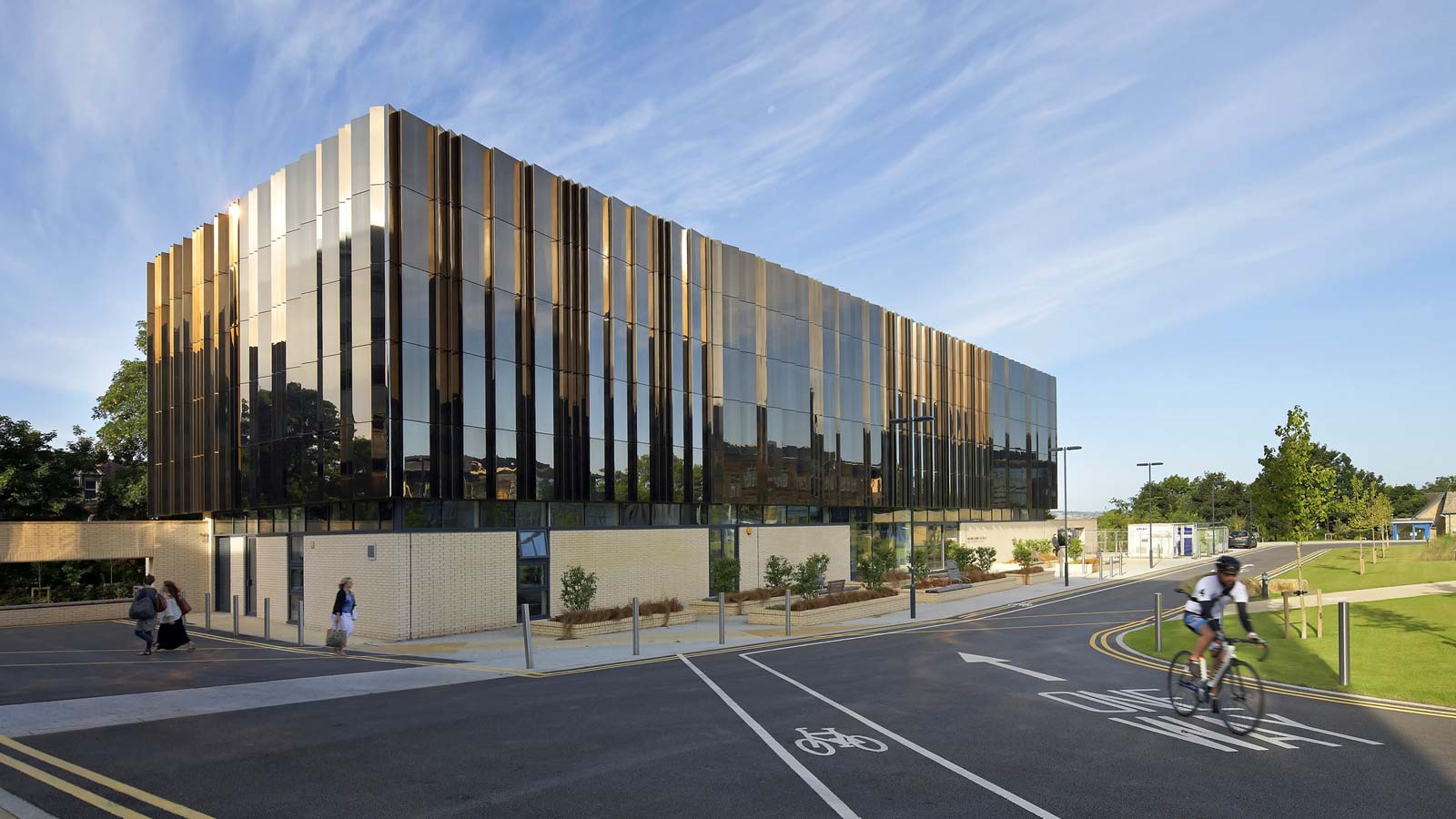 Our Black mirror polished Colourtex stainless steel cladding created an extra-ordinary two-storey office and laboratory building at the Dalton Cumbrian Facility (DCF), a joint venture between The University of Manchester's Dalton Nuclear Institute and National Decommissioning Authority (NDA). The high tech aesthetic, thanks to the black mirror polished cladding, is contrasted by reflections of the impressive natural surroundings.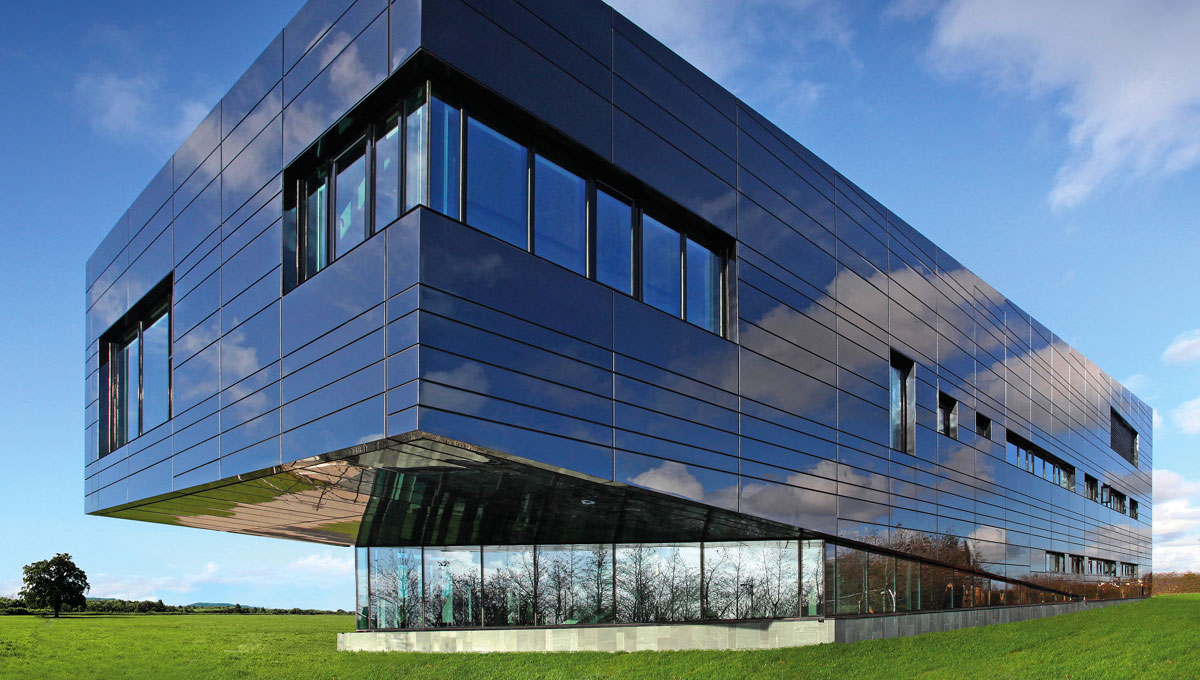 Proteus Colourtex range is available with mirror, satin or engraved surface finish. Its main benefit over stainless steel us that it can be specified in a vast range of colours and tones whilst retaining its durability and impact resistance.
 Back painted glass reflective cladding
Architects seeking a reflective cladding that is more subtle than a fully polished mirror aesthetic often choose our Proteus GL back painted glass. It has all the low maintenance benefits of glass but with the added benefit of greater reflectivity, which creates a sense of movement as people walk past or clouds pass overhead.
Our Proteus GL is manufactured from toughened back painted glass face and a lightweight metal rear skin bonded to an aluminium honeycomb core. It provides building designers with a range of standard colours, or a more bespoke design through screen printed options which allows images to be generated across the façade. We recently supplied our Proteus GL reflective, back painted glass to Lewisham & Southwark College, Waterloo Campus. The reflective cladding accentuates the saw tooth façade design on the return face by embellishing the subtly muted tones characteristic of the highly polished, reflective glass surface.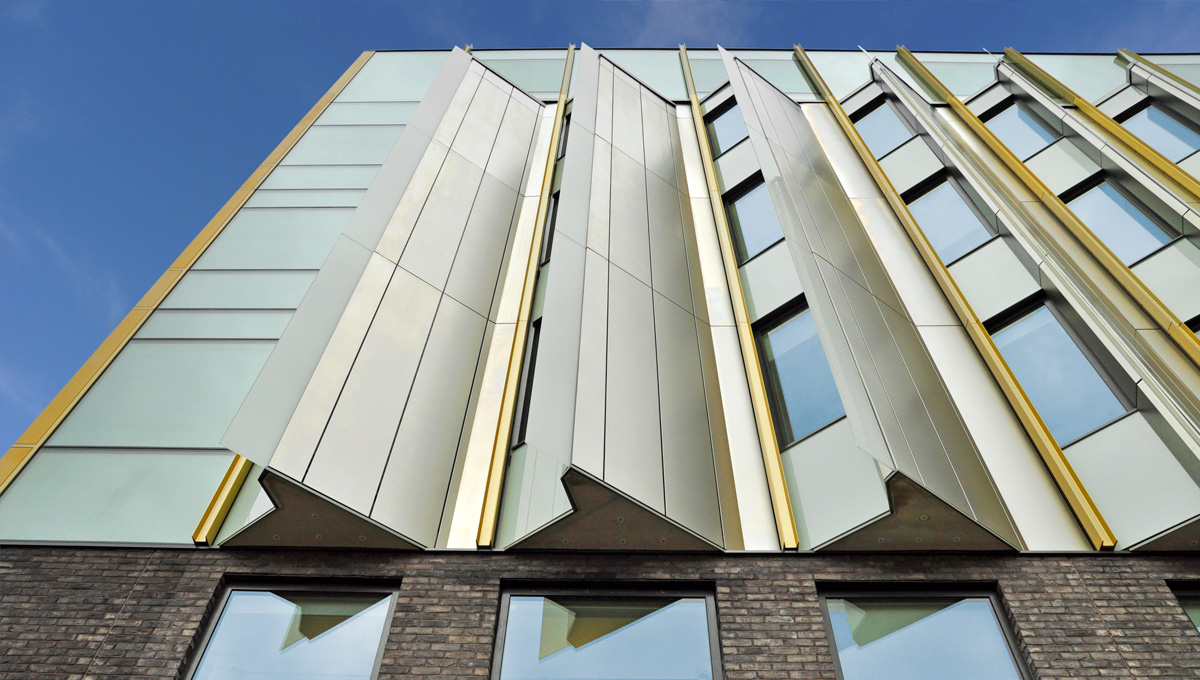 Back painted glass is a great choice for a modern or contemporary cladding design and, like stainless steel cladding, is low maintenance.
High gloss paint
Paint that has a high gloss is another way of creating a reflective facade and can be applied to either steel or aluminium cladding panels, in any RAL or BS colour. Whilst most people think of a painted finish as simply a choice between colours, in reality, it is now possible to choose the gloss level. A high gloss finish is a great way of achieving this reflective surface.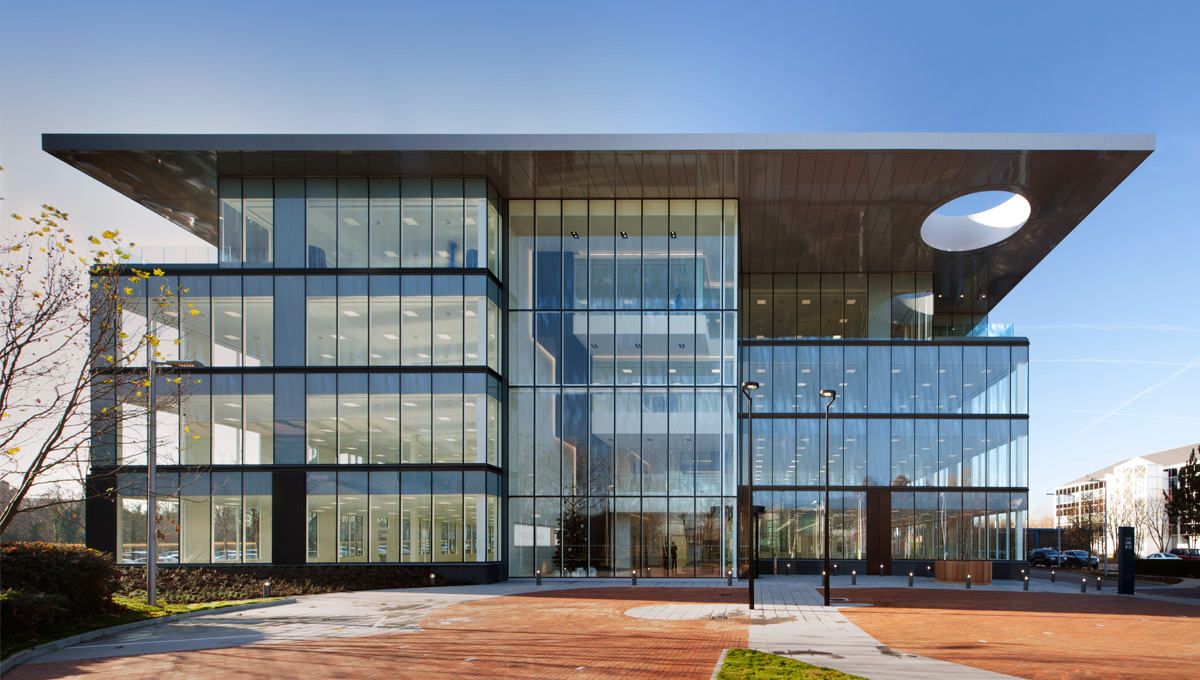 We supplied Stockley Park with high gloss post coated PPC aluminium soffit panels and rainscreen cladding in 7004 Signal Grey. It creates a reflective surface that complements the extensive use of glass curtain walling on this project.  Our high gloss Proteus HR cladding panels were also used to create a vertical band of rainscreen cladding at the rear of the building as well as the underside of a large 19m cantilevered roof that shelters the front forecourt and vehicle drop off point; quite a striking impression for visitors that look skyward.
High gloss paint is a great way to create a reflective façade if you are looking to meet strict budget requirements.
Reflective ceramic cladding panels
Architects looking for a more natural reflective aesthetic often specify our Proteus CX 'Ultrathin' porcelain ceramic range. Ceramic is highly versatile, modern façade material with a self-cleaning coating and excellent mechanical and aesthetic characteristics. It is made using natural materials.
Our range of coloured porcelain ceramic materials can be provided in polished or matt format. The former provides designers with another method of creating a reflective building façade.
Pattern and graining such as marble and woodgrain can add another visual dimension to the overall aesthetic. For example, our Calacatta marble, the polished finish has a soft, reflective appearance whilst offering an element of reflectivity.
Often, when high gloss facades are specified, designers are looking for a sheer, smooth façade. This is made possible with our carrier system which features concealed fixing systems. That means no visible fixings, allowing you to make the most of whichever mirrored or reflective cladding finish you specify.
for more information on our Proteus products get in touch or visit our product page