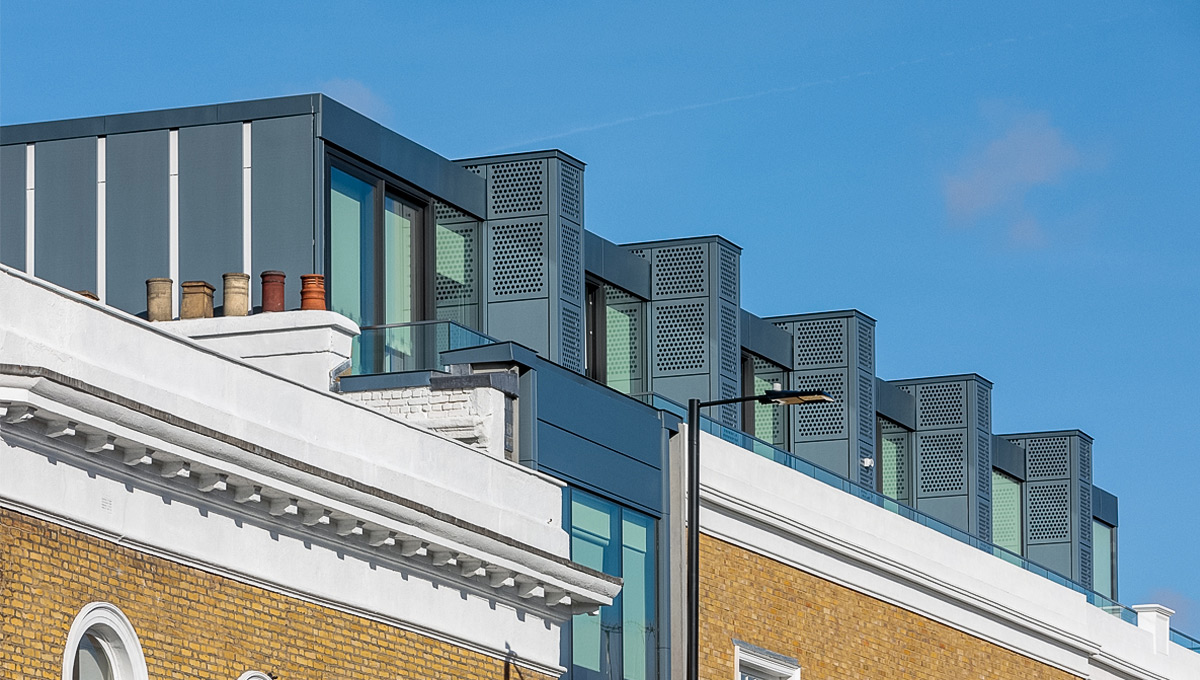 5 Reasons to specify zinc cladding
15th September 2020
The physical and aesthetic properties of zinc make it a highly suitable façade material and indeed it has been used on buildings for centuries. However, combining it with modern rainscreen cladding systems has extended its appeal further and in this, our regular blog, we look at some of the reasons why zinc cladding is suitable for both refurbishments and new builds:
Aesthetic appeal
Zinc cladding is popular with architects and developers because of its appealing aesthetics; it is highly desirable from the outset and continues to appeal as it mellows. That's because Zinc, like other metallic cladding materials such as copper, bronze and brass, develops a beautiful natural patina over time, which adds further interest to the façade.
In the case of zinc cladding, it starts with a shiny, metallic silver surface that goes on to develop a muted richness of grey, blue and brown tones. Alternatively, you have the option of bypassing this natural weathering process by specifying our pre-patinated products such as VMZinc. This is available in various pre-pigmented finishes, including natural zinc and a range of pre-weathered zinc such as Quartz-zinc, Anthra-zinc, Lichen Green, Autumn red, Ash blue and brown. Alongside this there is a wider palette of mineral hues that can be matched to RAL colours (samples available on request).
We can also supply zinc cladding with a textured finish and this can include structured, organic and repeating designs. These are just some of the reasons why it's worth asking your cladding supplier about the array of design possibilities available with a zinc façade from the very early stages of your project.
Corrosion resistant
Zinc has a high degree of resistance to atmospheric corrosion because of its ability to develop, in the presence of water and carbon dioxide, a tough microscopic protective carbonate layer across its surface, which is referred to as the 'patina'. Even if the surface of the zinc is scratched, the protective layer reforms, creating a very durable cladding system for exposed locations.
Our VMZinc PIGMENTO range is pre-weathered zinc with an added pigment, which is then sealed with a coating. This coating results in elements such as salt in the air adhering and reacting with the zinc much less. These properties mean that our VMZinc PIGMENTO performs particularly well in marine environments.
It's worth bearing in mind that if zinc is in direct contact with some metals such as copper, brass or steel it may result in galvanic reaction and accelerated corrosion. However, we can work with architects and design teams to avoid this (run-off from non-compatible products onto zinc should be avoided). Read our blog to find out more about this subject.
Workability
Our advanced fabrication facility means that we can shape zinc cladding to follow quite complex curves and building contours. That makes it highly suitable for enveloping intricate features such as chimney stacks or creating organic forms that sweep up the façade and onto roof elements.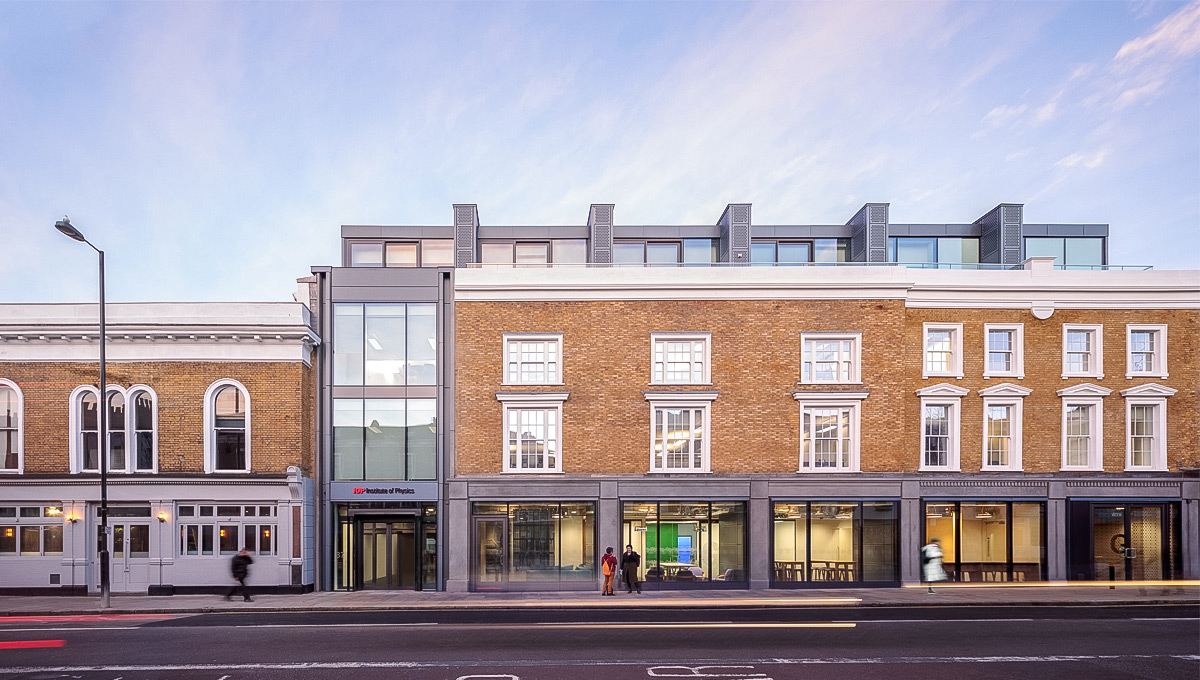 Perforated zinc cladding is also another option and these can create really striking buildings. Perforated panels also use less material, which means on some projects it can help meet budget expectations whilst creating a striking aesthetic.
As a general rule, zinc replicates the malleable properties of aluminium with the added advantage of developing a beautiful, aged patina – anodised aluminium is relatively inert and doesn't change its appearance over time (which on some projects is the desired outcome).
Long life
The long life of zinc cladding makes it a workable solution when considering whole life costs of the building as it compares very favourably with other cladding metals such as copper, bronze, brass and stainless steel. The minimum life expectancy of our zinc cladding is over 100 years in an unpolluted urban environment and between 60 and 80 years in a marine atmosphere.
Another factor worth considering if you are specifying zinc cladding is that it is not degraded by ultra-violet light, so will retain its beautiful patina.
Environmentally friendly
From an environmental perspective, zinc requires less energy to produce than other cladding metals such as steel, copper and aluminium. This is because of its relative low melting point, meaning it has less embodied energy and at the end of the building's life, zinc can be 100% recycled without losing any of its beneficial properties.
Another factor worth bearing in mind is that zinc releases no harmful pollutants in rainwater run-off such as the oxides you get with lead.
Case file: London project specifies zinc cladding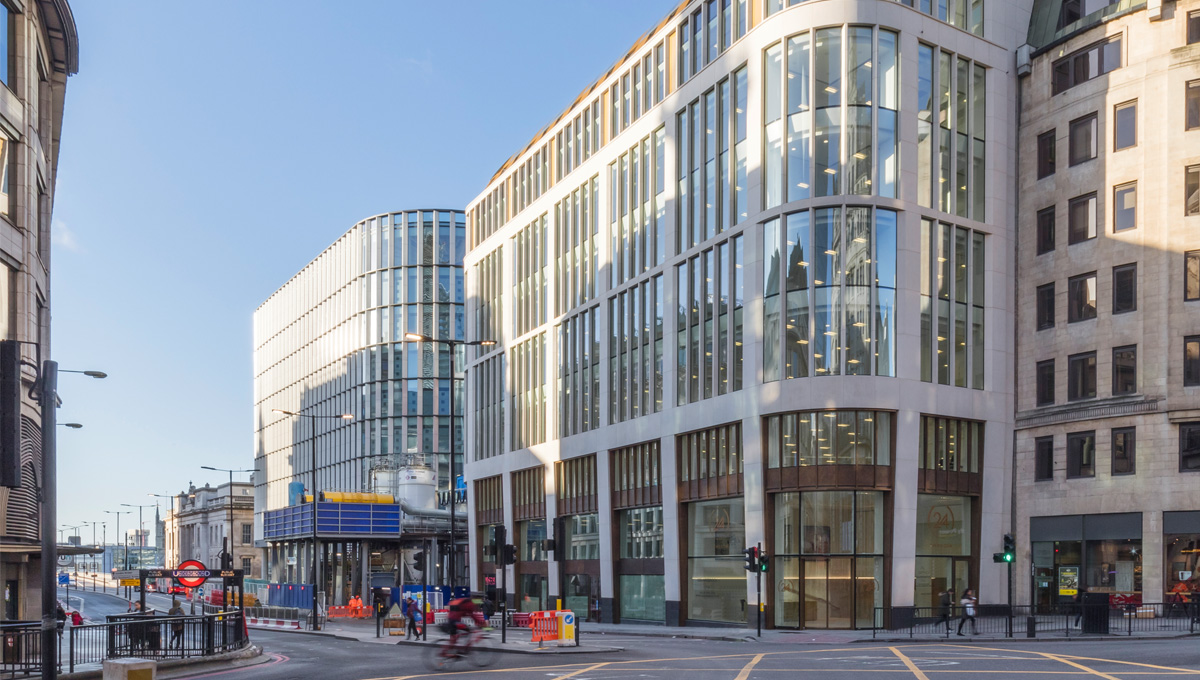 The architects at TateHindle and their client, the Institute of Physics, specified our zinc cladding for a new facility in a conservation area of Kings Cross. This sensitive location meant the designers retained the existing building's 5-storey brick facade, with the addition of a new one-and-a-half-storey extension clad in our solid Proteus HR 1.0mm VM Zinc panels with a Pigmento Blue finish.
The solid, integrated modular zinc rainscreen panels feature an aluminium honeycomb core, structurally bonded between two thin gauges of lightweight zinc skin to create an optically flat panel. This innovative cladding cassette supports the zinc facing, meaning a thinner gauge zinc material could be used without it causing light distortion or 'oil canning' across the surface as well as meeting the client's budget expectations.
We supplied Zinc cladding on another London project too, this time on 24 King William Street. The architects specified our Proteus HR Graphite Grey Rheinzinc rainscreen panels, which wraps up and over the building to create a curved zinc roofing system which blends vertical and horizontal elevations into one.