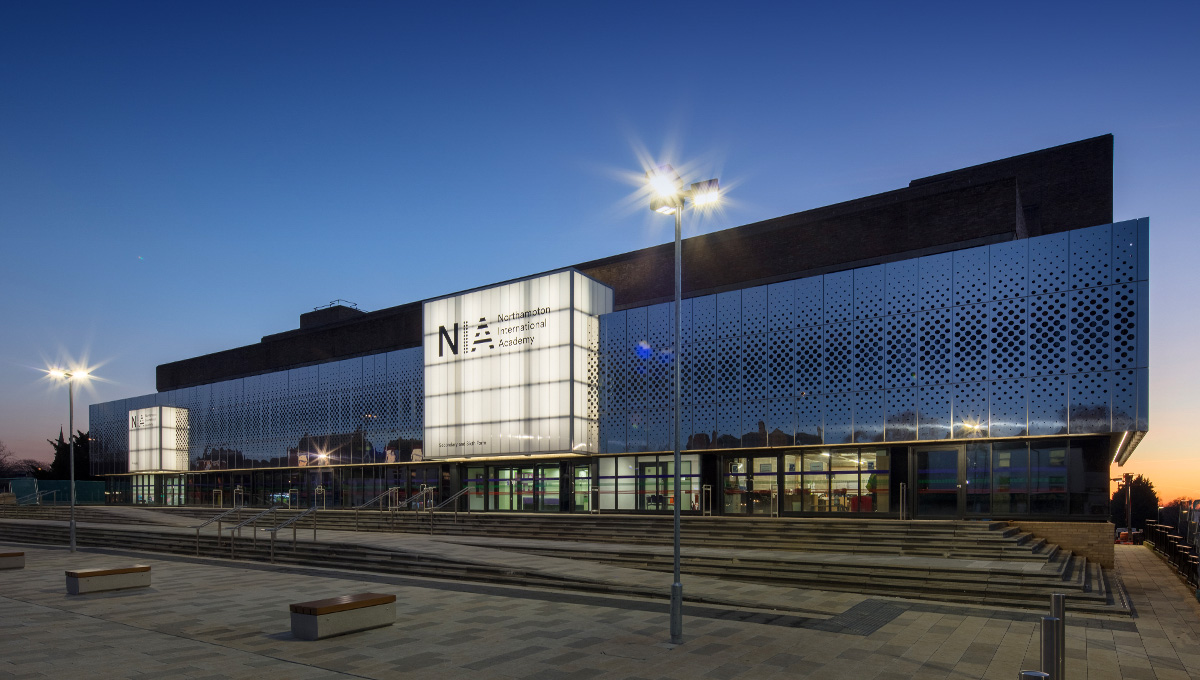 Some of our favourite rainscreen cladding projects from 2019
10th January 2020
The last 12 months have been a busy and exciting time for us at Proteus Facades. We have manufactured and supplied rainscreen cladding to a diverse range of architectural projects in the commercial, education and residential sector. As we look forward to 2020 – already with a healthy  order book – we thought it worthwhile revisiting some of the highlights from last year:
Wells Malting
This was an unusual project as it involved adding a new rainscreen clad extension to an existing Grade II listed building. In a visionary move and one that proved pivotal to the success of the whole project, Chaplin Farrant architects specified our Proteus HR TECU Brass rainscreen cladding panels.
A challenge on this project was selecting a rainscreen cladding material that would be sympathetic with the Grade II listed building. The stand-out feature that resulted in our Proteus HR TECU Brass rainscreen cladding being specified is that it weathers just like a natural material; The brass cladding at Wells Malting will develop a beautiful patination over time as it is exposed to atmospheric conditions, creating warm hues of ochres and browns that complement the brickwork and flint walls.
The £5m arts, heritage and community project in Wells-next-the-Sea, Norfolk, went on to be shortlisted for the Royal Institution of Chartered Surveyors (RICS) East of England Awards in both the Commercial and Community Benefit categories. It was also Highly Commended in the Graham Allen Awards for making a 'significant contribution to the built environment within the district'.
Spanish City
Another Grade II Listed project, although this time ADP architects specified our Proteus SC perforated TECU Patina. The cladding panels feature circular perforations, whilst their homogenous pattern creates a semi-translucent aesthetic that adds depth to what would otherwise be a simple cubed structure. Fixed over large glazed areas, the perforations provide a practical purpose, too; at the same time as reducing solar glare they blur the demarcation of internal floor levels, creating a light and airy out-of-this-world aesthetic when seen from street level.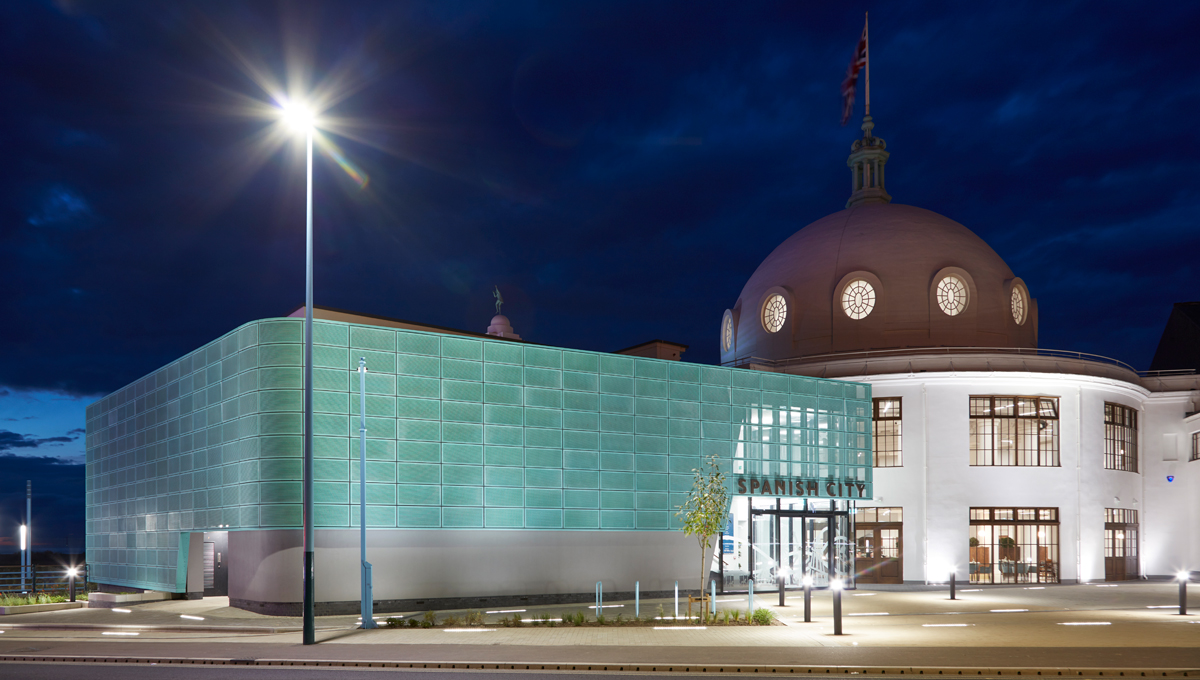 The challenge on this project was choosing a rainscreen cladding material that could stand up to the Renaissance-style frontage of the original Grade II domed-building. Proteus SC perforated TECU Patina cladding was a bold move, but one applauded by judges of the RIBA North East Award 2019.
Mulberry Park
Perforated cladding is a theme on several projects we supplied in 2019, including Mulberry Park, a new residential development near Bath. Our blog explains why perforated cladding might also be a good option for your project. Designed by BDP architects and their client Curo housing association, the eye-catching Mulberry Park building is unusual because the image created by our Proteus TECU Gold perforations were derived from historic aerial photographs of the World War II harbours of the same name, which was manufactured at the site. Download our System Overview brochure to find out more about our perforated pattern capabilities. Other elements of this project feature solid Proteus TECU Gold cladding panels.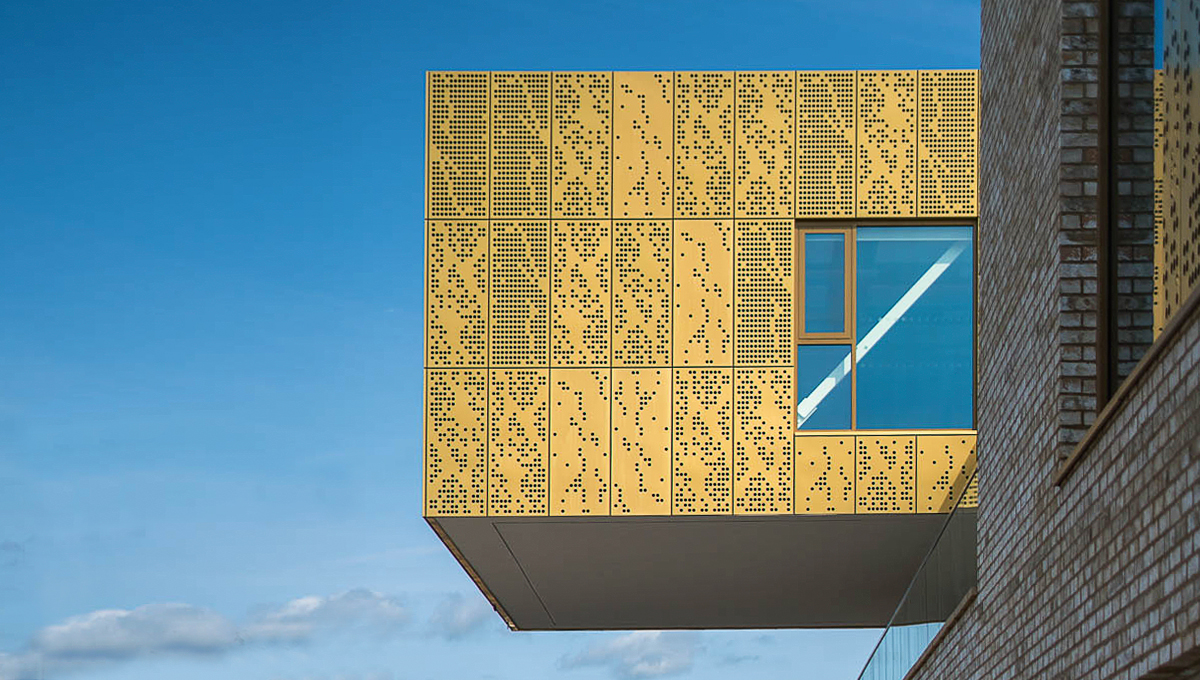 The challenge at Mulberry Park was to create the striking perforated façade – including extra-large perforated cladding panels – whilst working around limitations in material thickness. Our engineering team devised an ingenious solution using a unique framing system that meant a thinner perforated skin could be used on the face of the panel without resulting in deflection or distortion. It also helped the striking façade remain within budget requirements. Read our blog to find out the reasons why our framing system can help reduce the amount of material needed for a perforated rainscreen facade: How to specify a perforated thin gauge metal facade?
Mulberry Park Community Hub was crowned the winner of the South West Community Benefit category at the Royal Institute of Chartered Surveyors (RICS) Awards 2019.
Janet Nash House
A FaulknerBrowns architect's trailblazer for how future corporate headquarters should be designed is the best way of describing this project. The design of the new European IT headquarters for global electrical wholesaler City Electrical Factors (CEF) is a visual celebration of the company's ethos and rich industrial heritage. The 'electrifying' aluminium façade, which takes its inspiration from CEF's core product – the foil shield of a coaxial cable – is executed in our Proteus HR Euromax AluNatur Elox Anodised Brushed pre-coated aluminium.
A challenge on this project was recreating the coaxial pattern on the scale of a building façade. We proposed our Euromax AluNatur because it consists of semi-transparent clear-coats applied on brushed or transparent lacquering aluminium surface. This highlights the natural character of the aluminium substrate material and, by choosing pre-coat finishes to minimise shade variation between panels and working with the project specifiers and installers to ensure consistency of grain direction, we achieved the high aesthetic detailing required on this project.
Janet Nash House went on to win the North East RIBA Regional Award 2019 and two British Council for Offices' (BCO) regional awards.
24 King William Street
Refurbishment rather than demolition and newbuild not only delivers environmental benefits but can create a more interesting building with real-life provenance. The £23 million renovation of 24 King William Street in London now joins the growing number of commercial premises that have been transformed using rainscreen cladding. Proteus SC TECU Brass panels and bespoke vertical fins and trim flashings, with an Artisan hand applied patinated finish, now create an extraordinary ground level and street-facing elevations. The fins are complemented by Proteus SC perforated panels fixed over insulated spandrel panels within the curtain wall system.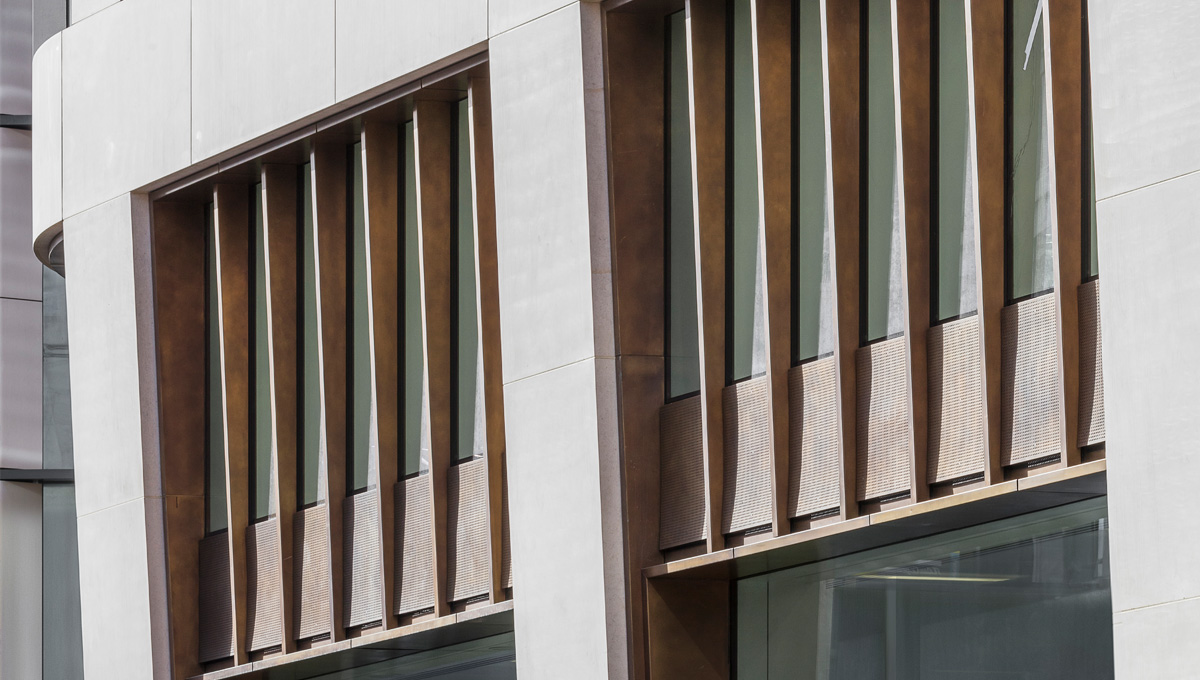 Proteus HR Graphite Grey Rheinzinc rainscreen panels were specified for rear elevations of the nine-storey building. The zinc material wraps up and over forming a curved zinc roofing system which blends vertical and horizontal elevations into one. We also supplied United Anodisers UnAtex cladding panels for integration within the windows on the top two floors.  These flow up and onto the roof generating the patterned effect, while making it look like the façade and roof become one element.
24 King William Street by Ben Adams Architects is a masterclass on how to make old buildings look and perform like new.
Northampton Academy
Sometimes cladding can be used to visually minimise the scale of large buildings, as was the case with Northampton Academy. The clever use of perforations, which reduce in size from the middle of the façade to the top and bottom edges, maximises translucency, whilst acting as brise soleil on this school building. It's the overall effect, though, that makes this perforated cladding the central visual element of this project. What was once a monolithic building in the centre of Northampton set for demolition has now become a beacon of optimism for other brutalist designs that have fallen out of favour with the public.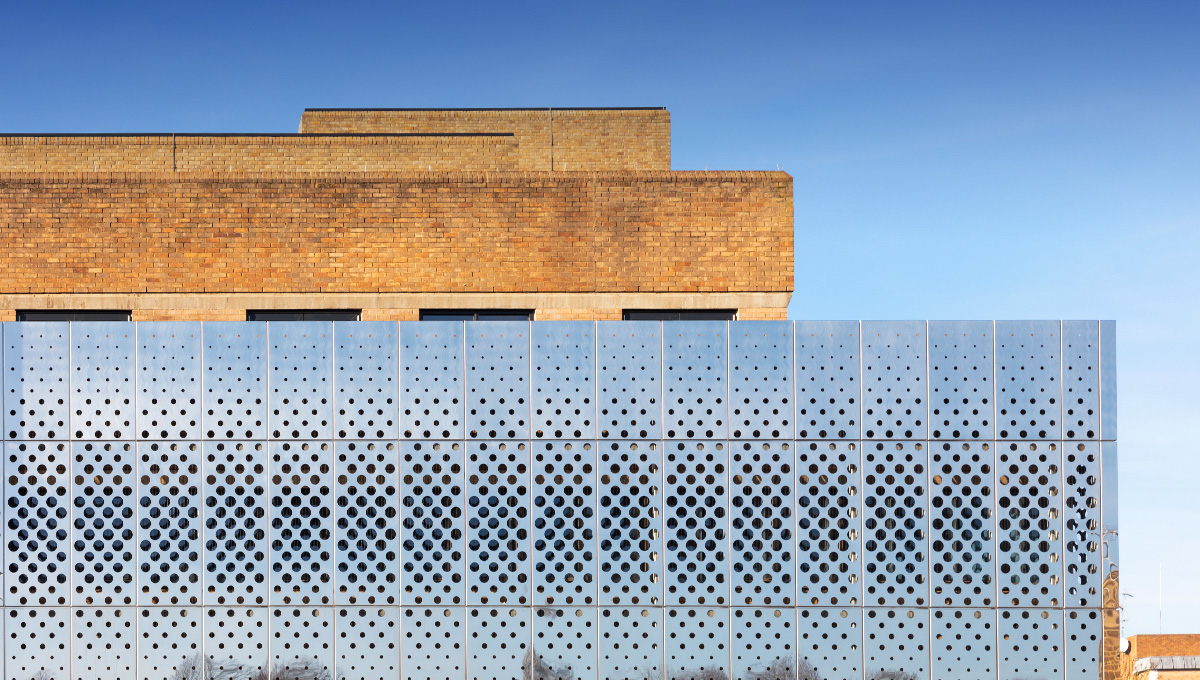 A challenge on this project was the careful placement of the perforations – which allow natural light to pass through and illuminate the interior of the school. We manufactured the single skin perforated panels at Northampton Academy from sheets of 2mm stainless steel because of its high strength, excellent corrosion resistance and modern, progressive aesthetic.
Northampton International Academy was named one of the "boldest" buildings of 2019 by the Royal Institute of British Architects.
Hoxton Square
Proteus HR TECU Patina Madrid panels were specified for the double-height structure built on top of Hoxton Square. We designed and manufactured the architectural fins to the south elevations and window frames to match. The patterned copper finish of our Proteus material complements the colours and textures of the surrounding buildings.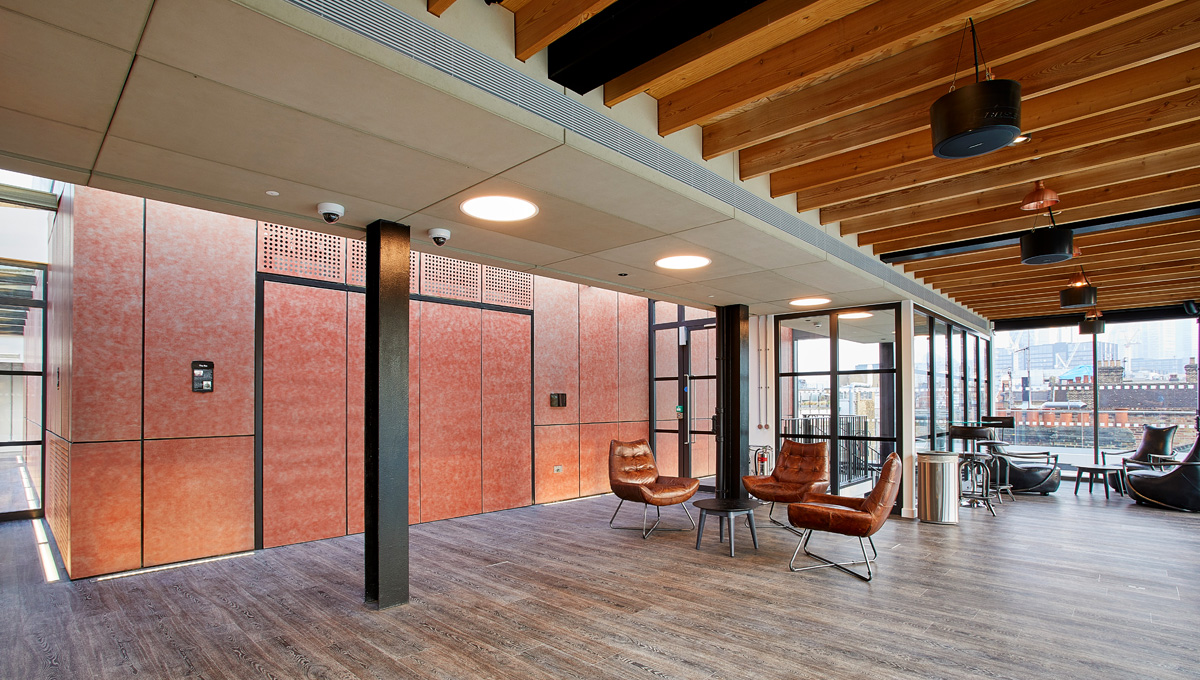 Hoxton Square, which is now offices for Aviva, is another shining example of how refurbishment using Proteus cladding can transform an ordinary building into something extraordinary.
Thi project is definitely worth a second look; illustrating our capabilities of manufacturing internal and external cladding and façade elements.
These are just some of our projects completed in 2019. To view our full range of products please visit our Products page.