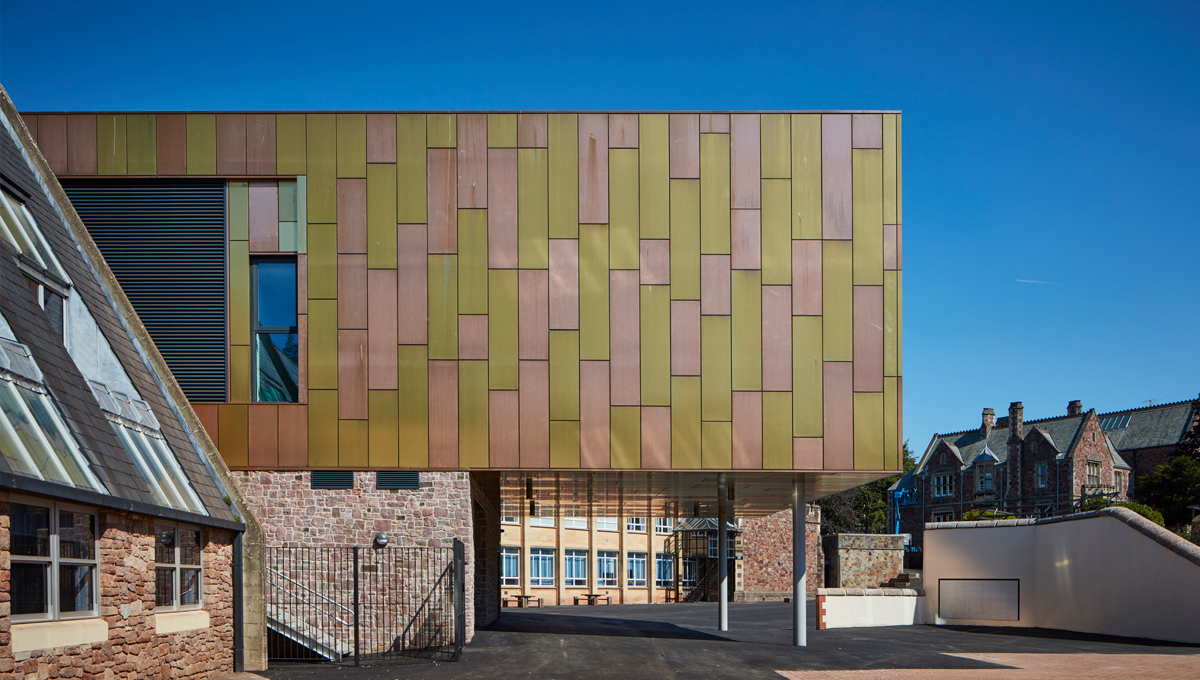 A guide to choosing copper alloy rainscreen cladding materials
10th January 2018
The use of copper alloys as a rainscreen cladding material continues to grow in popularity as designers seek out their unique aesthetic properties. Copper alloys are gaining favour for other reasons too, specifically their durability, longevity and low maintenance properties.
There is a wide choice of copper alloys available for creating a rainscreen cladding panels. We have previously covered the topic of base Copper in a previous blog, but other Copper Alloys offer alternative options. Bronze remains in demand because it looks stunning from the day it is installed and then continues to develop and embellish its aesthetic qualities by taking on subtle earthy brown-red to brown-grey tones through the natural weathering process. And, being an alloy of copper and tin, our TECU Bronze provides the façade with outstanding mechanical abrasion and corrosion resistance properties that mean it, along with all our other copper alloys, is one of the most durable cladding materials available.
Another copper alloy that has the ability to transform an ordinary rainscreen façade into something architecturally extra-ordinary is our TECU Brass range. TECU® Brass is created by blending copper and zinc, which again creates an extremely tough, robust façade. TECU Brass will subtly change from its initial golden colour as a result of the natural weathering process. Initially it will develop a matt finish on the surface before taking on a subtle and varied brown tone that continues through to a deep, rich dark brown-anthracite.
In order to shorten the timescale for achieving the subtle muted tones on our TECU Brass and Bronze materials we often suggest building designers simply consider our pre-patinated options. This is where the oxidised layer is applied before the cladding panels leave our factory, bypassing the gradual development of the earthy tones through natural weathering resulting from exposure to atmospheric conditions once the façade is installed.
Both our TECU Bronze and TECU Brass cladding materials are available with a range of different surface treatments such as BMA (Brass/Bronze Metal Antique), Artisan Burnished, Mid Brown Distressed, Metropolitan, Black Florentine and bespoke finishes from Capisco and Bronze Restoration. To view the full range click here.
A great example of the stunning visual effect that can be created by these surface treatments was demonstrated at the RIBA award-winning 35,000ft2 JW3 (Jewish Community Centre) in London. Our Proteus HR system in TECU Artisan Burnished Brass was specified to create the solid rainscreen base to the lower ground floor of the building. Perforated single-skin Proteus SC panels, installed outside full-length glazing, screen elements, was used for the first and second floors. What works on this project is the way in which the subtle natural colours of the TECU Brass copper alloy complement the buff London brickwork.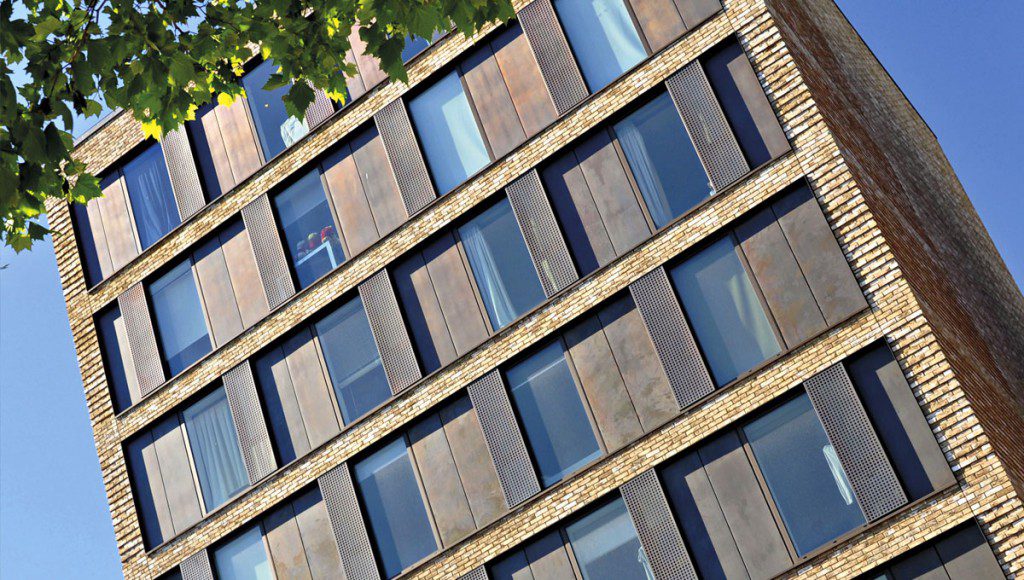 Another example of the ability of surface treatments to embellish our TECU Brass and TECU Bronze cladding materials can be seen at Imperial College's new Molecular Sciences Research Hub in London, designed by Aukett Swanke.
We supplied our Proteus SC perforated panels in TECU Brass with a Capisco Patinated finish to create a dynamic aesthetic that visually lifted the flat bare concrete façade and glazed elements.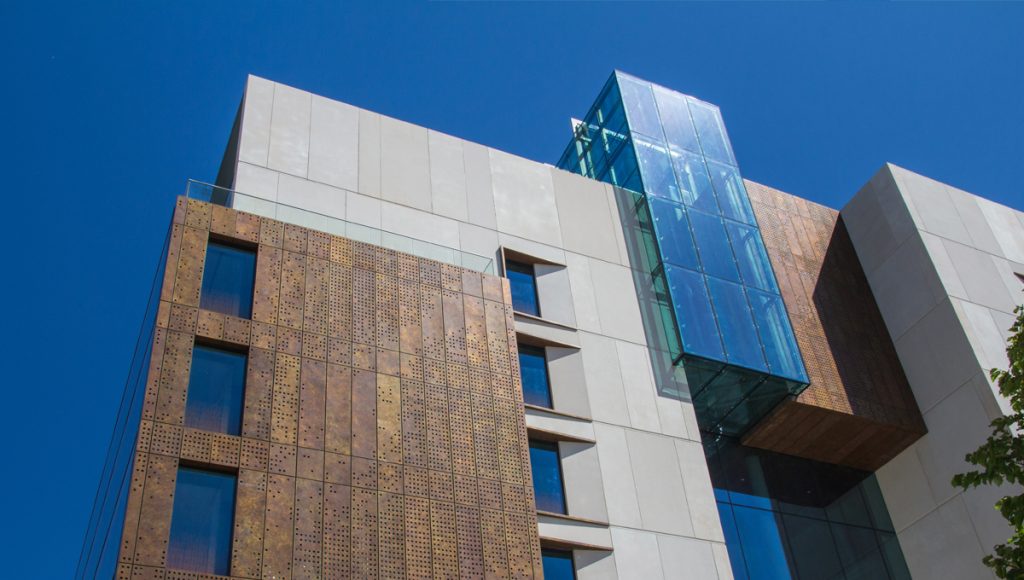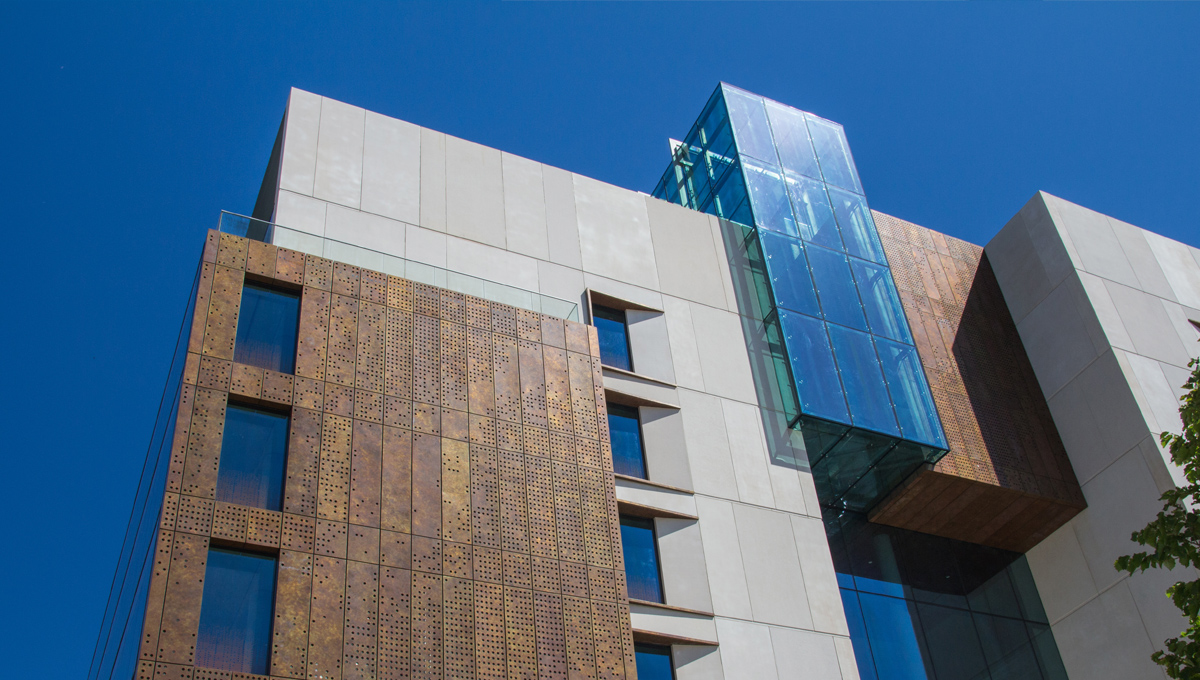 Our pre-patinated option is a popular choice on our brass and bronze cladding panels because it creates the beautiful and subtle colour variations from day one, just as you would get from the natural weathering process over an extended time. The unique colour tones created on our patinated TECU cladding materials allow you to create unique facades that add to our architectural landscape.
We also offer a range of other copper alloys including TECU Gold, recently installed as shingles at Chamberlayne Road, London, the 'hippest street in Europe'! TECU Gold is a relatively new copper alloy that is a mix of copper and aluminium. As with all our copper alloys, it works particularly well for rainscreen cladding, screening, soffits, reveals and roofline applications – all of which we can manufacture from perfectly matching TECU materials. Again TECU Gold offers outstanding mechanical abrasion and is highly corrosion resistant and durable. The initial gold appearance of the façade will gradually oxidise following installation, forming an enchanting warm golden surface.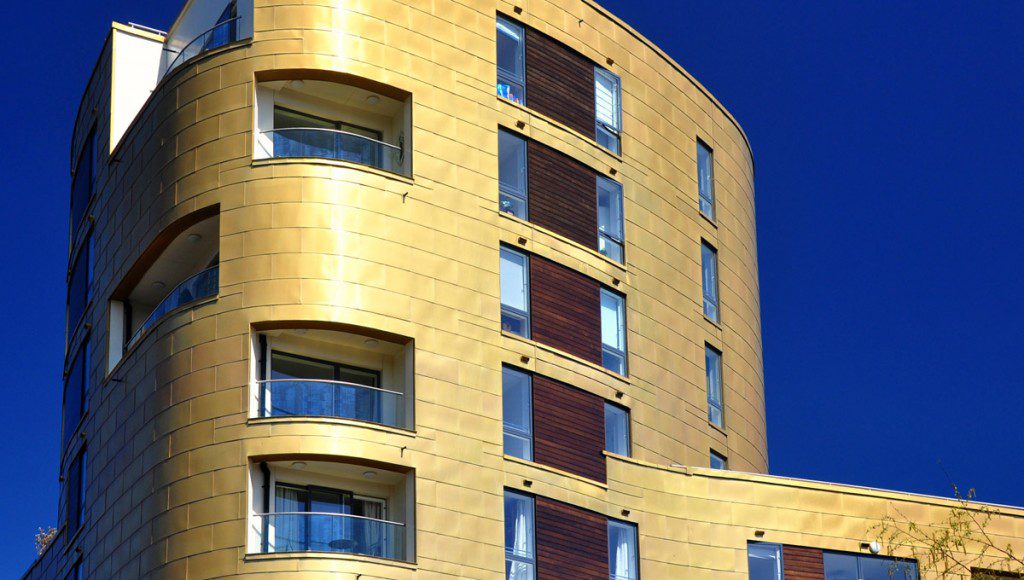 If you are looking to achieve the ever popular grey tones on your building design, our TECU® Zinn is an excellent choice. The material is a tin-plated copper that offers all the advantages of copper but weathers from silver to subtle grey tones. Grey TECU Zinn cladding panels are highly suited if you require a subtle way of accentuating flashes of colour on other areas of the façade, for example, around window reveals or entrance area.
The exceptional stability and material rigidity of our copper alloy materials makes them an ideal complement to our Proteus HR honeycomb core cladding panels. This system involves structurally bonded two thin gauges of lightweight metal skin such as copper alloy to the honeycomb core. Each panel is supported by the unique Proteus system of aluminium carriers and ancillary components, which can be installed on to any type of wall construction.
Our copper alloy is also available on the Proteus SC system. This is our engineered panel system that is offered in either solid, perforated or mesh panel formats. By utilising an extensive range of metals, colours, textures and forms we can add another dimension to any of our copper alloy products.
The decision to design buildings using cladding systems made from copper alloy materials provides a vast scope of opportunities for architectural creativity. The striking natural, ever-changing surface of these materials creates unique, one-off designs that simply aren't possible with some other cladding materials
Add to this the free-form design possibilities of pre-patinated, burnished, brushed, distressed and Bronze Metal Antique (BMA) surface treatments and you have everything needed to create a building that comes to life and grows even more beautiful over time.
To find out more about our range of copper alloys, click here.