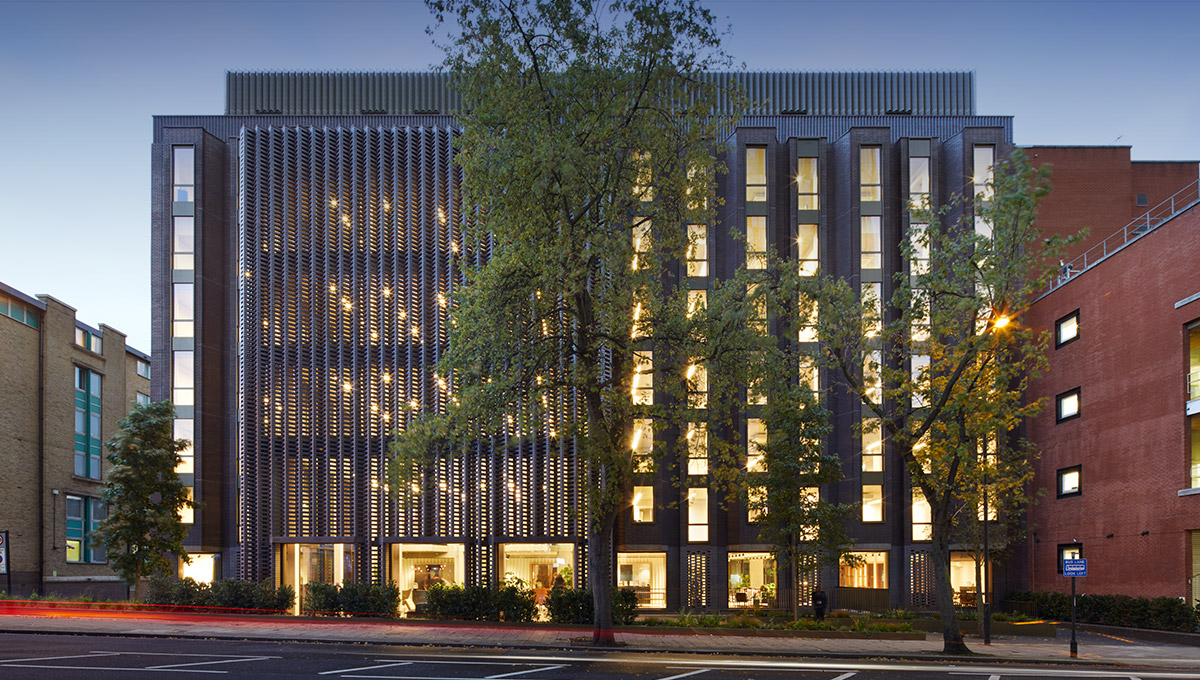 Giving Thanks And Looking Back At 2020
22nd December 2020
It is safe to say that 2020 was a year that no one could have predicted, however despite the pandemic we've remained operational throughout and our teams have been as busy as ever.
When the pandemic hit, we weren't sure how things would turn out for us, but thankfully, the construction sector continued to perform and so have we. So, despite having to make a lot of changes to ensure our busy manufacturing facility was meeting rules and regulations placed by the government, together our team has worked incredibly hard to fabricate a number of eye-catching facades.
Here we take a look back at our top three most innovative projects completed this year.
St Catherine's College Graduate Centre
Probably one of our most innovative projects to date is the new state-of-the-art Graduate Centre at St Catherine's College, Oxford. The building resides on the site of the original Grade I listed campus designed by renowned architect Arne Jacobsen.
Built between 1960 and 1964, Jacobsen designed the college's main campus in its entirety. Since Jacobsen's death in 1971 additional buildings have been delivered by the Danish architect's assistant, Knud Holscher, and Stirling Prize-winning RIBA past president Stephen Hodder. Architects Purcell designed the new Graduate Centre as a continuation of the second phase of Hodder's development by following his typology as sensitively as possible.
Proteus HR TECU bronze cladding panels were specified for the cylindrical three-storey hub, which features a seminar room and common room, as a reference to Jacobsen's use of the material on previous projects at the college, synchronising old with new.
The panels are fixed onto a unique system of aluminium carriers and ancillary components, which we also designed and manufactured. We fabricated the structural element of the fixing system so that it physically curves around the building. Installers Norman & Underwood then secured the flat panels to create a faceted façade that, when viewed from afar gives the perception that it is curved around a tight radius.
In addition, we fabricated three varieties of TECU bronze fins for external use on glazed sections. Shorter fins were secured with a modified vertical aluminium extrusion cloaked with TECU bronze and secured with stainless steel brackets. Each one is fixed off the curtain wall system, with the TECU bronze capping designed bespoke to achieve the maximum depth from the glazing line to create a more striking aesthetic.
Deeper, vertical TECU Bronze fins are secured to a bespoke structural frame up to 450mm off the cladding line, which compartmentalises the façade. The vertical fins frame the structural bay and are fixed off curtain walling, spigoted into the ground and bracketed at the head. The internal aluminium carcass was secured with structural brackets back to the curtain wall and plated at joint positions with discrete fixings.
Horizontal beams on the top of the upper level were fabricated in a curve and fixed to a bespoke aluminium structure, then cloaked with the TECU Bronze material from Proteus. Norman & Underwood secured the beams with structural gusseted brackets fixed back to the primary structure. All three types of fins went through a double-marquette process, where principal and secondary designs were presented to the architects and client for review before manufacture.
As well as a reference to the original campus buildings, the bronze finish of the panels and fins was specified to contrast in tone and glossiness with stainless steel panels, which we also manufactured for use on existing and newly developed student accommodation blocks adjacent to the centre.
York House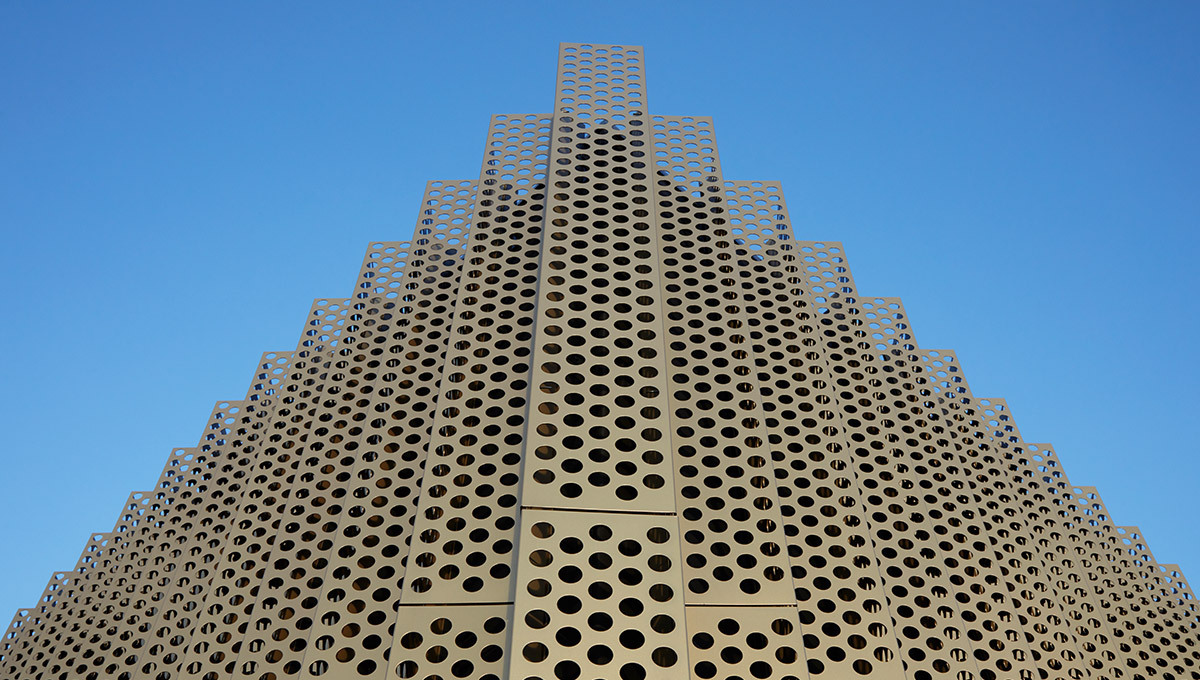 York House features our Proteus SC Perforated Aluminium cladding panels that wrap around a parapet along the new terrace in a bespoke repeated zig zag profile.
The panels were used to transform the defunct 1980s structure in the heart of London into a visually striking, contemporary commercial office space. This aesthetic was only achievable through the addition of metal cladding. The panels were manufactured from 2mm aluminium sheets with an Interpon D2525 Anodic Bronze Polyester Powder Coat (PPC) finish to all sides and 40mm perforations in a regular triangular grid and set on a 45-degree angle.
Each panel, installed by Richardson Roofing, is supported by a recessed aluminium PPC framing system devised by our team and coloured to match. The unique fixings discreetly hold the cladding system in place whilst allowing for a thinner perforated skin to be used without resulting in deflection or distortion, helping the façade remain both aesthetically pleasing and within budget requirements.
Furthermore, careful placement of the perforations allows for natural light to pass through new enlarged windows, comfortably illuminating the interior of the once darkened building, with no need for blinds and reducing the level of artificial lighting required. This, alongside the installation of solar panels, premium insulation and double glazing (taking the efficiency rating from G to A), have resulted in the redevelopment achieving a BREEAM 'Excellent' certification.
Pound Field (Lambeth Road) Student Accommodation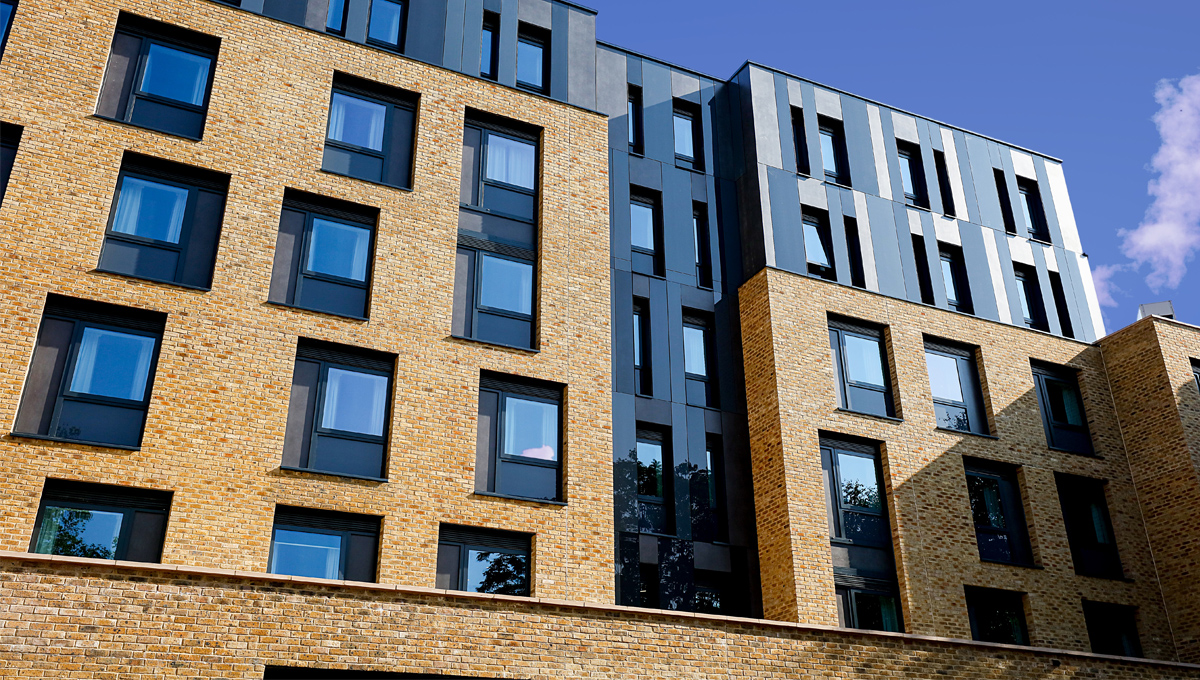 Pound Field student accommodation developed by Downing Construction, is situated on Lambeth Road in the heart of the historic Lambeth Palace Conservation Area (Zone 1) of central London. Designed by KKA Architecture, the building features a mix of Proteus GL rainscreen cladding panels in Iron grey (RAL 7011) and Anthracite grey (RAL 7016), alongside Proteus CX porcelain ceramic rainscreen cladding panels in a Road, slate style finish.
The combination of glass and ceramic in the varying shades of grey and reflectivity, which have been described as sleek and aesthetically pleasing by local residents and passers-by, were chosen to complement the historic surroundings of the local area. At the same time, it provides a subtle contrast against the golden brickwork exterior on the building's lower levels.
The glass panels were specified due to the materials inert properties and because it provides a virtually unlimited lifespan and is completely impervious to rust and corrosion. It is also lightweight, being up to 40 percent lighter than a typical glass structural screen, colourfast and resists UV rays.
With the advanced production technique of honeycomb bonding, Proteus CX was chosen as it creates greater flexibility for architects to apply large format and lightweight ceramic finishes, as was the case on this development.
Adding further elements to the façade, we also worked closely with Downing Construction, KKA Architecture and Clarke Façades to fabricate a new and bespoke range of complementary glass and ceramic Proteus SP spandrel panels.
Each spandrel panel, which features a Rockfibre core and pre coated steel rear skin, is fixed into glazed sections, improving the building's energy efficiency and establishing an integrated appearance that gives an indication of the high specification of building and attention to detail inside.
Finally…
Reflecting on the past 12 months, we are fortunate to have been allowed to continue working throughout most of the pandemic to ensure our customers can complete their projects on time and to budget.
We couldn't have done this without our fantastic team, so, as we come to a close for the festive season, we want to say a huge thank you to each and every employee for their hard work and enthusiasm.
Huge thanks also to our loyal customers and supply chain partners for their continued support. With our order books already filling up for the year ahead and lots of exciting things planned for our business in the coming months, we're looking forward to hitting the ground running when we return in January.
In the meantime, we wish you all a very Merry Christmas and a happy and healthy New Year.