Five ways that back painted glass rainscreen cladding can benefit your building
7th June 2020
Rainscreen cladding systems can be manufactured from a wide range of materials, with the most common, at least until recently, being metals such as steel, aluminium, brass, copper and rarer versions such as bronze and Corten cladding. However, over the last few months, we've seen demand grow for our back painted glass rainscreen cladding systems.
There are several reasons for this increase in popularity and why more architects are specifying back painted glass facades, here are just some of them:
Aesthetics
Glass has always been a sought-after architectural material principally because of its timeless appeal. Recent advances in glass technology mean there is now a greater choice of colours and finishes available than ever before. Our Proteus GL system can be back painted in any RAL colour or digitally / screen printed to create unique and endless contemporary and bespoke design options. This includes screen printing company logos and branding or even imagery inspired by nature such as leaf structures and landscapes.
We supplied an impressive university project in London that demonstrated the aesthetic capabilities of our Proteus GL back painted glass rainscreen cladding system.  Richard Hopkinson Architects & Platform 5 Architects specified it in RAL 9010 for Lewisham & Southwark College's Waterloo Campus. The back-painted glass cladding highlights the saw tooth design on the return face of each section, accentuating the subtly muted tones that are characteristic of the highly polished, reflective glass surface.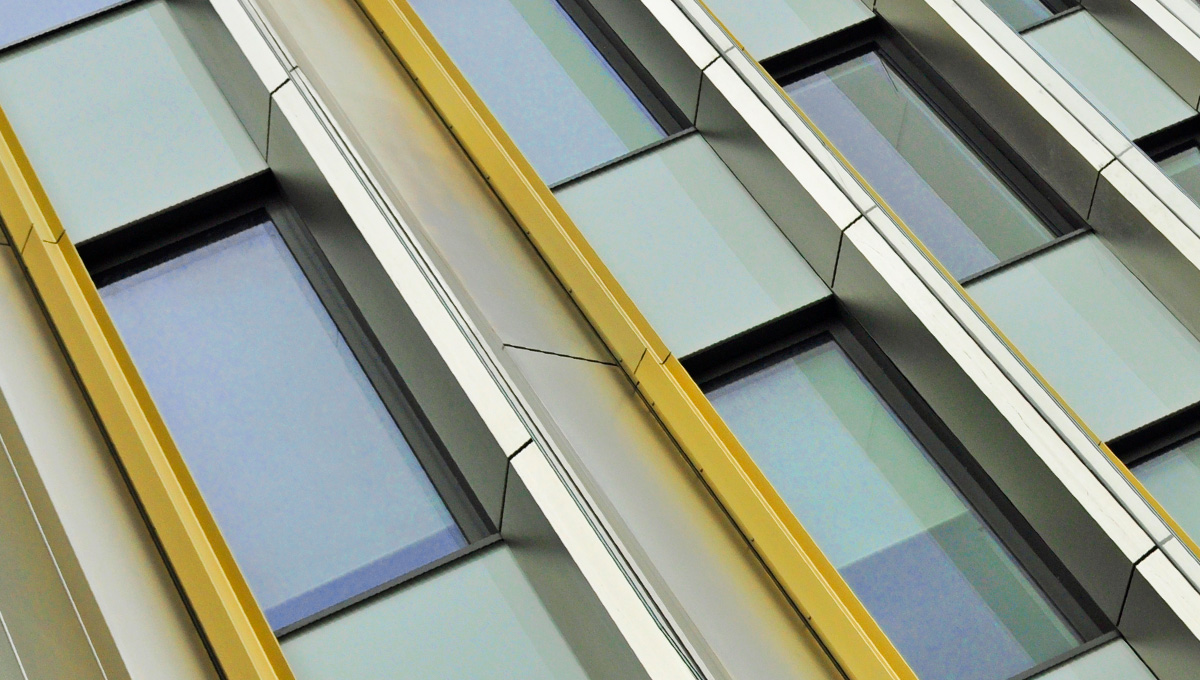 Another recent project was Holbrook House in West London. SimpsonHaugh & Partners specified our A2 rated Proteus GL rainscreen cladding panels in five different shades that graduate from a dark blue/grey to light blue/white. The effect is to visually truncate the 24-storey student accommodation building whilst creating a shimmering façade that reflects the cityscape around it.
We have retained the aesthetic appeal of our Proteus GL system by designing it with no visible fixings, which creates a sheer, smooth façade.
Low maintenance
Architects often specify our back painted glass rainscreen cladding systems because they know that the materials inherent durability and non-porous properties will reduce the maintenance burden. The impenetrable surface of glass also makes it highly resistant to staining and graffiti, which is a major benefit for clients in certain sectors.
This property means our back painted glass is able to stand up to the punishing effects of wind, rain and UV light, as well as wind-blown particles, all of which can have a detrimental effect on some facade materials over time.
Another factor to bear in mind is that it is the reverse side of the glass where the paint is applied, which means the coloured finish or pattern applied to the panels is protected, so wont flake, require repainting or become scratched. As glass is a completely inert material, Proteus GL provides a virtually unlimited lifespan because it is rust and corrosion free. It is colourfast, resists UV rays and is fully tested and compliant with CWCT Standards
Fire performance
Our Proteus GL back painted glass rainscreen cladding system is certified with an A2 fire rating performance and we discuss this in detail in another of our blogs. The starting point, of course, is that glass is a non-combustible material, making it a good choice for cladding buildings over 18m. However, when specifying glass rainscreen cladding you need to ask what testing has been carried out in relation to the fire rating – assessments cannot be used as a form of compliance following Grenfell. These updated requirements are reflected in Building Regulations Approved Document B (fire safety), meaning a move to actual testing and certification.
For more details on this read our blog, EN13501 Product Classification: Implication for Rainscreen Cladding:
Sustainability
Aside from its aesthetic appeal, one of the reasons why SimpsonHaugh and Partners specified glass cladding for Holbrook House was because it is 33 percent lighter than a typical glass rainscreen system.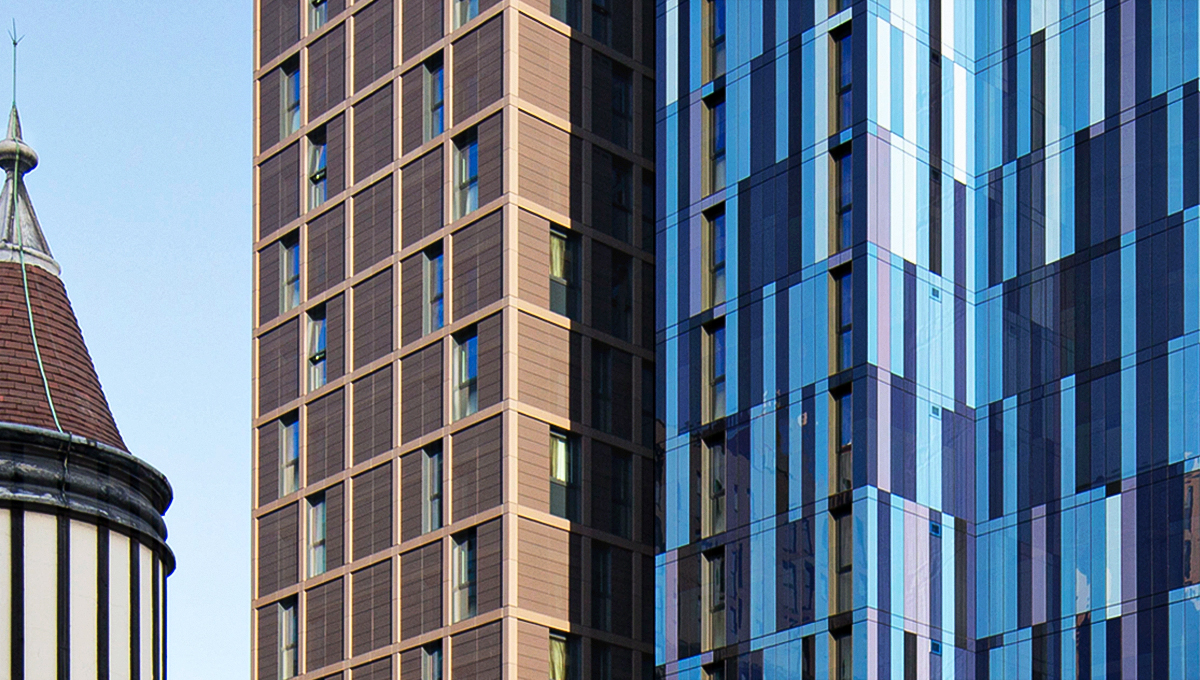 This is achieved because Proteus GL consists of an aluminium honeycomb core structurally bonded between a toughened back painted glass face and a lightweight metal rear skin. Aside from creating a lightweight, strong and rigid cladding panel, these benefits assisted other elements of a building design such as foundations and structural framing. It can result in significant material savings and because many of these have a high embodied energy, choosing Proteus GL contributes to the buildings overall sustainability.
Design choices
The Proteus GL back painted glass is applied to our innovative honeycomb technology to create a lightweight, large spanning rainscreen panel. It is manufactured in our quality assessed production facility; no on-site bonding is required, which provides you with the peace of mind that it will perform over the long term.  We offer a full consultation service at the early stages of your project, whilst our Technical & Commercial departments will provide design assistance to ensure compliance and provide cost-effective solutions.
In combination, this provides you with the resources to create glass rainscreen facades that are capable of turning an ordinary design into something extraordinary. Our glass cladding creates a stunning architectural feature that is ideal for a wide range of commercial, educational and residential exteriors. In can also be used internally to create striking glazed areas within a building. Proteus GL back painted glass can be specified for vertical, horizontal and sloping applications.
For more information about the Proteus GL range  click here