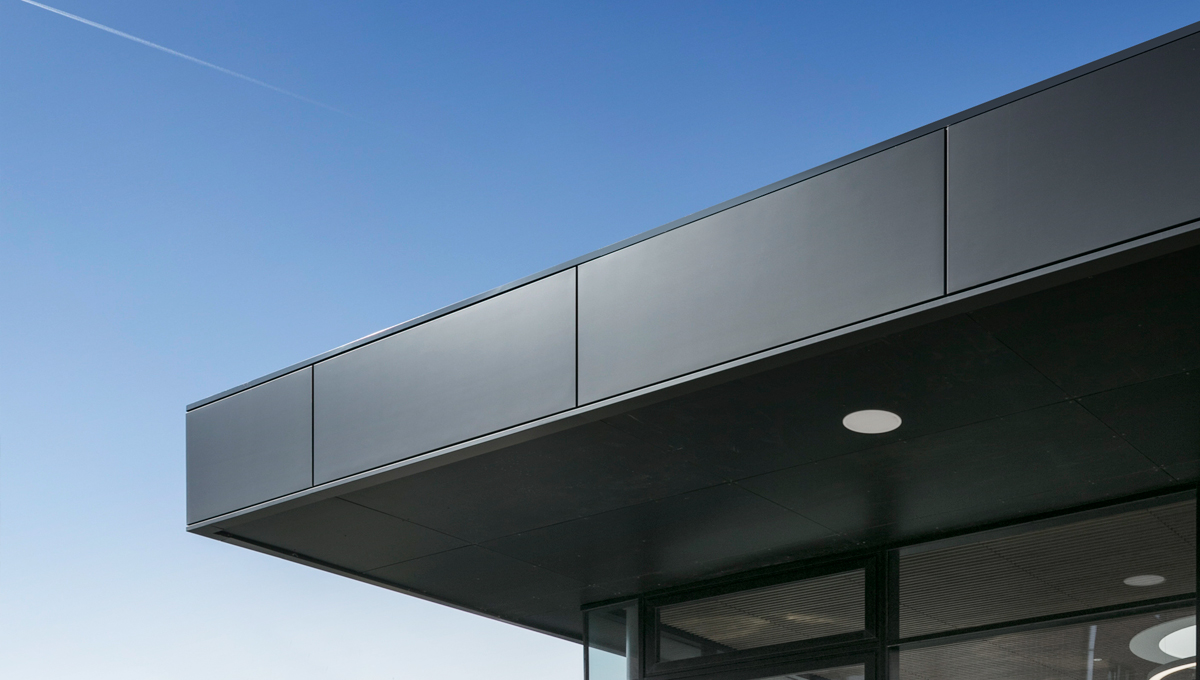 Five benefits of pre-coated aluminium cladding systems
27th June 2019
Here in our latest blog, we look at some of the reasons why pre-coated aluminium makes a good choice for large facade cladding projects.
Aluminium has been used in architecture for nearly a century. It is a strong, lightweight, durable and corrosion resistant material that can be recycled indefinitely. It fits with designers' aspirations too, having the capacity to be formed into a wide range of shapes and sizes, whilst complementing other commonly used building materials. Aluminium has, to some extent, driven a revolution in architectural design over the last 50 years.
Advances in the way that aluminium is presented have helped increase its popularity as well. One of these is pre-coated aluminium, which is where the material is coil-coated with a tough, flexible paint system. What really makes pre-coated aluminium popular with architects and designers, is that it is suited to larger building facades where it provides a value engineered solution and striking aesthetics.
Here are the benefits of pre-coated aluminium in more detail:
Large Scope of colours, finishes and textural effects
Pre-coated aluminium is available in a wide range of colours (in addition to any RAL or BS colour), finishes and textures, which elevates it above 'flat' finishes such as PPC. It is this characteristic that allows the creation of a similar aesthetics to materials such as stainless steel, anodised aluminium, copper, zinc and brass.  Conversely, PPC finishes tend to work best if you are looking for solid, flat colours, meaning it is fairly limited when you need something slightly different.
Pre-coating aluminium, on the other hand, offers much more scope, with the ability to recreate a wide range of metallic finishes to give the façade a cutting-edge futuristic look. However, you have to factor in that pre coated aluminium does have a fairly high minimum order quantity for a single order, which is why, for smaller quantities, a PPC finish is the only method commercially available.
It's worth bearing in mind that pre-coating is a fixed colour, meaning that it won't mature and develop through natural oxidation and weathering as natural metallics do. However, it is possible to specify which stage of weathering you prefer, so for instance, you can choose a pre-painted aluminium to recreate the aesthetic of the ever popular Verdigris green. Again, minimum order quantities may apply so always check with us first.
Manufacturers of pre coated materials such as Euromax and Reynolux, have invested significantly to increase the range and offering of metallic, coloured and textured finishes available. These are suitable for use as rainscreen cladding, flashings, fascias, rooflines and other metal fabrications.
Our brushed and textured Euromax pre-coated finish was recently specified for the new City Electrical Factors' (CEF) European IT headquarters in Durham. The designers liked the fact that the pre-coated aluminium Proteus HR panels offered a value engineered solution for recreating the aesthetic of RIMEX's Stainless Steel Granex C1A finish. This was originally envisaged for the project but found to be outside budget constraints.
Recreation of natural façade materials
It is possible to specify woodgrain finishes in our pre-coated aluminium range, which provides all the benefits of a natural timber façade but without the associated costs or ongoing maintenance. In addition, metal rainscreen cladding has a high strength to weight ratio – a huge advantage in many exterior and interior façade projects because it reduces weight loading on foundations. Being lower weight than timber cladding can also result in savings on brackets and aluminium support as well, which reduces the installation costs of the system.
Alternatively, we can create stone-effect facades using our pre-coat sand-effect finish Design Terra Sand – a popular choice with designers seeking a rainscreen façade with a natural, textural surface, or to manage its reflectivity. Again, considerably lighter than a stone façade, potentially making significant savings and quicker to install (which meets the requirement of modern methods of construction).
Added depth and interest to the surface finish
Where you are looking for a façade finish with the added depth we would recommend our AluNatur pre-coating because it allows the aluminium substrate to shine through. This mimics materials that may otherwise be outside the scope of the brief, especially where a brushed substrate is used, allowing the 'raw' aesthetic to embellish the surface appearance. When this transparent paint layer is filled with a small amount of pigment, the colour becomes semi-transparent creating a subtle tint that complements or contrasts with other materials.
Bear in mind that the paint used on pre-coated materials is directional, meaning it has a 'grain', so this needs to be factored into the scheme or taken into account at design and construction phase. We are always happy to guide you through this process and can often help you make a feature of this graining. For example, where you are seeking a value engineering method of recreating an anodised aluminium or granular stainless steel aesthetic.
The Proteus HR Euromax AluNatur outer skins at CEF's Janet Nash House feature an Elox Anodised Brushed pre-coated finish that recreated the coaxial pattern found on electrical cables – CEF's core product. These striking pre-coated finishes consist of semi-transparent clear coats applied on brushed or lacquered aluminium surfaces.
Consistent colour and larger cladding panels
Advances in the quality of pre-coating ensures a uniform paint layer and consistent colour. And, because pre-coated aluminium can be bought in large quantities and with a consistent finish it minimises shade variation between panels.
Pre-coated materials allow longer panels to be produced too, with the ability to roll form sections in excess of the typical bench press limitations of PPC options. This ensures a superior aesthetic and unquestionable advantages in corrosion resistance, durability and sustainability.
If you have a large façade and like the look of wider cladding panels then pre-coated aluminium could be the best choice.
Tough and hardwearing
All our pre-coat aluminium finishes are tough and hardwearing, although if you are looking for an extended warranty then PVdF is an option. This is our paint finish pre-coated aluminium that has the ability to be folded during fabrication without any detriment to the surface.
This makes PVdF a popular Pre-coated aluminium solution where good colour and gloss retention are important. Ryder HKS and Design Buro Architects recently specified 13,000m2 of our Proteus HR aluminium panels for University Hospital of North Staffordshire, Stoke-On-Trent. The main colour was RAL 9006 pre-coated PVdF paint finish. The robustness of the PVdF panels enabled us to supply pre formed flat, cranked, facetted and pre curved panels direct to site.
For more information on Proteus HR click here 
or to learn more about pre-coated and posted coated aluminium read our blog A guide to pre and post coated rainscreen claddng