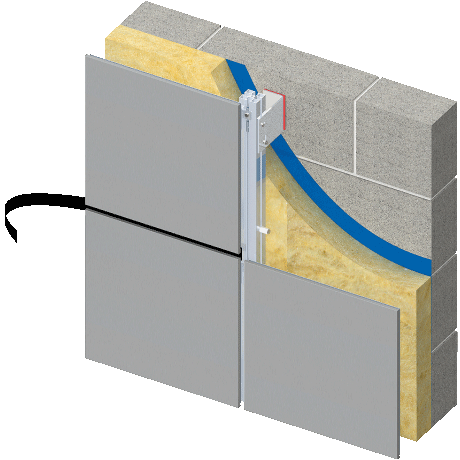 What are the Benefits of Rainscreen Cladding
4th July 2017
The modern concept of rainscreen cladding was developed in Scandinavia during the 1940′s and it soon became widely used throughout Europe. But what is rainsceen cladding? And what are the benefits of rainscreen cladding for a commercial building owner or manager?
The main benefit of rainscreen cladding systems is that it protects the structure of the building, whether it's a steel frame or masonry based system, from the elements and specifically rainwater. It does this because the cladding panels form a barrier to rainwater, preventing it from penetrating across the rear ventilated cavity and reaching the exterior wall of the building. This process is helped by air continually circulated up through the ventilated cavity, driving any moisture that penetrates between the panels, upwards and out at soffit level before it reaches the building structure.
Keeping a building dry in this way provides it with a number of performance benefits including better thermal efficiency. For instance, keeping the external wall dry retains its energy efficiency. Conversely, a wall that becomes wet loses more energy because water conducts heat energy from inside the building. Aside from this advantage of rear ventilated cladding, keeping the underlying structure dry means less maintenance as there are fewer incidents of rust or corrosion on metalwork or spalling of masonry elements.
Rear ventilated cladding systems offer another significant benefit in that they are relatively lightweight when compared to conventional masonry builds. The use of lightweight materials like aluminium in facade panels therefore means less loading on the underlying building structure. This allows savings to be made on foundations and internal supporting walls, both of which tend to be made from high embodied energy materials like masonry.  Architects and designers have long understood that reducing the need for internal supporting walls creates lighter, brighter interiors, a fact that is particularly valuable to landlords looking to maximise rental space and create a desirable, naturally-lit interior ambience.
Rainscreen cladding can also impact significantly on a building's ongoing maintenance costs. Without rainscreen cladding on exterior elevations, buildings made of porous material such as cement render are exposed to the elements and the deterioration process can happen quickly. The use of robust, impervious cladding material, such as aluminium, steel, corten and copper physically protects a building from the elements, whilst creating a very low maintenance facade. In addition, modern rainscreen cladding systems allow for individual panels to be removed, giving maintenance teams easy access to services. This ease of access means that upgrades or repairs to building services can be done cost effectively and with minimum disruption to occupiers.
Better Sustainability
Adding rainscreen cladding to the exterior of an existing building is a low-cost way of improving its thermal performance, without any loss of internal floor space. In an over clad situation, insulation is fixed to the external wall of the building before over cladding with a rainscreen system. Over cladding is also an excellent way of modernising a tired looking building envelope that may be structurally sound, but poorly insulated and unsightly. Over cladding an existing building, rather than demolition and new-build, is also much less carbon intensive, for example, having to remove materials from site takes a huge amount of resources as well as being disruptive for local residents.
 Modern rainscreen cladding systems are lightweight and strong and because of that, they support the creation of innovative designs that appear to defy gravity. Whether it's an overhanging canopy, parabolic curve or gauged out aperture in a facade, the right rainscreen cladding system can help designers deliver visionary and innovative developments that really makes your building distinctly different.
Proteus Facades offers a full range of cladding systems including Proteus HR, Proteus GL, Proteus CX & Proteus SC