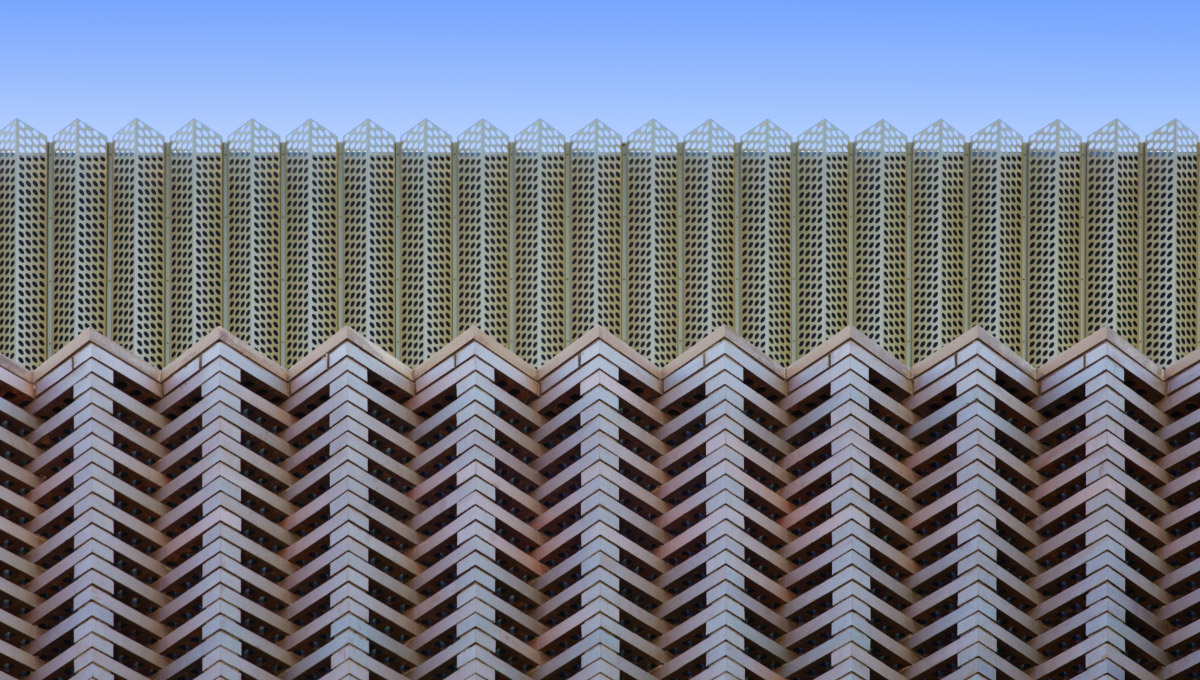 8 key questions asked by architects about perforated metal facades
23rd February 2020
Perforated façades can define the whole aesthetic appearance of a project. As a result, especially over the last few months, we have noticed that perforated cladding is growing in popularity, which is due partly to its practical benefits, along with the fact it offers architects more choice than ever in terms of design, material and finish options available.
Here, in our regular blog, we look at eight key questions that architects and designers commonly ask about our perforated cladding systems.
Am I restricted in the type of metal I can use for perforated cladding?
The simple answer to that is, no, all commonly available metal specified for rainscreen cladding systems can be used to create a perforated façade. There are, of course, materials which are more popular than others. For example, perforated aluminium cladding is always going to be regularly specified because the material is widely available and offered in more section sizes. At the same time, latest finishes in PPC (Polyester Powder Coated) technology allows us to recreate the look of rarer materials such as brass, bronze and Corten. Our blog the architects guide to powder coating looks at these in detail.
The only point to bear in mind is that, away from aluminium, some metals may have limitations on width and thicknesses available, which will have an impact on the solution we can provide. But, usually, only in the size of the overall panel is affected – we can work with most metals to create a perforated façade. However, we can offer guidance on the design or suggest alternative materials that will achieve the same overall aesthetic.
Are there restrictions on the number and size of perforations?
There are very few restrictions on the number and size of perforations. The panel has to remain rigid and achieve the structural requirements of the specification, but outside this, we can create very large perforations (or multiple smaller perforations) across the panel. It's worth noting that perforations can be any size or shape and not just restricted to circular.
Can we fit perforated cladding on an existing building?
Yes, this is certainly something that you can do, and we have seen it transform outdated structures into what effectively become smart, new buildings. Our recent involvement in the redevelopment of York House is a great example. Our perforated cladding transitioned the defunct 1980s structure in the heart of London into a modern, vibrant office complex. Our Proteus SC Perforated Aluminium cladding panels wrap around a parapet in a repeating zig-zag profile that complements a brick lattice façade. The circular perforated panels also span various windows on the upper elements of the building.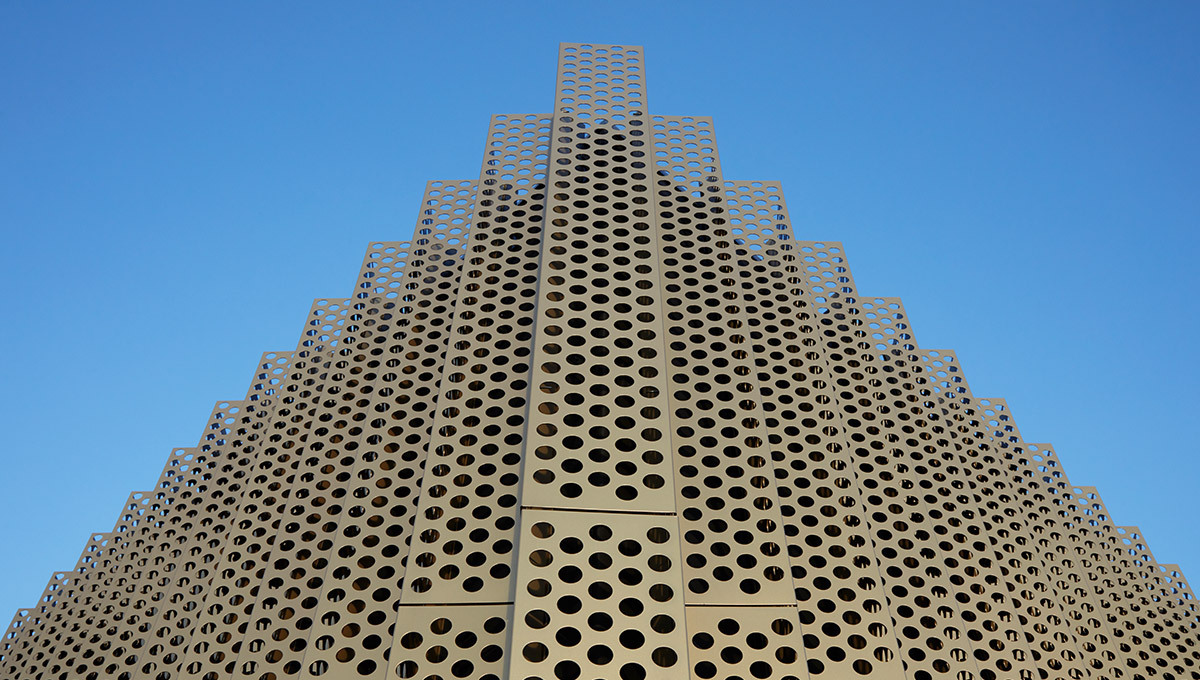 We manufactured the perforated cladding at York House from 2mm aluminium sheets with an Interpon D2525 Anodic Bronze Polyester Powder Coat (PPC) finish to all sides and 40mm perforations in a regular triangular grid.
What are the practical benefits of perforated cladding?
The principle benefit of perforated cladding is that it helps architects and designers manage the amount of natural light inside the building. Large perforations allow more natural light to pass through but still protect buildings with significant glazed elements from overheating in summer from direct sunlight. By acting in this way, perforated cladding can reduce reliance on intensive air conditioning systems during the hot summer months; we seem to be experiencing in the UK.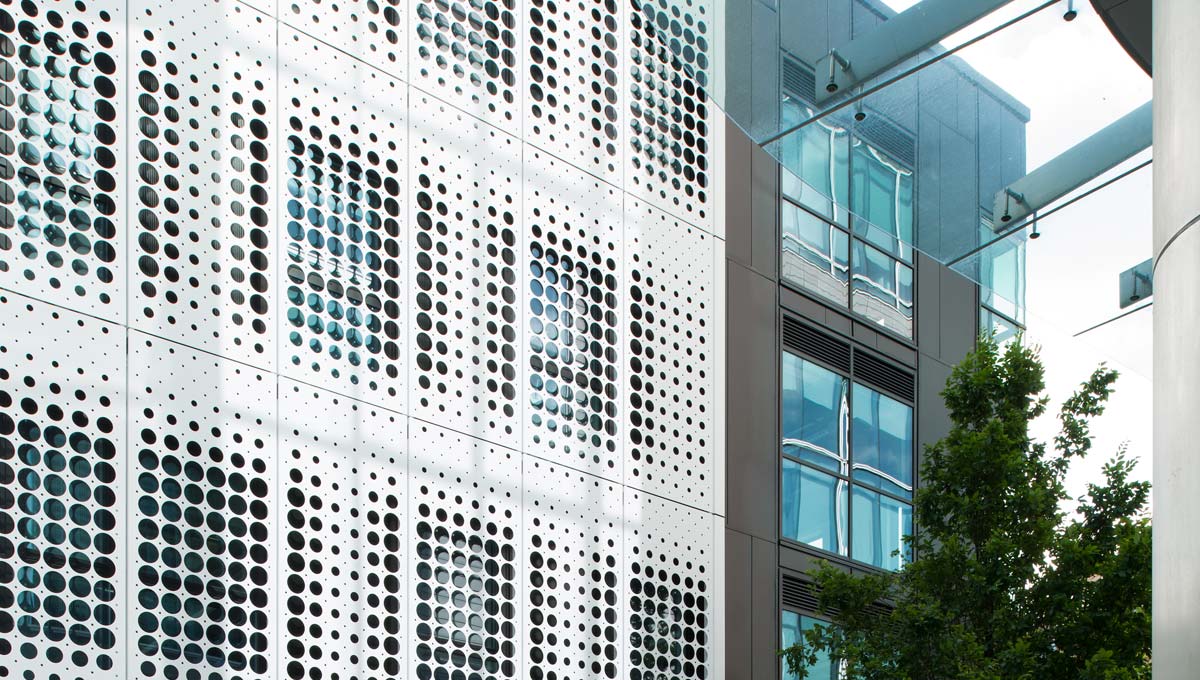 Perforated cladding doesn't have to detract the views from inside the building looking out, either. No.1 Hardman Street in Manchester, which features our Proteus SC perforated cladding panels, demonstrated this. If you look at the images here, the perforated cladding is hardly noticeable from the inside, yet from the street view, it creates an aesthetic that brings the building to life and certainly gets it noticed.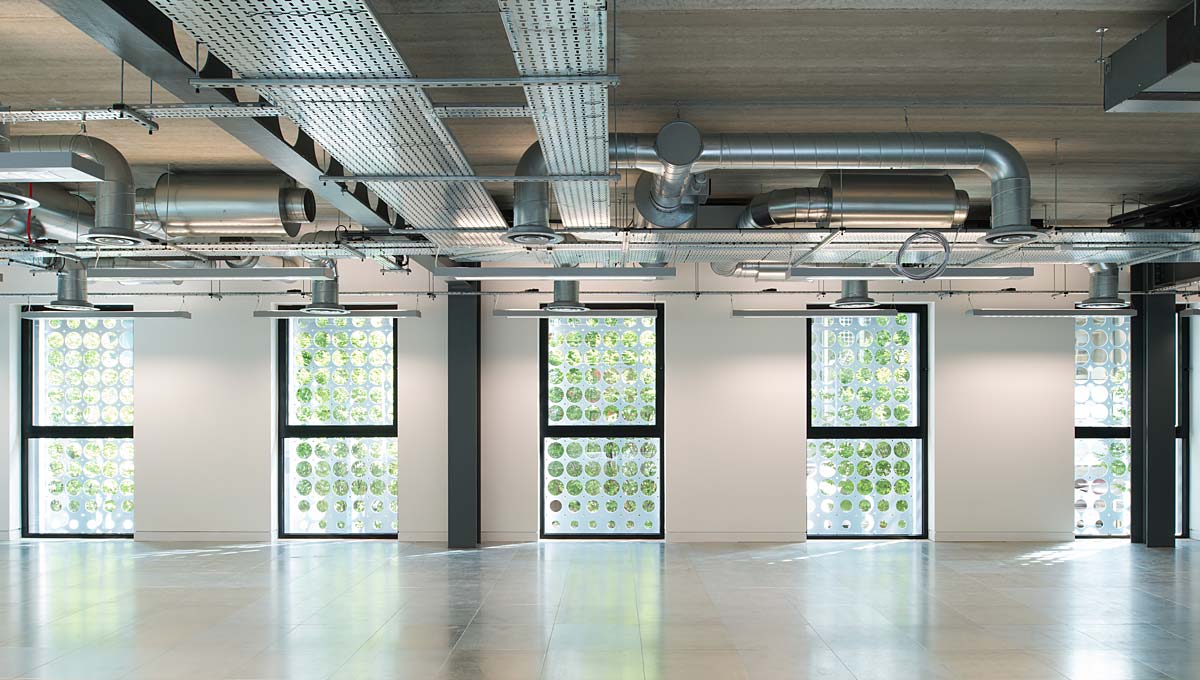 Does perforated cladding still provide rainscreen benefits?
No, a perforated panel would be classified as a screen, not a rainscreen. As a screen, water is allowed to penetrate into the open cavity. The amount will be dependent on the number and size of the perforations. If in front of a venting area, the screen will reduce the free flow area, and this needs to be considered when assessing the 'open area' required.
Can I incorporate a design into the perforations?
Yes, we use advanced computer software to pixelate images, logos, letters and numbers to create a bespoke perforated cladding pattern that can be applied to one panel or any number of panels to create a 'jigsaw-effect' image across the whole building façade. This has been used by many architects and designers to add an individual mark on a building façade.
Another interesting option is our ability to create a 3D image on a perforated cladding façade. Which is available in perforated or solid screens, adds a second dimension by forming shapes in the surface that generate texture and movement in the façade screen.
Will fixings be visible behind the cladding?
The fixing we use on our perforated cladding panels remains as discrete as we can physically make them. A recent project we supplied, Spanish City in Whitley Bay, illustrates this. Our Proteus SC TECU Patina perforated copper cladding panels were fixed over a glazed wall, so both sides were visible. Working with ADP architects, we overcame this engineering challenge by devising a rear supporting aluminium PPC framing system that was discrete and avoided having to increase the thickness – and cost – of the copper material. The result was that it delivered three major benefits to the client – it remained discrete, enabling the panels to be designed to meet the maximum optimisation of the material and meet the challenging geometry of the project.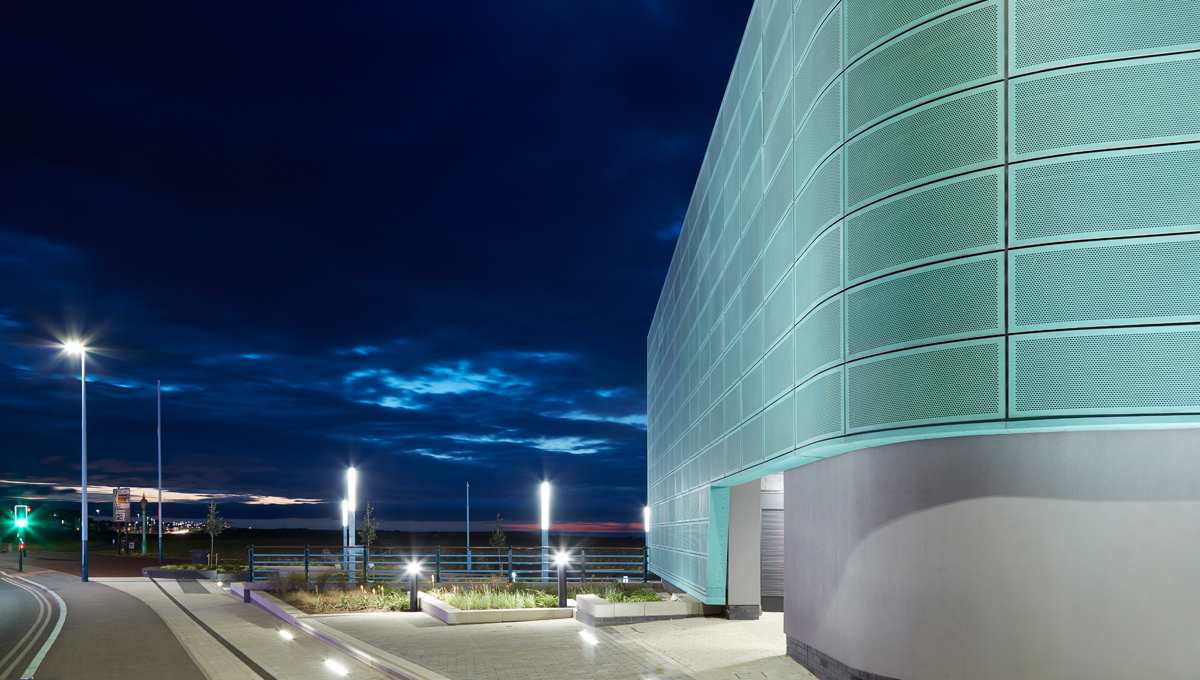 Is perforated cladding right for my client's budget expectations?
The innovative design of our Proteus SC perforated cladding makes it viable on a wider range of projects. Proteus SC comprises of a single skin solid, perforated or mesh cladding panels, usually constructed from 1mm to 5mm thick sheet metal. The single skin design allows significant material saving to be made, while the metal removed from the perforations can be 100% recycled, making it an effective way of creating an eye-catching façade.
For more information about our Proteus SC range click here or read our blog What are the benefits of a perforated metal facade?